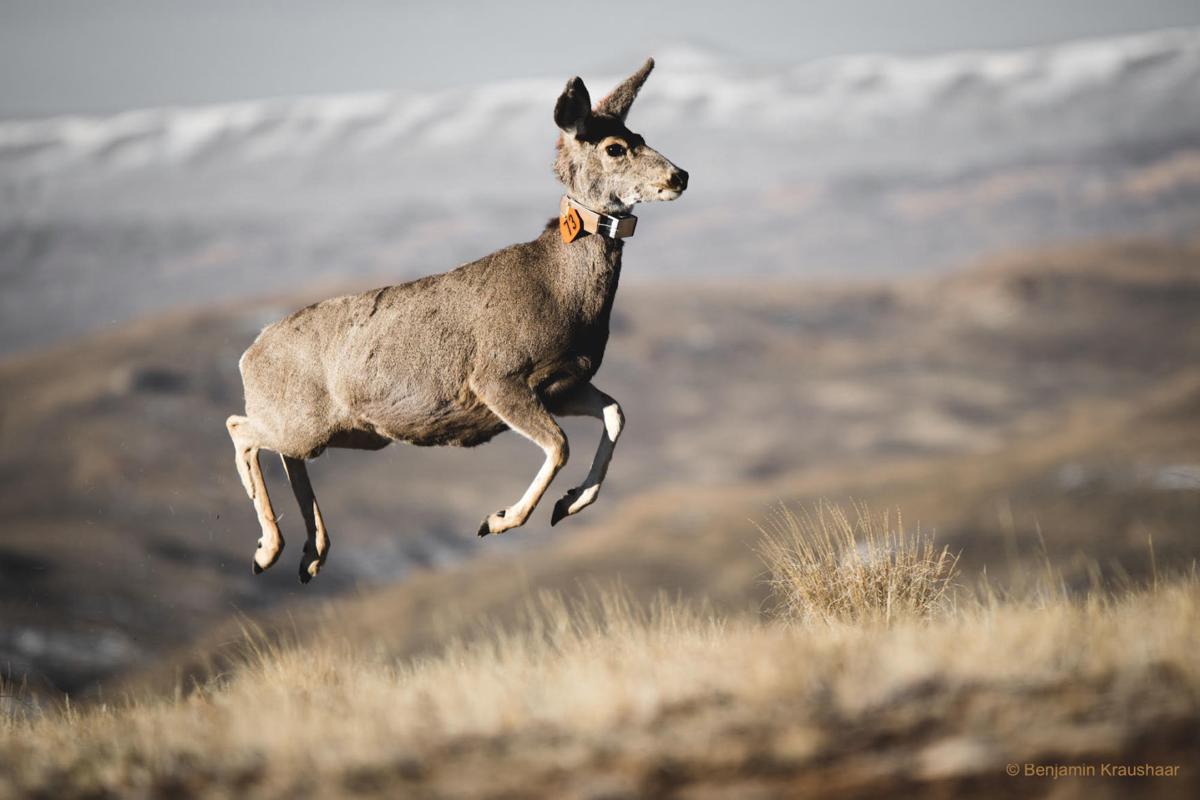 If you've spent much time in Wyoming, chances are you've seen a mule deer or two. The graceful ungulates are as much a part of Wyoming as the wind and the snow. They dot the sprawling landscapes, wander neighborhoods to snack on backyard trees, and even if you've seen them a hundred times before, they stop you in your tracks when you encounter them up close.
The longest mule deer migration corridor in North America runs through Wyoming, from the Red Desert to Hoback. Every year, thousands of mule deer make this journey. We know this corridor is critical to their survival.
33 oil and gas drilling leases overlapping this corridor, some 50,000 acres, are set to be auctioned by the Bureau of Land Management on Tuesday. And what will follow is unknown – for the land and for the animals that depend on it.
We recently learned that big game, likely including mule deer, don't instinctively know how and where to migrate. It's learned from parents or others in the herd. Once a migration corridor is destroyed, it cannot be recreated. And the impact that can have on the animals that rely on it can be devastating.
If those parcels are leased on Tuesday, there's no guarantee of when or how that land would be developed. The impact of development on mule deer in this migration corridor is something that should be well considered.
Energy development is the lifeblood of the state, no doubt. For most Wyomingites, it's what keeps the lights on and we support balanced development and production. But given the potential impact on another of the state's treasured assets, these 33 parcels of land, less than 2 percent of the total acreage proposed for lease by the BLM, should not be leased without further consideration and input from all interested stakeholders.
It could make a big difference for a species that already struggles to survive.
You have free articles remaining.
Mule deer populations are dwindling. Energy development in critical habitat may only increase their struggle.
This intersection of energy and conservation is nothing new in Wyoming and has often been well done in the past. There are processes in place that aim to strike a balance, however precarious — but in this instance, those processes are being ignored.
The BLM has included "lease notices" with the parcels, which require the lease holder to consult with the BLM and the state Game and Fish Department about drilling plans.
But the notices have no legal teeth. The Game and Fish Department can request that companies develop the leases in ways that minimize the impact on mule deer — using directional drilling to avoid building well pads in the middle of the corridor, or pausing construction work during the height of the migration, for example — but lease holders have no obligation to follow the advice.
Right now, the BLM's Rock Springs Field Office is working on updating the Resource Management Plan for the region, which determines the ground rules for energy development that lease holders are required to adhere to. The plan allows for input from every stakeholder and reflects the scientific, historic and economic values of the lands in question.
The most logical action for these 33 parcels up for auction in the corridor would be to defer leasing until the Rock Springs Resource Management Plan can be revised and implemented. These parcels define the term "multi-use" with respect to human activity, energy development and wildlife. No matter when or if these particular parcels are auctioned, it is imperative they come with legally-binding stipulations for how they can be developed to protect all important land uses.
The Wyoming Game and Fish Department has an obligation to protect the state's mule deer population and we hope they speak up. The BLM might likely heed the advice of Game and Fish if they oppose the sale of these parcels until the management plan can be completed.
Statewide conservation groups like the Wyoming Outdoor Council, the Muley Fanatic Foundation and the Wilderness Society have asked Governor Matt Mead and Game and Fish to step in and see these leases deferred. Joining in these efforts are the Sweetwater and Teton county commissioners and several national conservation agencies like the Center for Biological Diversity, The Theodore Roosevelt Conservation Partnership and Conservatives for Responsible Stewardship.
From an oil and gas development standpoint, putting a temporary hold on leasing these parcels — just 2 percent of the total acreage that will be made available for development — should be of negligible impact to ongoing development. But for one of the state's iconic mule deer herds, it could stop them in their tracks. Wyoming has world-class energy, landscapes and wildlife. We can have it all. But we need to work together to protect them all.
Catch the latest in Opinion
Get opinion pieces, letters and editorials sent directly to your inbox weekly!