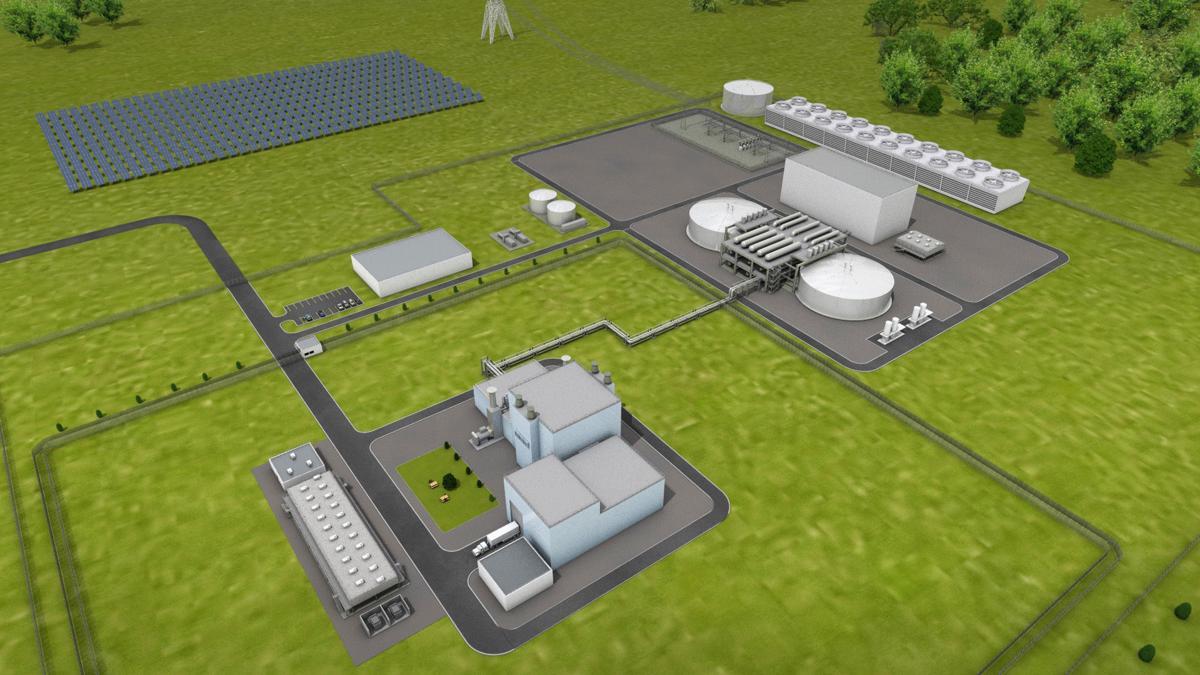 In Wyoming, we've long known that our present economic course is not sustainable. The fossil fuel industry has for decades provided us with revenue to keep our taxes low while supporting a bevy of government services. But our country is less reliant on fossil fuels than it once was, and that trend is only expected to continue. That means fewer dollars for state coffers, but also fewer jobs. The mining industry here lost 3,500 of them between April 2020 and this spring, state figures show.
To flourish in the future, Wyoming needs to diversify its economy. It also needs to think differently. We don't have decades to chart a new course. The future needs to begin now.
At a press conference earlier this month, Gov. Mark Gordon revealed a surprise project that could help achieve those ends. Wyoming is planning to house the first in a new generation of nuclear power plants. Bill Gate's TerraPower company plans to build the reactor in partnership with the federal government and PacifiCorp. The 345-megawatt reactor would be built inside a retiring coal plant and incorporate new technology that's designed to make the reactor cheaper, smaller and safer than its predecessors. It would also produce less waste.
The project's developers haven't settled on a location yet for the reactor, but they have narrowed it down to four possible sites: the Dave Johnston plant in Glenrock, the Wyodak plant outside Gillette, the Naughton plant in Kemmerer and the Jim Bridger plant near Rock Springs. The mayors of all four of those communities told the Star-Tribune they would welcome a nuclear power plant, given the economic boost that it's expected to bring. Exact job figures haven't been released, but Gordon said the plant would result in hundreds of jobs, with pay comparable to that of the fossil fuel industry.
There are many details left to learn, but at first glance, there is a lot to like about this project. It would mean hundreds of permanent jobs, and many more during construction. It would provide a use for retiring coal plants and the transmission infrastructure that already exists. And it would be an investment in clean energy at a time when demand for it is growing. If the first plant proves safe and effective, it's quite possible there could be even more investment in our state.
Still, there are questions that need answering. For example, what kind of workforce is needed to build and operate this generation of nuclear power plant? Do our workers possess the right training, or do we need to provide that now so we're ready? And while we're discussing our workforce, what's a realistic expectation for jobs?
And then there is the question of safety. Nuclear power fell out of favor in the 1980s after the Chernobyl disaster and the accident at Three Mile Island. A nuclear accident has the potential to cause environmental damage that will outlive all of us. In the worst-case scenario, it could sicken or kill people. We need an accurate, honest assessment of the risks involved in this venture.
At the same time, it's important to note that nuclear technology has advanced considerably over the past four decades. The reactor being planned for Wyoming is different than those associated with past accidents — it uses molten sodium as its coolant and is designed to reduce power naturally if the temperature rises.
"The likelihood that something that goes wrong is very ... small," an expert at MIT told the Star-Tribune. "In addition to that, if something goes wrong, the consequences are also smaller."
Finally, it's important to ask: What are the economic benefits to the state in addition to jobs? Is our tax structure set up to reap the benefits of nuclear power in Wyoming? What about severance taxes tied to uranium production? If we're mining uranium here for the plant, are state residents benefiting? If the answer is no, now is the time to develop a fix.
What we've heard so far is cause for optimism. Yes, there are many more steps to perform and questions to answer. But this venture has the potential to benefit Wyoming, and through the promotion of clean-energy technology, the rest of the country. There is risk with a project of this size and scope, but it's important to remember that doing nothing also carries risk – of economic stagnation or worse.
This board has long advocated out-of-the-box thinking to address Wyoming's economic challengers. This venture represents that. Wyoming needs more of it as our state looks toward a more sustainable, prosperous future.