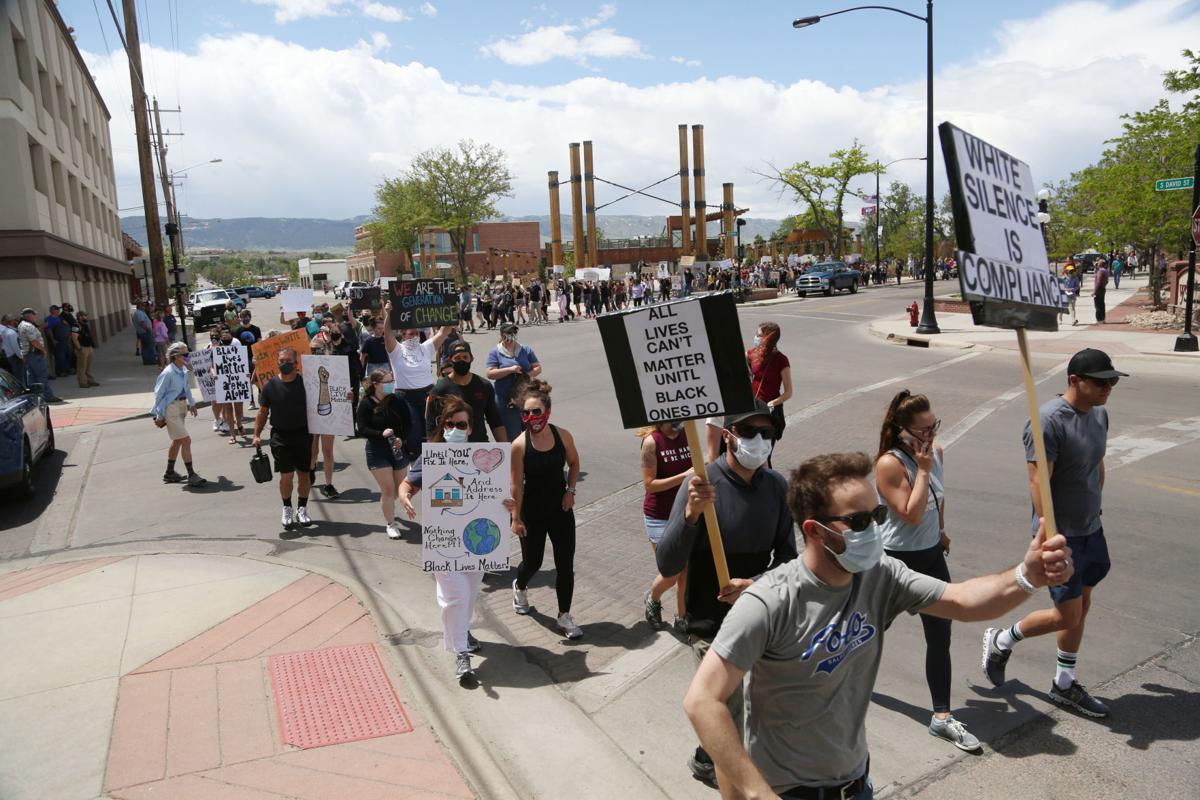 We like to think that living in Wyoming insulates us from some of the difficulties that come with residing in more populated places. To a degree, this is true. We don't have to worry about traffic jams or contend with exorbitant rents. For most of us, a commute to work is a matter of minutes and finding peace and quiet is easy.
We've heard people also argue that Wyoming doesn't have the same problems with racism and discrimination that we see in larger cities. Some of us would like to think the pain and anger that's swept the nation since a Minneapolis police officer killed George Floyd by kneeling on his neck for nearly nine minutes doesn't exist within our borders.
That is simply wrong. Anyone who thinks otherwise would be wise to pay attention to the words of Wyomingites of color who spoke out at the recent protests in Casper against police brutality and racism. The Wednesday event alone drew hundreds of people, who chanted in unison, "I can't breathe," a reference to Floyd's pleas as he died.
"I'm here because I'm mad," said Meeshla Bovee, a black 15-year-old who spoke at a rally on the steps of the Hall of Justice. "Not only am I mad, I'm angry. Not only am I angry, I'm pissed. I shouldn't have to stand next to my white neighbor and know if I walk into that store, they're gonna follow me."
Or consider the words of Teanna Montoya, a black 16-year-old student at Natrona County High School, who says racism is a big problem in Casper. Montoya told the Star-Tribune that police officers have called her racial slurs. But she made a point of stressing that the problem extends beyond that.
"Every time I go to the store, some people don't look at me, or they look at me like I'm nothing," she said.
This must change, and each of us must be part of that change. Racism clearly exists in Wyoming, so it's not enough to say, "I'm not racist, so this isn't about me." If it is a Wyoming problem, then it's incumbent on all Wyomingites, most of whom are white, to be part of the solution.
Part of that solution is listening to what others are saying. And Wednesday's protest and subsequent march across Casper sent a powerful message. It also showed that we have the capacity to listen and to create a space where listening can happen.
The march was originally intended to simply travel from David Street Station to the Hall of Justice. But marchers decided to continue the protest, walking across Casper and back again via East Second Street – one of the busiest roads in our city. Doing so, they reasoned, would force people to consider and confront the racism that exists here.
We saw great restraint from both police and protesters as the day played out. The Casper Police Department did not make arrests, even when protesters laid down in the intersection of East Second Street and Wyoming Boulevard. And police did not inhibit the demonstrators' First Amendment rights to assemble, even when facing taunts and criticism. Similarly, protesters in large part did not take the bait in the face of agitation from some spectators and when some drivers menacingly revved their engines and moved aggressively toward them.
It was, overwhelmingly, a peaceful day. That's even after local officials unnecessarily raised the tension in the community by advising businesses downtown to close down amid a local panic – which turned out to be unfounded – that outside agitators were headed to Casper to loot and distract.
That people were so ready to believe that busloads of antifa activists were on their way to Casper illustrates a critical point. Namely, people assumed that the grievances and anger were coming from somewhere outside Wyoming, that the ills that plague our country are things that come from beyond Wyoming's borders, rather than metastasize from within. Wednesday's rally showed the fallacy of that belief. Racism exists in Wyoming. It's incumbent on all of us to stamp it out.
Concerned about COVID-19?
Sign up now to get the most recent coronavirus headlines and other important local and national news sent to your email inbox daily.