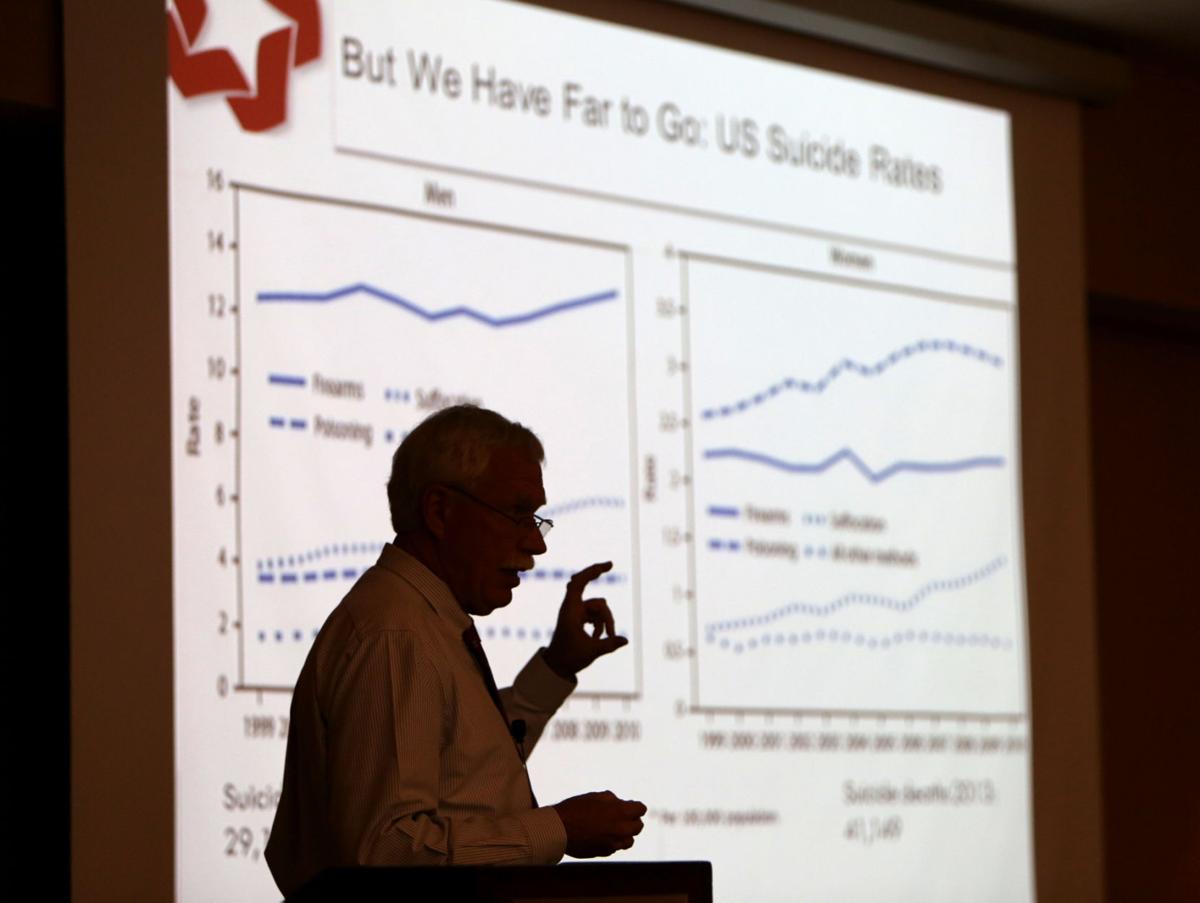 Wyoming's longest-running public health crisis is one people rarely talk about. For all the attention deservedly paid to COVID-19, traffic deaths and workplace fatalities, it is suicide that has a particular tragic hold on the Equality State.
In 2019, the most recent year when CDC data is available, Wyoming had the nation's highest suicide rate, with 29.4 deaths for every 100,000 residents. One hundred and seventy residents of our state ended their own lives. For comparison, Rhode Island, which has roughly 400,000 more residents than Wyoming, recorded 47 fewer suicides than our state that year.
None of this is new. In 2014, Wyoming's suicide rate was fourth in the nation. In 2005, we ranked fifth. If anything, the problem is getting worse.
Suicide appears to affect Mountain West states in particular. Montana, New Mexico, Utah and Colorado also struggle from some of the nation's worst suicide rates. But that doesn't make suicide any less painful for Wyoming, or relieve us from the responsibility of doing something to address the problem.
More now than ever, it's time to talk about what we can do to reduce the number of Wyomingites who die by suicide. It's time to ask ourselves what more we can do to stem the tide. It's an especially pressing question now, as we struggle through a long and cold winter of pandemic-driven isolation and economic calamity spurred by COVID-19 and declines in fossil fuels.
All of us should learn the signs that someone might be contemplating suicide. (There is ample information online including at suicidepreventionlifeline.org.) All of us can speak up if we see someone who's suffering or acting in a concerning way. And we can all do our part to make sure people feel comfortable talking about depression, anxiety and other behavioral health issues. For too long, emotional pain has been stigmatized as weakness. People should feel as comfortable saying they are hurting emotionally as they are talking about a sore knee.
It's also time for our state leaders to treat suicide as the public health crisis it is. Last summer, Wyoming's first in-state suicide prevention hotline launched in Casper after the state allocated $400,000 for the project. The effort to establish an in-state hotline is commendable and has likely already saved lives. But clearly, there's more to be done.
Unfortunately, there seems to be little initiative in the statehouse this year to address Wyoming's suicide rate. This session, there have been six bills introduced related to public health orders. There has been only one related to suicide, and that legislation was quickly defeated.
The bill, which was requested by high school students, would have mandated suicide prevention instruction in schools so that students would be able to spot warning signs in their peers. Lawmakers questioned whether schools or government should be involved in the process. But lawmakers already have a say in what is taught in schools, and what could be more important than providing our children with the tools to save their peers' lives?
It's not that this one bill would have solved the state's problems. But its failure raises a difficult question. Why, if our state continues to struggle with a high suicide rate, are there not six prevention bills this session? Why are we not treating this like the public health crisis that it is?
The unfortunate reality is almost everyone in this state has been touched by suicide. And it will take all of us to address it in a meaningful way. The first step is deciding the status quo isn't acceptable any longer.