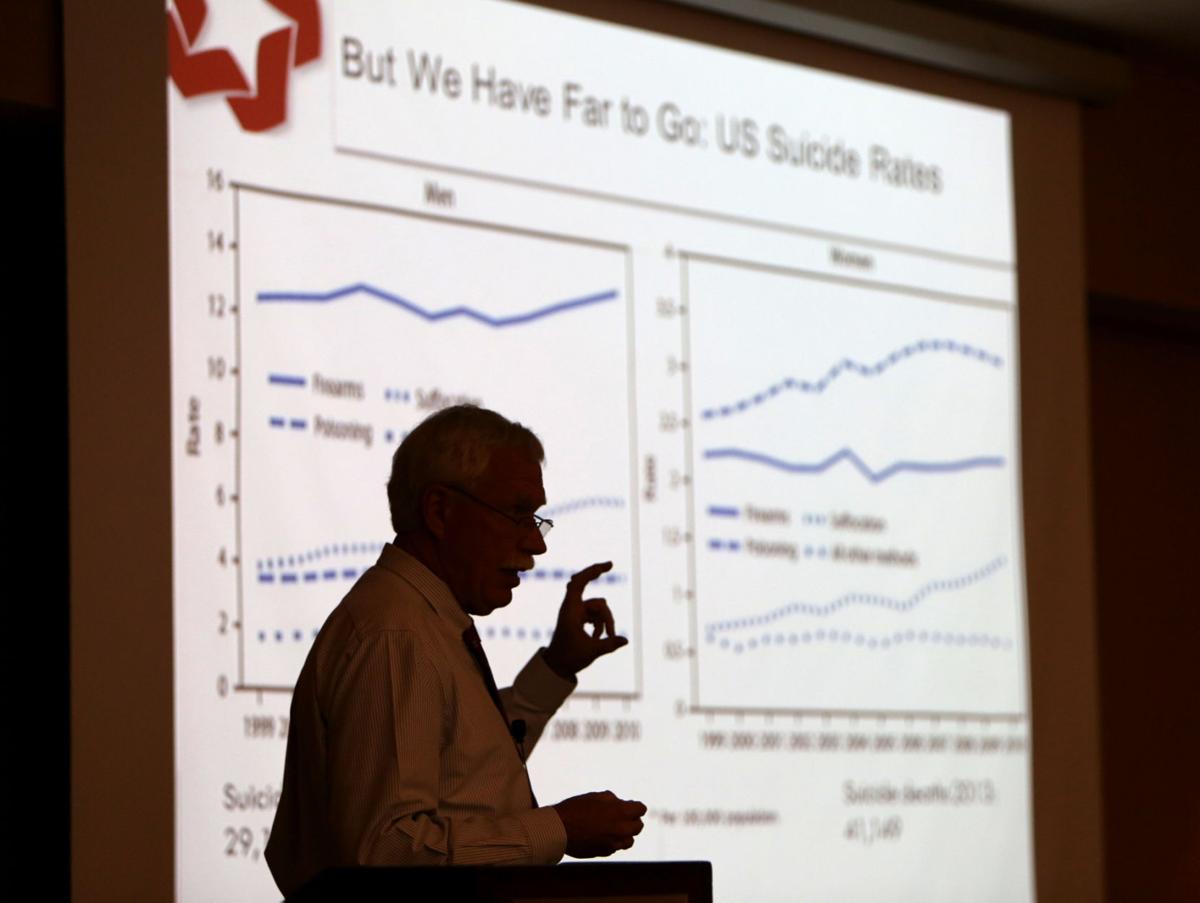 Suicide is Wyoming's most persistent public health issue. And if anything, it's getting worse.
In 2004, the state possessed the nation's fifth highest suicide rate, with about 17 deaths for every 100,000 residents. In 2019, Wyoming had the country's highest rate, with 29.3 deaths per 100,000 people.
Intuitively, we understand this. It's an unfortunate reality in Wyoming that most people have been touched somehow by suicide. We've lost friends and co-workers, family and neighbors. Parents and children. Husbands and wives.
To the people left behind, each death by suicide leaves behind an ocean of grief. A chair missing at the dinner table. An empty desk at the office.
And yet this scourge persists. Problems that persist can recede into the background, overlooked by newer challenges and tasks that may seem easier to address. Which means we need to be deliberate in our focus to reverse this tragic trend. It doesn't have to be this way.
There are practical changes we can make. The first is improving the resources that are available to people who might be struggling with stress, anxiety, loss or depression. Our state has found itself flush with relief aid and more revenue that we had expected. What if we used even a fraction of those dollars to address gaps in mental health services so people in pain have an easier time getting help? Recently, Wyoming enacted its fist in-state suicide hotline. But the program lacks the resources to run 24 hours a day. Shouldn't we change that?
There's also an educational component. Many of us have seen friends and family struggle. But we might feel uncertain about what to look for and when it's time to speak up. And even if we speak up, some of us might not know what to say. Earlier this year, the Legislature rejected a bill that would have provided suicide awareness training to students. We hope lawmakers will reconsider it next year, as young people should be armed with the tools to recognize warning signs in their peers and act.
We understand that many Wyomingites are skeptical of big-government solutions. Fair enough. There are volunteer groups and suicide task forces around the state that would happily provides businesses and organizations with training sessions on how to recognize a suicidal person and guide them to resources that will pull them back from the edge.
But for any of those solutions to truly work, we must first change our attitudes on mental health. Depression, anxiety and emotional trauma are not things to be embarrassed by any more than a twisted ankle, a busted knee or a painful arm. We don't expect ourselves to tough out a physical injury. Why should a person suffering from an emotional one be treated any differently?
Wyoming prides itself on toughness. But asking for help — or offering it — is its own kind of courage. Consider Simone Biles, one of the best gymnasts of all time, pulling out of Olympic events to take care of her mental health. To acknowledge to the entire world that you need help is an act of bravery rather than weakness. And as a state, that's an ethic we should embrace.
It's true that Wyoming has long suffered from a high suicide rate. But the past doesn't have to dictate the future. We can improve resources in our state. We can better educate ourselves on suicide prevention. And we can strive to change our attitudes toward mental health so that people feel comfortable asking for help. We can do better. This trend has persisted a long time. But we possess the power to change it.
If you or someone you know is struggling with thoughts of suicide, please call the National Suicide Hotline at 1-800-273 TALK (1-800-273-8255).