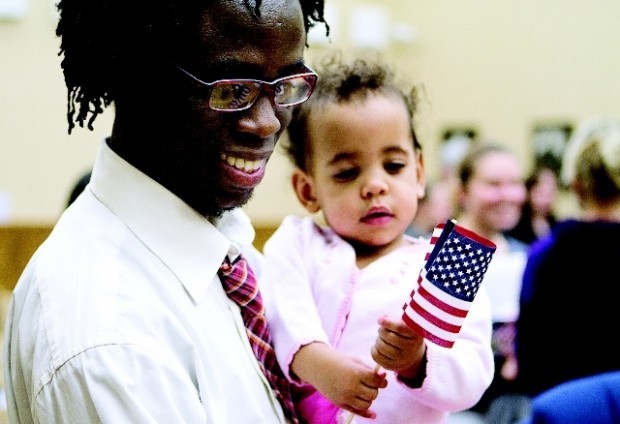 Wyoming is lucky to have a resident like Bertine Bahige. 
Bahige, who lives in Gillette, teaches high school math and coaches soccer. He makes real, meaningful contributions in his community and his state.
He's also a refugee who was once kidnapped and pressed into service as a child soldier in the Democratic Republic of Congo.
Now, he lives here, with his wife, who's from Gillette, and their two children. He's happy here and calls Wyoming an ideal place to start over and put down roots.
But it almost didn't happen. The odds were against Bahige landing in the Cowboy State.
Wyoming is the only one of the 50 states without a refugee resettlement program. Bahige, now Wyoming's delegate to the U.N. Refugee Congress, believes it's time to change that. He's right.
Wyoming must do more to welcome refugees. They are looking to escape the direst of circumstances, from torture to genocide to human trafficking, and we are missing out on the opportunity to help resettle them for everyone's benefit.
This is what government assistance is for. First, there's help, when it's needed most. Then, there are standards and an accountability system. Finally, Wyoming could find itself with more new residents like Bahige -- self-sufficient, with the skills to make a difference, and happy to give back to the communities that welcomed them. 
After fleeing his home nation, Bahige was sent to Maryland, where organizations in that state supported him. He learned English, found a job in food service and became a teacher's aide. When the University of Wyoming rewarded his hard work with a scholarship offer, he headed west.
Now, Bahige and other advocates are pushing for Wyoming to adopt a program of its own. He's working with the UW law school to come up with a draft plan for Gov. Matt Mead's consideration. Such efforts are worthy of support.
It's not about welfare. It's about help in times of horror.
Members of a nongovernmental agency pick up refugees from the airport and take them to an apartment stocked with donations. Refugees begin learning the language, and their children are enrolled in school. They start with food stamps, but for most refugees, government support begins to diminish after eight months. Within four months, they must have jobs. In fact, they're even required to repay the cost of their plane tickets.
A program would take no state money. The federal government would funnel resettlement money through Wyoming agencies and a nongovernmental organization. 
The system has been successful in Colorado, and advocates say Wyoming's strong economy might make it an even better landing spot.
Like the former child soldier, many Wyomingites or their ancestors came from somewhere else and stayed to make a better life. We should welcome others who are following the same dream.