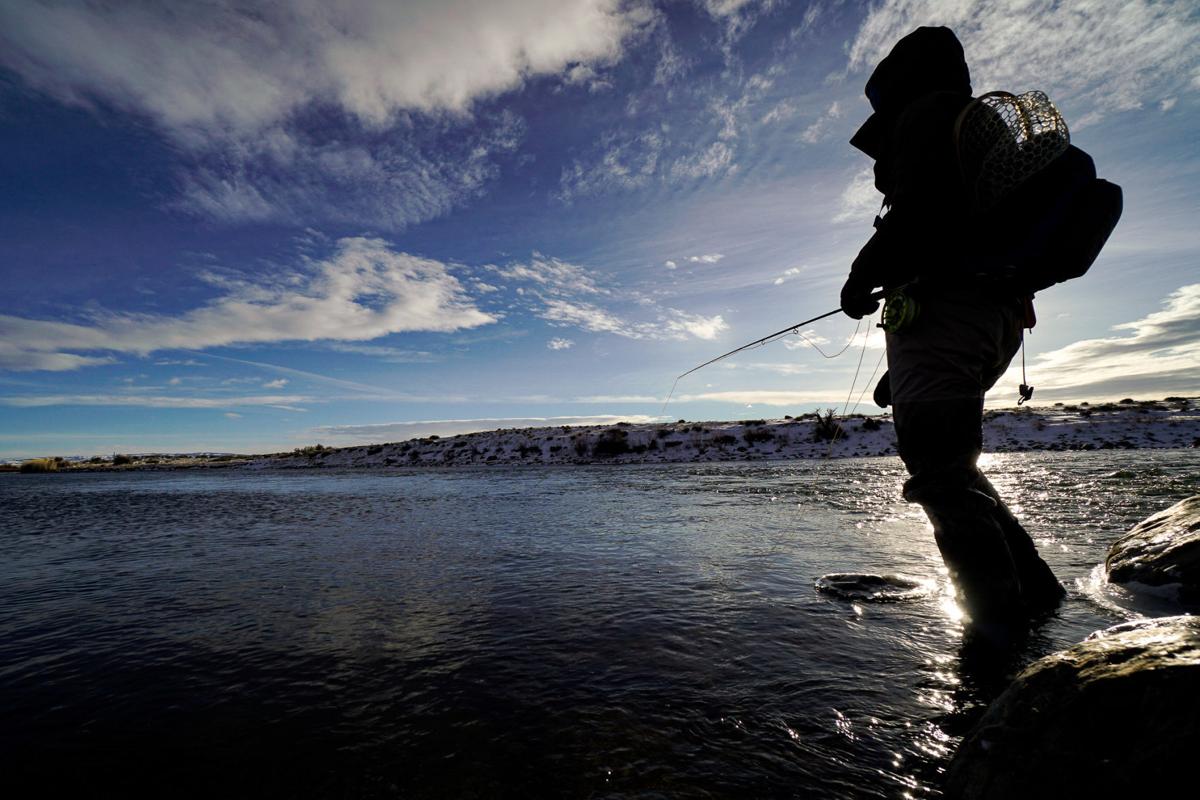 It's winter. It's a pandemic. Temperatures are hovering somewhere a bit above or well below zero. Vaccines for COVID-19 are being distributed, but most of us still don't have them.
Instead of staring longingly at your fly rod, wondering if it's worth casting when you know your eyelets will freeze in moments, consider a fly fishing-adjacent activity. Consider tying your own flies.
"For me, it's the art of it. You can tweak any existing pattern, and you can come up with your own stuff," said Justin Genther with the Ugly Bug Fly Shop in Casper. "But the main part is the art of it. It's art as much as drawing or painting, it's just a different medium."
And he's not wrong. Journalist Kirk Johnson once wrote about the dark underworld of Victorian salmon-fly tying, the world that ultimately ended up with a museum heist of hundreds of bird skins, many from species now extinct.
But that's not why most people begin tying their own flies. Fly tying largely begins from either a place of necessity, boredom, interest or a combination of the three.
For Genther, it was necessity.
"I've been tying since I was 10. I started fly fishing and where I grew up there weren't any fly shops, so I started tying to have flies to fish," he said.
He lived in Detroit, and found a class at a community center in a nearby town where he learned the basics. From there, he figured out what worked and what didn't.
It is possible to save money by tying your own flies — costs add up buying good flies from a fly shop. But it's not likely the cost savings will be high.
"To be honest, it's another hobby," he said. "If you dive into it, you will spend more money tying than buying ones."
But you'll also know the satisfaction of catching a fish on a fly you tied. And just like Genther, as you realize what works and doesn't, you can more easily tweak your flies to better imitate a particular river's hatch.
While Genther said the best way to begin is to start watching YouTube videos, he also offered some tips on fly tying necessities and the ingredients and patterns to three easy flies that work well on most Wyoming waters. If you get stuck, call the Ugly Bug Fly Shop, check out the shop's Facebook page or stop by for help.
Tools
Like most hobbies, fly tying requires a few basic tools. But many of them you can scrounge from your house if you want before upgrading to nicer materials.
Vise: Fly tying vises can cost as little as $15 and as much as $1,500. Find one that fits your budget.
Sharp scissors: Small ones will work best, but you can begin with whatever you have already.
Thread: Companies make thread just for tying flies. It tends to be stronger and thicker than sewing thread. But you can use that thread you found in your grandma's sewing kit.
Hooks: If you're making flies for fishing, you'll need to buy hooks. If you're just trying out fly tying, you could even use a safety pin or paper clip for practice.
Dubbing: This is a kind of fuzz material used to build bodies on flies. It looks a little like the lint you get out of your drier.
Pheasant tail and peacock curl: These are two of the most common materials used in flies.
San Juan worm
This simple little worm is meant to imitate — you guessed it — a worm. It is one of the easiest flies to tie and surprisingly effective.
Red thread
Red ultra-chenille
A scud hook
Attach the thread and wrap it around the shank of the hook.
At the back of the shank, tie in your chenille leaving a piece hanging off the back. Don't cut it off, but move the thread forward to halfway between that spot and eye of hook and pull the chenille over and tie it again.
Pull that piece back to the eye and tie it again.
Whip finish your fly.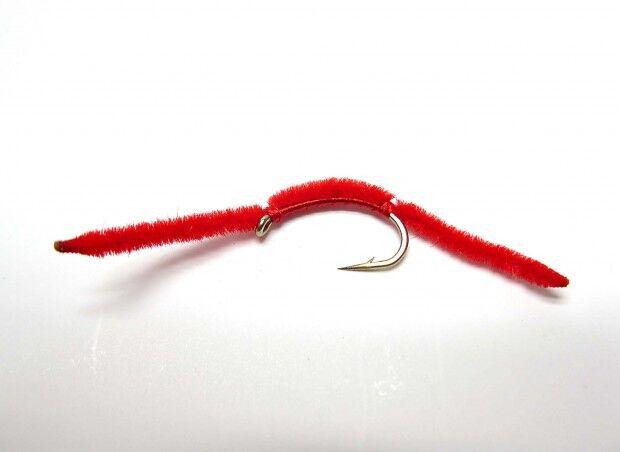 Woolly bugger
This fly, depending on the color, is meant to imitate a black leach or minnow. In brown or green it could be a crayfish or leech.
Streamer hook
Black thread
Marabou (a soft feather from a turkey)
Rayon chenille
Hackle (chicken feather)
Start your thread behind the eye and take it back to where the bend drops to the table.
Tie on marabou for the tail (the tail will be about as long as the hook).
Leave your thread at back where the tail is tied in, tie in the hackle and chenille.
Wrap the chenille forward to eye of hook and tie it off.
Wrap the hackle forward to eye of the hook and tie it off. To finish, tie the fly off.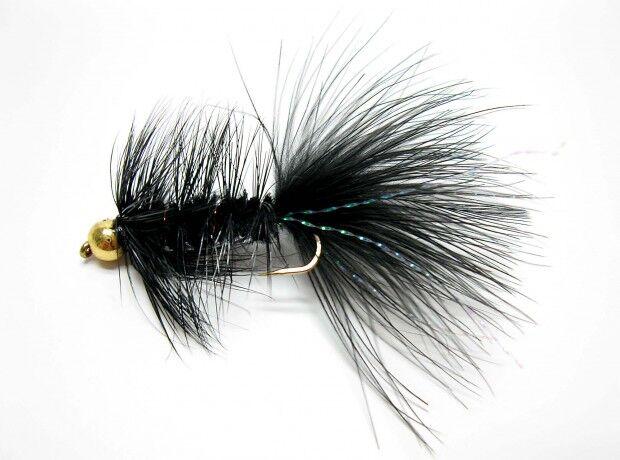 Pheasant tail nymph
The pheasant tail nymph is meant to imitate a mayfly nymph or a little stonefly. It is the nymph stage of an aquatic insect.
Nymph hook
Pheasant tail
Copper or gold wire
Peacock curl
Tan or brown thread, or even black
Start thread and lay it down like all the others. Tie in a tail with a few fibers of the pheasant tail that will be about as long as the hook, maybe shorter. Tie that in at the back and take another few fibers of pheasant tail and tie in your wire.
Wrap that pheasant tail forward to two thirds up your hook and tie it off.
Counter wrap that with a wire to rib it.
Tie the wire off and cut that off.
Grab another clump of pheasant tail, tie to tip and pull over fly when it's done.
Tie in peacock curl.
Wrap peacock curl on the front third of the hook, and then once you get to the eye you tie of off and cut off the excess.
Then take that piece of pheasant tail you tied in before that and pull it over the back. It's a strip of brown going over the back and it will look like a wing case.
Tie it off and finish with the whip finish.