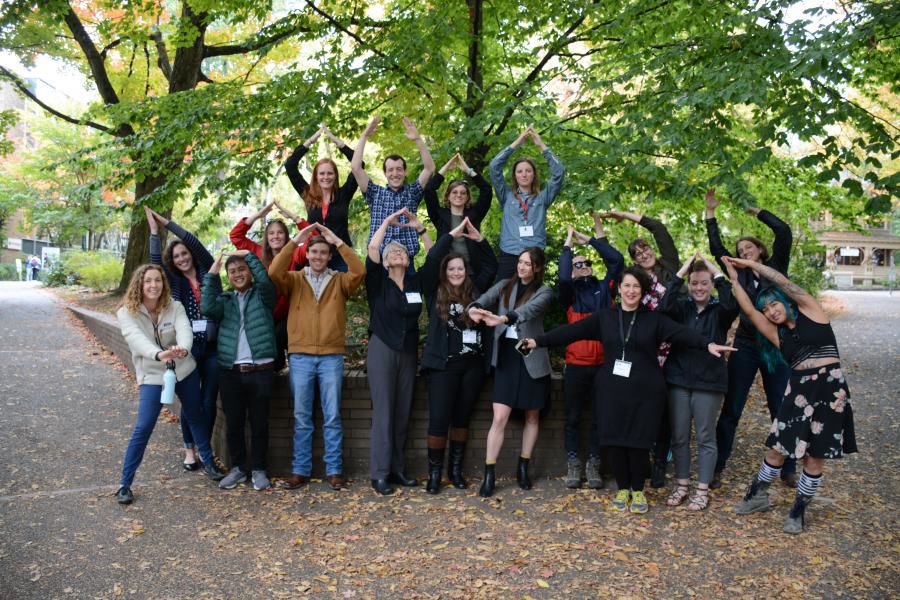 If you've been following Yellowstone Caldera Chronicles for a while, you have learned a lot about the work of Yellowstone Volcano Observatory (YVO) scientists. We use instruments to measure ground movements, gas concentrations and water chemistry. We spend hours in the field every year observing and documenting geologic features (yes, sometimes we lick rocks). We crunch numbers and use computer models to analyze data. But you know what else we do, a lot? We dedicate time to thoughtfully communicating information about Yellowstone and geoscience in general.
Did you know that YVO has its own communications plan? Since YVO is a consortium of eight agencies, it helps to have clear guidelines for ways we communicate both between ourselves and out to the public. Our mission as a consortium is to be transparent and proactive with our communications. On that note, it makes sense to share our communications goals:
to gain and maintain public trust;
to be the go-to source of information;
to foster an informed public; and
to encourage people to be engaged in and understand the process of science.
We recognize that Yellowstone captures people's attention — we answer hundreds of questions about the volcano every year from people all over the world. This high level of interest in Yellowstone provides both an opportunity and a responsibility to communicate factually about volcano science, the scientific process and the societal relevance of geoscience in general.
You have free articles remaining.
But why do we need this communications plan? In the early 2000s, Yellowstone began to be known as a "supervolcano," which was later capitalized upon by the media. Attention shifted from the national park's incredible geysers and amazing wildlife to the worst-case-scenario version for an eruption of Yellowstone. As word spread, people became interested in Yellowstone, the volcano, but the frequency of misinformation about Yellowstone also began to rise. YVO scientists spent many years in reactive response mode — answering questions from fearful people and trying to convey the facts to media organizations that reached out for interviews. However, misinformation continued to rise, which told us that there was a lack of science-based factual information about Yellowstone. It was time for a plan!
For a few years, we've been spending time on more proactive communication approaches in order to reach the goals outlined above. We write articles, just like this one and all the other editions of Yellowstone Caldera Chronicles. We've started monthly video updates that spend time explaining data and how we assess the styles of volcanic and earthquake activity in the Yellowstone region. We even have adopted a policy on our USGS Volcanoes social media accounts that we will answer all questions that are asked (Facebook, Twitter and Instagram!).
We understand that communicating about the potentially hazardous parts of our planet, like volcanoes and fault lines, can be tricky. Doing this well involves not only understanding the geoscience, but also how people react to, and then learn about, the reality of geohazards ... enter social science!
One of the best ways to learn is through teaching. During the first week of October, three YVO scientist communicators joined up with a university social scientist and earthquake-science communicator to offer a short course on communicating geohazards. Students were from two of the groups who communicate about Earth hazards the most — geoscientists and journalists. Participants explored the science of effective hazards communication and practiced methods for talking about hazards so that people will listen, learn and take action. When done well, hazards communication can save lives. When done poorly, it can cause unnecessary anxiety or lead people to be complacent and not take action.
The course is actually continuing through mid-November while the participants work on projects to hone their new communications skills. One journalist will conduct interviews and write a story about the recent geologic work and monitoring developments for Glacier Peak and Mount Baker. A geoscience student is planning a geologic audio tour of sights along one of the Puget Sound ferry routes! Several students are creating geohazard comics and social media campaigns that will be shared on Facebook, Instagram and Twitter. Check out #TalkGeohazards to learn what people are working on!
Yellowstone Caldera Chronicles is a weekly column written by scientists and collaborators of the Yellowstone Volcano Observatory.