Historic snowfall hit much of Wyoming last winter. And then spring came late and summer was cooler and wetter than normal.
"I've never seen it this green this long," said Lee Knox, a Wyoming Game and Fish Department wildlife biologist in the Laramie region. "We expect antler growth and horn growth to be phenomenal this year, and hopefully high fawn survival."
Biologists in other portions of the state echoed Knox's thoughts, particularly on fawn survival, in their annual hunting forecast.
As most hunters prepare their guns, bows and blinds for this fall's seasons, here are some wildlife highlights from across the state.
Antelope
Even with a harsh winter for antelope in many regions of the state, herds are largely near objective, according to Game and Fish wildlife managers. Some herds, like Hunt Area 80 near Cody, have declined in recent years, which has resulted in fewer licenses. But antelope numbers in Hunt Areas 78, 81 and 82 near Carter Mountain have increased, offering better hunting opportunities this year.
The Green River area will have increased opportunities as well compared to last year after "relatively light" winter losses. More doe-fawn licenses are available in some areas to address agricultural damage issues. Lander is a mixed bag, with two herds at objective, two below and two above. The bucks should be good this year.
Hunters in Casper should expect good hunting conditions with an increased number of antelope licenses, said Justin Binfet, wildlife manager for the region. "Antelope are doing really well," he added.
Elk
Elk herds across the state continue to flourish, with many over objective. Hunting in the Casper area continues to be liberal, though hunters should be aware of private land in the Laramie Range and Black Hills.
Herds in the Cody area are also at or around objective. Depending on your area, hunters should remember to pick up brucellosis testing kits from the Game and Fish office in Cody.
Many elk herds in the Green River region are also over objective, with large numbers causing conflict with agriculture and potentially negatively impacting other species in the area. As with other regions of the state, seasons and licenses are liberal.
The same applies to elk in the Sheridan, Pinedale and Laramie areas where herds are generally at or above objective and hunting opportunities should be good.
Deer
Unlike elk, mule deer are struggling in many places in Wyoming. The Casper region saw declines in the early 2000s, then a period of growth around 2013 which has slowed again recently. Populations are still below objective, but better than they have been in the past decade. Hunting will be "a mixed bag."
The Black Hills experienced heavy winter loss this year, but populations had been growing, so hunters should expect to see relatively good densities. White-tailed deer in the Black Hills are at "extraordinarily high densities," with the largest concentration of white-tailed deer on public land in the state.
Mule deer hunting in the Cody region should be largely similar to 2018 except for the Upper Shoshone and Clarks Fork herds, which have struggled producing enough new fawns each year. White-tailed deer hunting in the Bighorn Basin and Cody regions will be liberal.
Hunting is improving in the eastern part of the Green River region with extended seasons on buck-only hunting. Seasons were also extended in the western portion of the region to include two weekends of hunting.
Fawn production has been poor in the Lander region. Four of Lander's five mule deer herds are below objective, though because buck/doe ratios have stayed relatively the same, the season will be similar to last year. Expect extended white-tailed deer seasons in the South Wind River and Dubois areas.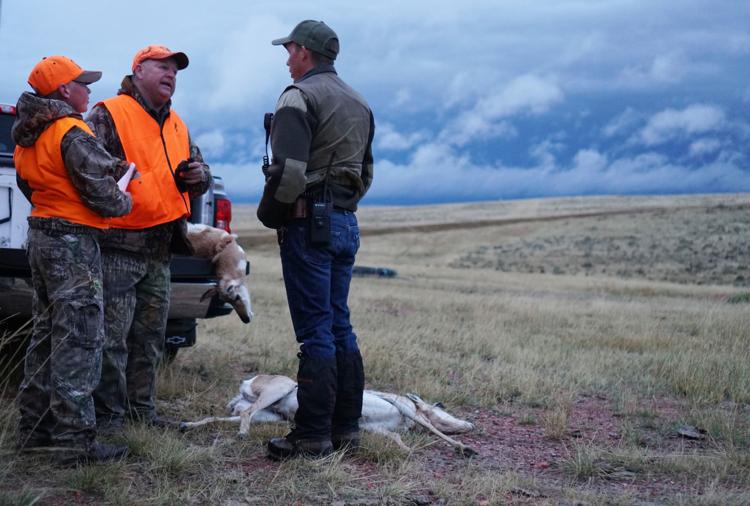 Mule deer are also below objective in most of the Laramie region due to a combination of habitat quality, disease and bad weather. Increased water and good food this year should help fawn production for future years. Chronic wasting disease remains a major concern, particularly in the Laramie Mountain Herd. Game and Fish encourages all deer hunters in the area to have their animals tested for CWD.
All four mule deer herds in the Sheridan region are well below management goals, with hunting focused on quality bucks and minimizing killing of does and fawns. Hunter densities on the limited public land in the area can be high, especially on opening day and the weekends.
Upland game birds
Sage grouse are in the middle of a downward trend in the Casper region, though hunters should be able to find plenty in areas south and west of Casper. Blue grouse numbers in the Laramie Range were good last year and Hungarian partridge numbers are dropping.
Upland game birds in the Cody and Lander regions are down compared to previous years likely because of heavy spring and early summer precipitation. Farm-raised pheasants will be released again at Sand Mesa and Ocean Lake habitat management areas.
Expect a similar upland season around the Green River and Jackson regions as past years.
Sage grouse hunting will be tougher in the Laramie region, but forest grouse hunting should be similar to 2018. Sharp-tailed grouse and gray partridge hunting in the Sheridan region will also be harder.
Be the first to know
Get local news delivered to your inbox!