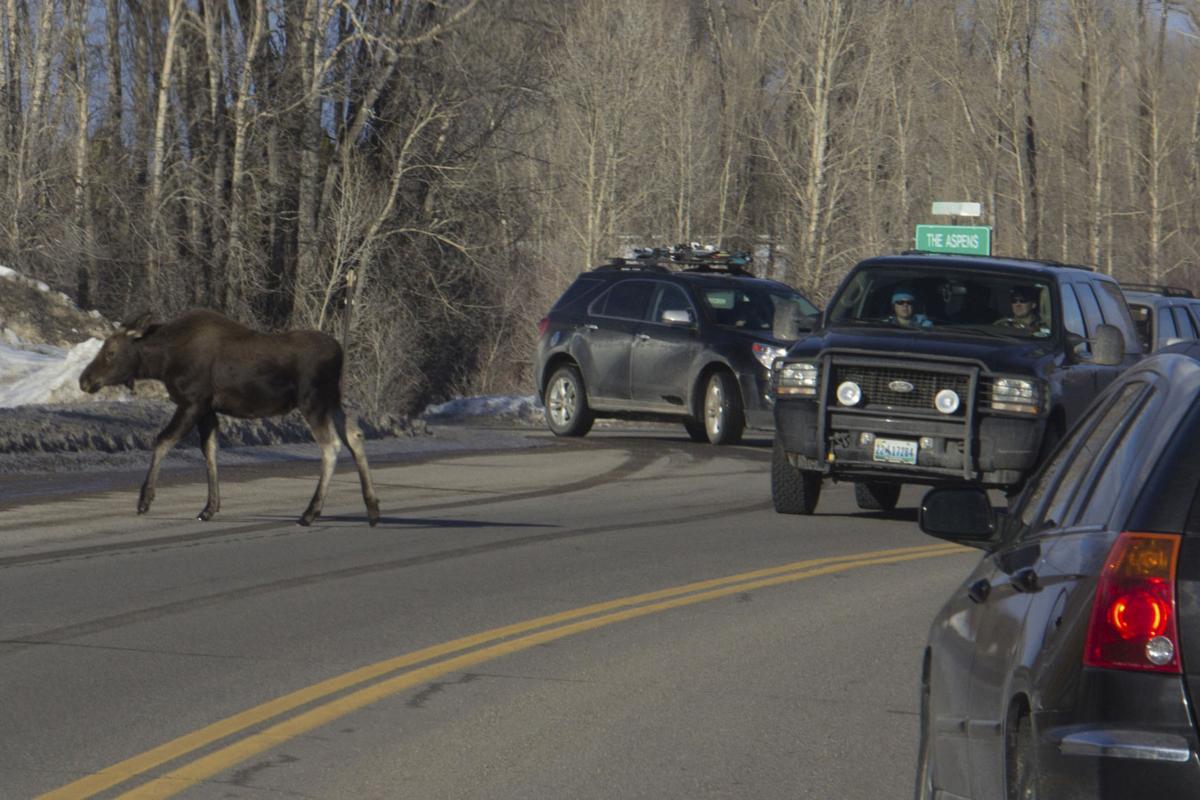 JACKSON — The Wyoming Department of Transportation has rebuffed West Bank residents' calls for a lower speed limit on Highway 390, leading some to question whether the road is better in county hands.
Aster Lane resident Heidi Leeds said she was "highly disappointed, but not surprised" by WYDOT's decision, which residents, wildlife advocates and elected officials all said was expected.
But for many West Bankers, wildlife-vehicle collisions remain a pressing problem.
"We've seen so many animals either get hit or close to being hit over the years, and we've lived in this location for over 20 years. We've seen it all," Leeds said. "Dead duck, coyotes, fox, elk."
A mid-August accident in which a driver hit and killed a mother moose, leaving its calf orphaned, got things going in earnest.
Neighbors rallied, painting handmade signs that urged people to slow down and watch for wildlife where the accident happened — the portion of the road near Lake Creek, where the road shifts from woodland to the Snake River Ranch's open fields.
Then, in August, a cow moose was killed near Raven Haven Road, spurring outcry that led the Teton County Board of County Commissioners to ask WYDOT to conduct a speed study for the highway, which theoretically would be the first step toward justifying a speed limit decrease. The road, which saw speed limits lowered in 2012, is under WYDOT's jurisdiction.
But WYDOT does not think a lower speed limit is justified.
"The multiple requests received to reduce the speed limit are just not supported by engineering data," District Maintenance Engineer Tory Thomas told county commission on Monday.
Speed study data — some of which was from the summer of 2018 — showed that 90% of drivers blow past the existing 35 mph nighttime speed limit and 60% exceed the 45 mph daytime limits on the southern portion of the road.
But farther north, where the road opens up and the speed limit jumps to 55 mph en route to Teton Village, Thomas said drivers comply with the speed limit.
In his mind, that's because it's better set.
Transportation planning maxims, the engineer said, indicate drivers are more likely to comply when speed limits are set within 5 mph of the speed 85% of drivers travel at or below on a given road. So if 85% of drivers travel 50 mph on a given byway the rule would suggest a speed limit between 45 and 55 mph would be appropriate.
On the northern portion of the road the speeds drivers travel are close to the 55 mph speed limit. But drivers on the southern portion of the road generally disregard the limit.
The data could actually justify a higher speed limit on Highway 390's southern end, Thomas said, explaining that going by "strictly engineering data that should be a 50-mile-an-hour zone."
He also suggested that Highway 390's wildlife-vehicle collision problems aren't as bad in other parts of the state.
"If you add the numbers up, 99.99% of the drivers don't have a wildlife-vehicle collision," Thomas said. "I know it's a hot topic up there, but bottom line is from a priority standpoint we got a lot of roads that are way above the collision rate."
Commissioner Luther Propst didn't buy what he described as WYDOT's driver-first approach, arguing that the logic of basing speed limits on "how people want to drive" is flawed.
"The challenge is that WYDOT manages these roads exclusively for moving traffic rapidly," he told the News&Guide. "That creates a problem for the community, because the community wants to see a balance between traffic movement and wildlife protection and the feeling of safety that comes with lower speeds. And so there's just a disconnect between the highway engineers and the people who live along the road and who have different values."
Propst called for bringing the road under county jurisdiction.
Renee Seidler, executive director of the Jackson Hole Wildlife Foundation, said preventing more wildlife-vehicle collisions on Highway 390 is a matter of getting drivers to follow existing speed limits. That, she argued, could be accomplished through a combination of enforcement and "traffic calming measures" — alterations to the road like roundabouts that would naturally slow traffic.
Enforcement has, however, proven tricky. Both Thomas and Teton County Sheriff Matt Carr said increasing patrols there would divert resources from elsewhere.
Seidler said she could get behind a county takeover of the tricky corridor.
"The easiest way to change the problems on that road is if the county were in charge," Seidler said. "The county is very amenable to making changes, the county wants to see changes, and is pushing towards changes. But of course they don't have the jurisdiction to do that."
Carr cautioned that a county takeover of Highway 390 would put a lot on county taxpayers. Though it's been frustrating, he wondered whether a solution could be reached with WYDOT.
"Can we not work with WYDOT, who has the primary responsibility for the state highway?" Carr asked. "Can't we just get them to listen to some of our concerns and issues?"
Village Road residents' reactions to Propst's suggestions were mixed.
Andrew Chekian, who lives near Lake Creek, said he could get behind the idea. But he thought of a simpler solution: more flashing speed signs like those installed further down the road.
Leeds endorsed Propst's suggestion.
"I would love to see the county take ownership of the corridor, just so we can have a little bit more control and, I think, acknowledge that it's a special corridor," she said.