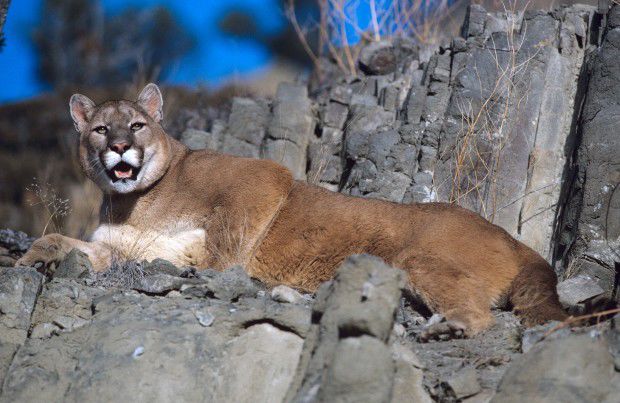 A mountain lion was spotted recently in a residential area in the Wind River Mountain foothills near Lander. Game and Fish was not called in, but a department spokesman says the large cats are on the hunt.
Large carnivore biologist Justin Clapp of the Lander office says mountain lions are usually elusive and don't typically attack humans, but are curious, like most cats, and may wander into populated areas following a food source, such as deer. For that reason, he warns everyone to always be on the watch, and if a lion is seen in the distance, he recommends backing slowly out of the area.
If the animal approaches or acts aggressively and comes closer, he recommended making noise.
"We certainly promote being loud, but we certainly don't want people to turn around and run, which would instigate a chase instinct," he said.
The animals are found in mountainous areas across the state and have been managed by his department since the mid-1970s, when they were reclassified from predator to trophy animals, he said. Trophy game status gives the state Game and Fish department the authority to manage the species.
"Under a predator status, there isn't much regulation on the take of those animals," he said. "So predators would be considered things like coyotes, raccoons, red fox, feral cats, things like that. A trophy game animal is something that the state actively manages for populations like black bears, mountain lions, and even some that we don't currently manage, like wolves and grizzly bears."
Just how many mountain lions prowl the state is unknown.
"Right now, we don't actually estimate an overall population of mountain lions," he said. "Our management plan is brought together assessing population trend. So it takes a lot of time and effort and is extremely expensive to try and accurately go out and estimate how many animals we have, especially with Wyoming being as big as it is."
Officials keep an eye on the population to see if it's stable or changing by the information collected by game officials, hunters and harvests, and they do, occasionally gather information by collaring the animals.
"We always try to improve our monitoring strategies," Clapp said. "So besides harvest data, and age, sex composition and some of that information we can get from animals that are harvested, we do continue monitoring efforts by occasionally capturing and collaring, to monitor movement rates and habitat use and things like that. But, it's certainly not something that is applied across the entire state."
In general, he said, Wyoming's mountain lion population continues to thrive, so much so, that they've had to harvest more animals in areas of extreme density and the lions are expanding eastward. He said there have been continued sightings and reports in other states to the east, in particular, where mountain lions are becoming more common.
Be the first to know
Get local news delivered to your inbox!