Almost 20 years ago, a mountain pine beetle infestation began creeping into Wyoming's southeast forests.
By 2009 it had peaked, and the visual impact was startling: Waves of green turned slowly into red and orange, then brown and gray. A few years later, hundreds of thousands of acres of forest began falling down.
The toppling trees posed a hazard for anyone who entered the forest, leading managers to clear out campgrounds and popular trailheads and post warnings for visitors.
But what impact the infestation would have on Wyoming's wildlife, particularly its expansive elk herds, was more of an unknown. Until now.
Researchers with the University of Wyoming and Wyoming Game and Fish Department recently released a study detailing the impact of dead and dying trees from beetle kill on resident elk herds. The results were published in The Journal of Wildlife Management, and were not what many predicted.
"Our expectation was that trees would die and open the canopy and elk would be doing that much better because of the increase in food," said Kevin Monteith, a co-author on the paper and assistant professor at UW. "That's not exactly what happened."
Instead, Monteith and others learned, elk avoided beetle kill areas, sacrificing the additional green vegetation within the skeletal forests in favor of healthy forested stands where moving was easier and less energy intensive.
"Anyone who has been through them or attempted to go through beetle kill know it's a huge change. It's not just spots here and there, it's everywhere to varying degrees, and clearly animals are responding to it," he added. "When animals respond in a way that occurs on the scale of an entire forest, it is a big deal."
What, exactly, should or could be done with that information is now up to the U.S. Forest Service to decide.
***
The study was largely the brainchild of former Baggs wildlife biologist Tony Mong.
Mong spent years watching the forests change, noting his own difficulties navigating forests full of fallen timber. If he was having a hard time, he wondered, how would elk respond to changing surroundings?
"Maintaining elk at the numbers we are trying to manage them could be very difficult if hunters aren't able to get to elk and elk aren't able to use the forests like they previously had," said Mong, who now works as a wildlife biologist out of Game and Fish's Cody office.
He approached Matt Kauffman, leader of the Cooperative Fish and Wildlife Unit at the University of Wyoming, for help with the problem. Game and Fish led the project until Bryan Lamont, then a UW masters student and now a wildlife biologist in Colorado, took over.
Figuring out where elk go and why was no easy task, particularly over the expanse of about 320,000 acres. Biologists first fixed GPS collars around necks of dozens of cow elk and mapped their behavior over the course of four years in and outside of the beetle kill areas, ultimately tracking more than 70 elk. At the same time, researchers deciphered what percentage of the forest was dying from beetle kill.
Through the combination of those two data points biologists discovered that not only were elk avoiding the beetle kill areas, the new growth they anticipated because of beetle kill didn't quite materialize as expected. Instead of areas clearing quickly, as with a fire or major logging project, the needles slowly died and fell and trees trunks gradually followed. Instead of sunlight flooding a clear forest floor, it had to seep through still-standing trees and then downed logs piled on top of one another.
"There is a little more food base but it's not dramatic," Monteith said. "It's not the forest smorgasbord we would have expected."
The other likely reason elk avoid beetle kill areas is more predictable – it's harder to navigate a forest floor that resembles a pine tree obstacle course.
***
What this new piece of information means for elk herds, management and hunters is still unclear.
Numbers of elk in the Snowy and Sierra Madre ranges – which are already more numerous than Game and Fish would like – may begin flowing into lower-elevation, private land, creating damage issues on nearby ranches, Mong said.
Researchers are also interested in how hunters may or may not play a role in how elk move. As the second part of the study, Game and Fish gave about 400 hunters GPS units to carry with them during two hunting seasons. They will then cross reference hunter and elk movements with each other to see if one impacts the other and how that is changed by beetle-kill downfall, Monteith said. The results should be out later this year.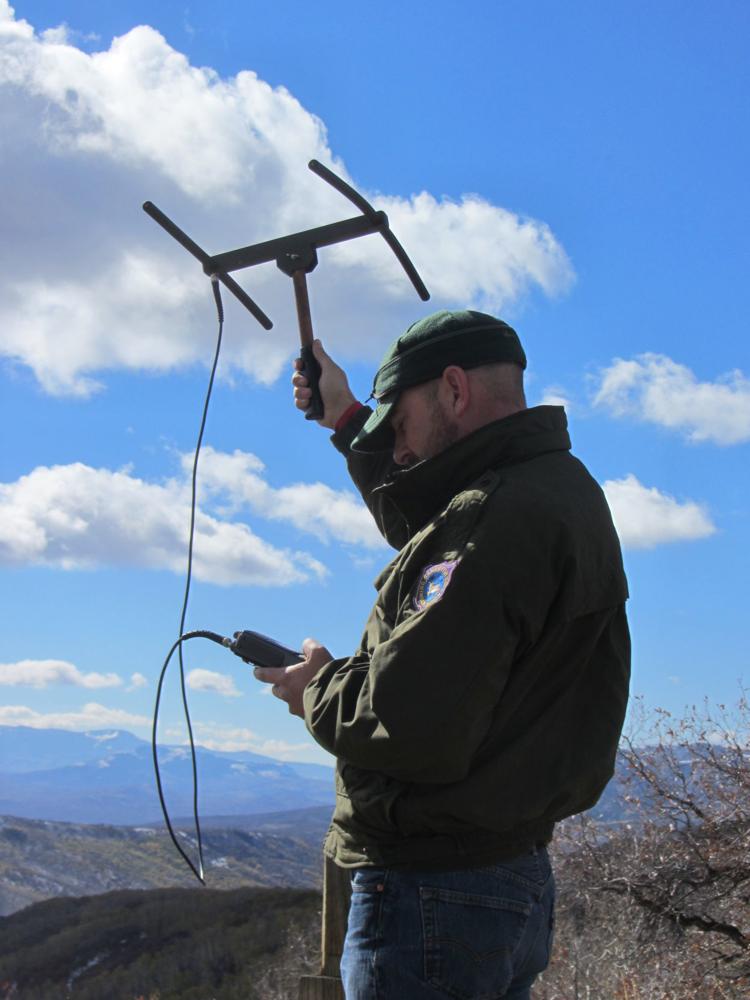 The Forest Service, which was a funding partner in the study, will use the information to help direct forest thinning projects, said Steve Loose, a district wildlife biologist with the Medicine Bow-Routt National Forest.
The Medicine Bow-Routt forest is in the process of completing a first-of-its-kind, 10-year blanket approval process for logging, thinning and prescribed burns in the forest. Each individual proposal will have to fit under the required guidelines, but if approved, the new method will mean each project does not undergo its own National Environmental Policy Act study, he said.
"The results from this elk study will be one of the pieces of information we use to design projects in the future," Loose said.