Dr. Shawn Wayment once had a client lose his dog for a week. They were camping, the handler took his eyes off the dog for a few minutes, and it was gone.
He eventually found the dog, but the lesson stuck with Wayment, a northern Colorado veterinarian and hunting-dog enthusiast.
Part of the joy of having a dog is taking it with us camping, hiking, backpacking and hunting. But each time you take your furry best friend outside, there's a risk of injury or even death. Keeping close track of it, whether through voice command, a leash or a collar, is the first line of defense, Wayment said. Even if you trust your dog with voice control, bring a leash for circumstances you can't anticipate.
Wayment and two Wyoming dog trainers offered their pro tips for keeping your pup safe this summer and fall outside.
Don't ignore quills
No matter how many times some dogs latch onto a porcupine and run away with a mouth full of quills, they keep going back. But just because you're sick of pulling them out, doesn't mean you should leave them in.
And even if you think you've removed them all, painstakingly plucking each one from their muzzles with needle nose pliers or a Leatherman tool, make sure and bring your dog to the veterinarian. The quills are designed to burrow deeper into flesh.
"I had a dog a few years ago, they thought they got them all, and there was one in the mouth. It migrated to its eyeball and I had to take its eye out."
Plan for ticks, disease
Take the threat of ticks seriously. Consider using three lines of defense in areas with bad ticks, particularly in the summer: an oral medication called Simparica, a topical medication such as Frontline and a collar such as Seresto or Preventic. While Lyme disease isn't in Wyoming yet, it's quickly approaching. Also be sure to keep your dog's vaccinations up to date, particularly for leptospirosis, parvo, distemper and rabies.
Prepare for rattlesnakes
The best protection from rattlesnake bites is to prevent one, said Bo Allen, co-owner of Stealth Point Kennels in Meteetsee. Trainers across the state offer snake clinics for dogs to train in avoidance. Classes typically use live snakes with fangs and venom removed to give the experience of being around a live rattlesnake. When the dog approaches the snake to smell it, trainers press a button on an electric collar to create a negative association.
"It's not 100 percent guaranteed, but nothing is," he said. "I have seen it work in the field."
You have free articles remaining.
If your dog is struck by a snake, scoop it up and drive to the closest veterinarian as quickly as possible. Any aid in the field, whether Benadryl, steroids or a home remedy, simply delays treatment, Wayment said.
"Keep them comfortable and relaxed," he said. "The only real thing that helps is antivenom."
Carry wire cutters
Traps and snares are a constant in a state like Wyoming. Unfortunately, neck snares are as deadly on your dog as they are on a coyote or other predator. Wayment and Allen recommend carrying a heavy pair of wire cutters in your field bag. If your dog is caught, move as quickly as you can to cut the snare. You should also know how to create a simple muzzle out of a piece of gauze to prevent your dog from lashing out at you when it's scared and in pain. "There are so many dogs I see coming in here because they're hurt and the owner is headed to the emergency room," Wayment said.
Prevent overheating
Most dog owners know their furry companions don't sweat. Dogs regularly run between 100 and 102 degrees. If your dog is over 103, it is in critical condition, and if it reaches 105 or 107, it can die, Wayment said. If you think your pup is overheating, stop what you are doing and get it somewhere cool.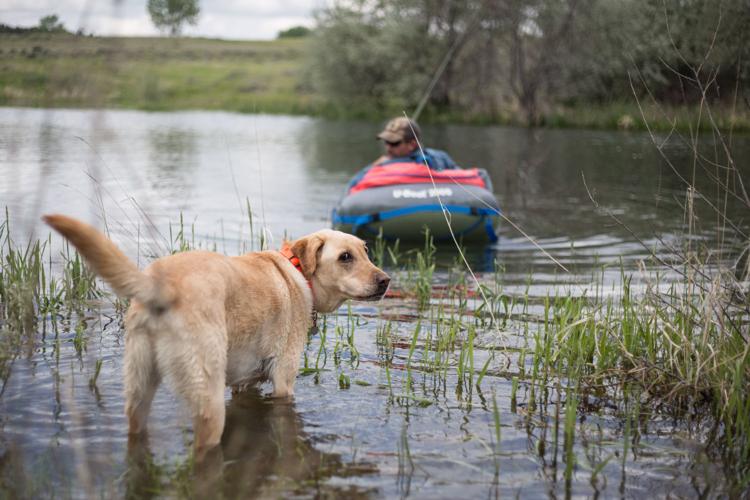 Melanie Krug, co-owner of Powder River Gun Dogs in Rozet, recommends always bringing water with you when you're outside. Some water bottles now come with cup attachments dogs can use for drinking. You can also buy a collapsible bowl to clip to your belt. If possible, place an overheated dog in water or put water on its belly to help it cool even faster.
Carry a first aid kit
Plan to bring Neosporin, bandages and even a surgical stapler into the field if you're going to be deep in the backcountry, Allen said. Dogs will cut themselves on barbed wire fences or rocks, and you'll want a way to patch them back together before seeking help. He also carries an old t-shirt to put on his dog in case of a chest wound to prevent more dirt and grime from infecting the cut.
Knowing how to perform CPR on your dog is also a good idea, and can help you keep it alive. But carry the name and phone number of the closest veterinarian. When in doubt, Wayment said, call for help.