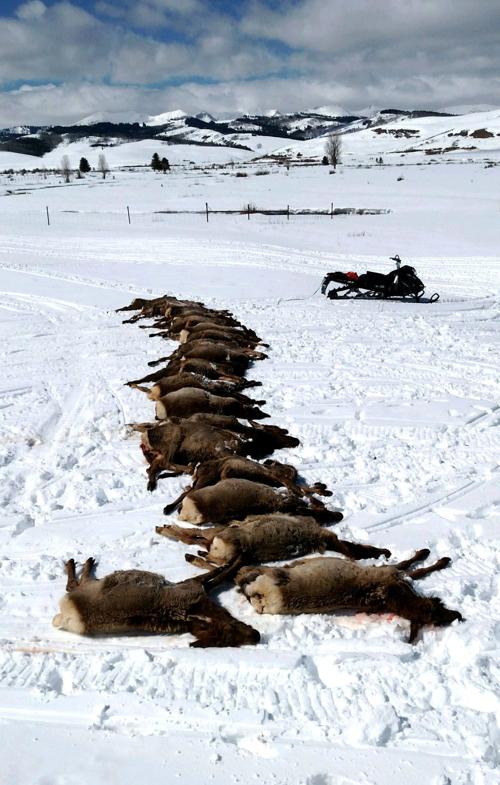 A pack of wolves killed 19 elk Tuesday night on the McNeel Elk Feedground near Bondurant in an event not seen to this degree before in Wyoming.
Wolves regularly kill elk on some of the Wyoming Game and Fish Department's 22 feedgrounds, said Pinedale regional wildlife supervisor John Lund, but never in this quantity. Of the 19 elk, 17 were calves and two were cows.
"We have had a lot of wolf predation on elk throughout our feedgrounds the last several years," Lund said. "This year has been significant, especially at that feedground. We're estimating between 70 and 75 elk have been killed this year."
Wolves are protected in Wyoming by the Endangered Species Act, which means the U.S. Fish and Wildlife Service is responsible for managing the animals.
Options for managing wolves killing elk are limited under the ESA, said Mike Jiminez, the service's Northern Rocky Mountain Wolf coordinator. The feds can kill wolves that are killing livestock, but not elk.
It could be what is called a surplus killing, Lund said, where wolves kill more animals than they can eat in a night.
The carcasses were moved off of the hay field on the feedground where they were killed, but are still at the feedground. The wolves may return to eat more of the dead elk, Jimenez said. They may also leave since the carcasses were moved by humans.
Killing to this degree hasn't happened before in Wyoming, said Ken Mills, Game and Fish's large-carnivore biologist, who helped manage wolves when the state had control over the animals from September 2012 to September 2014.
"These events usually occur when some other factor specifically increases the vulnerability of their prey," he said. "That could be snow, that could be disease, that could be habitat structure, for example."
He remembers seeing something similar with a pack of five wolves in the Upper Peninsula of Michigan in 2001. The wolves pushed a herd of deer into a clearing in deep snow, and each wolf killed a deer.
"They're like a person living day to day, getting enough to survive. When prey is vulnerable, they don't have that mechanism to stop," Mills said. "Killing is how they survive. If someone is barely making it day to day and they walk into a buffet, they're going to eat like it's a buffet."
The elk carcasses will be tested for disease, but Lund doesn't think they were weak from illnesses.
Over killing of animals such as elk is more likely to happen on a feedground where populations are large and concentrated, Jimenez said. Wolves will capitalize on what is available.
"If you have a lot of elk congregating on a feedground, especially late in the winter, and they're not in great shape, wolves will take advantage of that," he said. "It's a lot easier to go through a feedground and kill elk and go back and feed on them than chase them all over their winter range."
Most elk herds around Pinedale are close to Game and Fish's objective or slightly over. The Hoback Herd, which is the one that winters on the McNeel feedground, is currently at objective. Lund is concerned this winter's kills could hurt the herd's numbers.
Wyoming had about 330 wolves in 2014, with about 100 in Yellowstone National Park. The 2015 estimates won't be out until April 1, but Jimenez said the numbers in Wyoming would likely increase.
Follow Managing Editor Christine Peterson on Twitter @PetersonOutside.