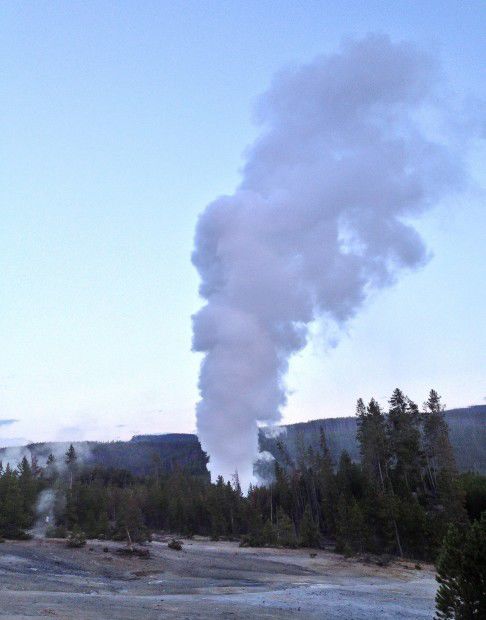 The tallest active geyser in the world may be erupting for the first time since 2014, according to the National Park Service.
Yellowstone National Park employees reported seeing the Steamboat Geyser erupt on Thursday evening, the park service announced Friday. Park geologists then compared the accounts to thermal sensors in the area and determined it "could be a series of minor eruptions."
The geyser can shoot water higher than 300 feet during major eruptions, according to the Park Service. A geyser in New Zealand has sent water higher, but not in more than 100 years.
Steamboat Geyser is in the Norris Geyser Basin, which is currently closed to vehicle access for spring plowing. The road will be open to bicycles this spring, but not yet.
Unlike Old Faithful, which, as its name indicates, erupts on a relatively predictable timeline, Steamboat Geyser is impossible to anticipate. It went eight years without a major eruption before shooting water into the sky on July 31, 2013, and again on Sept. 3, 2014, according to a 2014 report by the United States Geological Survey.
Historically, the geyser has gone anywhere from four days to 50 years in between eruptions.
Yellowstone National Park contains more than 10,000 thermal features and sits on top of the world's largest volcano, capable of sending 2,000 times more matter into the sky than the Mount St. Helens eruption. The last volcanic eruption at Yellowstone was 70,000 years ago.
Steamboat eruptions, as with other geysers in Yellowstone, have little if any connection to the deeper volcano, said Jacob Lowenstern, former scientist in charge of the Yellowstone Volcano Observatory.
"Their plumbing systems are in the upper few hundred feet of the Earth," he said. "As you get hotter and hotter and deeper and deeper, the permeability and ability of water to move around shuts off. There's not a whole lot of connectivity of the reservoirs once you get deep."
The park hasn't had many inquiries from geyser watchers yet, said Vicki Regula, a public affairs assistant, though the 2014 eruption drew plenty of viewers.
"It was magnificent to see," she said.
Follow managing editor Christine Peterson on Twitter @PetersonOutside
Be the first to know
Get local news delivered to your inbox!