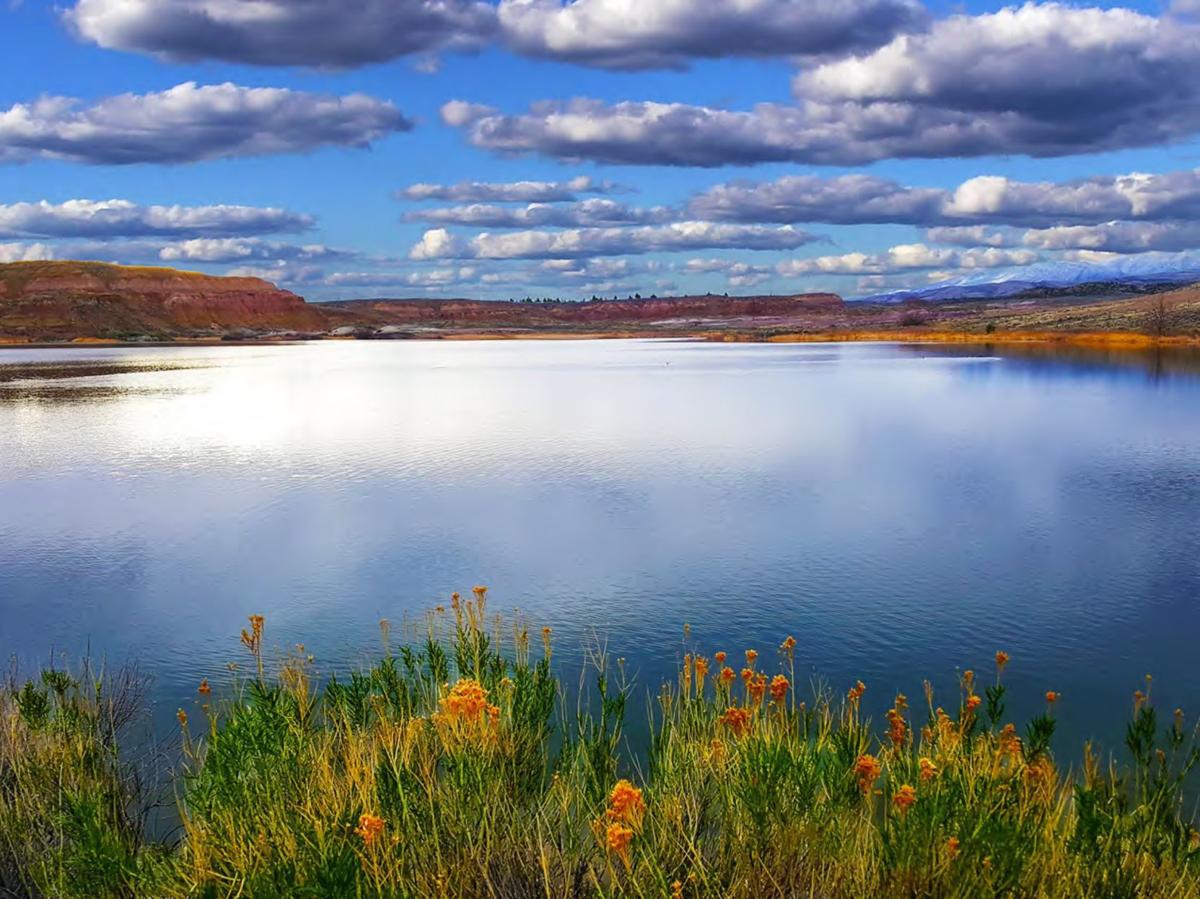 BILLINGS, Mont. — In four years Martin Mercer could have a new lake in his backyard.
The creation of Alkali Creek Reservoir and the expansion of Leavitt Reservoir, both located along the western flank of Wyoming's Bighorn Mountains, have been approved by the Bureau of Land Management. However, the agency is not the final say on the projects, both of which would take place on tributaries to the Bighorn River.
"There are still some hurdles we're going to have to jump over, getting the public and landowners on board," Mercer said. "But we believe the benefits will outweigh the negative."
Mercer's great-great-grandfather homesteaded along Paint Rock Creek west of Hyattville. A portion of the reservoir would be on his ranchland and the family's adjoining BLM grazing allotment, property along the Alkali Creek drainage that he referred to as having badlands characteristics.
More water
The reservoir would cover 294 acres. Alkali Creek is an intermittent stream that flows into Paint Rock Creek, which is a tributary of the Nowood River.
"The new reservoir will provide late-season irrigation for portions of the Nowood River Watershed while creating additional recreation opportunities in the area," according to a BLM press release.
North of the community of Shell the BLM signed off on a joint decision with the Army Corps of Engineers to expand Leavitt Reservoir from about 45 surface acres to 203 acres. The work will expand the lake's holding capacity to about 2.2 billion gallons of water. That water would also be used "to reduce late-season irrigation shortages and flooding in local watersheds while increasing local recreation opportunities," according to the BLM.
Construction on both projects could start in 2021 with completion and filling by 2023, according to Jason Mead of the Wyoming Water Development Commission.
The projected cost of the Leavitt Reservoir work is $41 million. The cost of Alkali Creek Reservoir is estimated at $35 million. The state's investment comes from funds set aside from fees on extractive industries like coal and oil.
10 in 10
Leavitt and Alkali Creek are two of 14 reservoir projects being pursued by the Wyoming Water Development Commission. Two other projects are also underway, reconstruction of Middle Piney Reservoir ($12.2 million) and enlargement of Big Sandy Reservoir ($16.2 million). The commission was charged in 2014 by then-Gov. Matt Mead to create 10 new water storage facilities during the next 10 years, known as the Ten in Ten initiative.
"If we had the funding, I think we could get it done," Mead said.
According to a 2018 legislative report by the commission, each year the state is letting about 3 million acre feet of surface water flow from Wyoming, water that the state is entitled to. The majority of that water comes from the Bighorn and Wind River basins. The Ten in Ten initiative is meant to develop and preserve some of those water resources.
However, the process to develop or expand reservoirs is costly and time consuming. Required federal permits that used to take less than a year to acquire now can take almost four times as long. Costs for the permitting have risen by more than 1,000 percent.
"We won't be able to build 10 or 14 with the funds we have now," said Jason Mead of the Wyoming Water Development Commission. A legislative appropriation and/or federal assistance will be required, he added.
"I wish it could be bigger for all the money that's being spent," Mercer said of Alkali Creek Reservoir. But the site that was chosen rose to the top after more than 40 other possible locations were rejected in the Nowood Watershed District, he added. Lands that could have accommodated a larger reservoir didn't pass muster with the owners.
"It's been a lot of leg work," Mercer said. "We started 10 years ago. Hopefully it doesn't take another 10 to get this done."
He said that water in his region is already over-adjudicated, meaning that landowners hold more water rights than there is water available.
Details
If built, the Alkali Creek Reservoir would be filled by diverting water from Paint Rock Creek and Medicine Lodge Creek during spring runoff.
"Supplemental irrigation water would be released starting in July, continuing through August, and extending into September," according to the BLM.
In addition to building the reservoir, a 6,218-foot-long bypass pipeline would be constructed to allow Anita Ditch irrigation flows to be diverted while the reservoir is being built.
"The bypass pipeline would remain in place following construction to provide pressurized flow to irrigators for sprinkler operation," according to the BLM.
To increase the capacity at Leavitt Reservoir near Shell, an 80-foot tall, 1,800-foot long earthen dam would be built with a 21-foot wide crest.
"It's not your typical expansion where we're just raising the crest of the spillway," Mead said. "We're actually moving upstream a little way. It's for the most part a new dam."
Fishing
In addition to providing irrigation water, the projects would also create new places for recreational boating and fishing, the BLM noted, which could funnel more money to nearby communities.
Each reservoir would have a minimum dead pool, allowing fish to overwinter, according to Sam Hochhalter, Wyoming Game and Fish Department fisheries supervisor in Cody. Once completed, a discussion would begin on which species to introduce, likely warm and cool water species like bass and walleye.
In terms of how the reservoirs would affect the existing fisheries, Hochhalter said Leavitt Reservoir shouldn't be a problem as long as minimal flows are left in Beaver and Shell creeks when water is pulled during spring runoff.
The creation of Alkali Creek Reservoir, however, could offer some challenges. Paint Rock Creek, which would be used to fill the man-made lake, is an important tributary to the Nowood River. If the creation of the reservoir leads to more acreage being irrigated in the area it is projected there could be up to a 70 percent reduction in the creek's flow in a dry year.
That's a concern since the Nowood River is home to fish species of concern like native shovelnose sturgeon and sauger.
"Obviously that's a huge reduction in discharge," Hochhalter said. "There would almost certainly be a population level response."
The department is in discussions with the Water Development Commission and other cooperators on the project to see if there are possible solutions.
"I hope the public thinks about long-term and where their food comes from and the good things agriculture does for wildlife and recreation," Mercer said.
Be the first to know
Get local news delivered to your inbox!