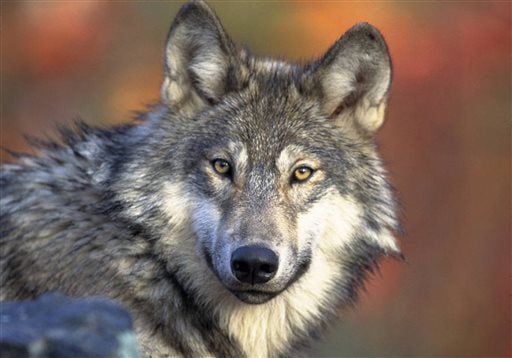 Legal wrangling will keep Wyoming wolves on the endangered species list a little longer, despite a recent court ruling saying the state could responsibly manage the predator.
A U.S. Court of Appeals in D.C. upheld Wyoming's wolf management plan on Friday, reversing a 2014 decision by U.S. District Judge Amy Berman Jackson of Washington, D.C. The lower court's ruling said, essentially, that Wyoming's plan to maintain a buffer of more than 100 wolves and 10 breeding pairs outside of Yellowstone National Park and the Wind River Reservation was not legally binding and not sufficient under the Endangered Species Act.
The higher court, however, ruled Friday that Wyoming's plan was adequate and the state could properly manage wolves. Both Berman and the higher court agreed that wolves were recovered.
But at least in the immediate future, wolves remain under federal control and cannot be hunted in Wyoming.
"The good news is, this decision very much supported Wyoming's wolf management plan and we do believe wolf management will be back in Wyoming's hands sooner rather than later," said Brian Nesvik, the Wyoming Game and Fish Department's chief game warden.
Court proceedings could take months, but Nesvik hopes Wyoming will assume management by hunting season this fall.
The group is disappointed with the D.C. court's ruling, said Tim Preso, an attorney for Earthjustice, a nonprofit law firm representing Defenders of Wildlife and several other environmental groups.
You have free articles remaining.
"Put simply, a voluntary measure is not regulatory because it does not require anyone to do anything and can be withdrawn or changed at any time," Preso wrote in an email. "We are continuing to evaluate the decision and our options."
Under Wyoming management, wolves are considered a predator and can be killed year-round in about 85 percent of the state – which amounts to about 19 percent of the state's suitable wolf habitat, according to the appeals court. In the northwest corner of the state, where the bulk of Wyoming's wolves live, the plan specifies hunting seasons.
Preliminary estimates by the U.S. Fish and Wildlife Service show Wyoming was home to about 240 wolves in the end of 2016, outside of Yellowstone and the reservation, said Tyler Abbott, Wyoming Field Supervisor for the Service.
In 2015, the Service killed 54 wolves because of 134 livestock conflicts.
"The reason we're talking about this, whether a delisting or high number of depredations or lethal removal of wolves, is because we've had a very successful recovery program, and it's time to get them back into state management," Abbott added.
In 2013, the last year a hunting season was allowed in Wyoming, 24 wolves were killed in the trophy area and 39 in the rest of the state.
Friday's decision to delist wolves is one of many in the predator's legal drama in Wyoming, which began when they were reintroduced into Yellowstone in 1995.
"I am pleased with today's ruling," said Gov. Matt Mead in a statement Friday. "The Court recognized Wyoming's Wolf Management Plan was appropriate. We look forward to state management once the 2012 delisting rule is formally reinstated."
Follow managing editor Christine Peterson on Twitter @PetersonOutside