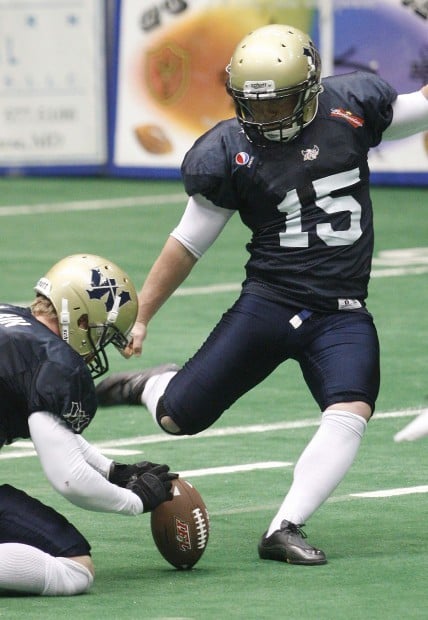 The Wyoming Cavalry are in uncharted territory.
The Cavs (6-5) head into tonight's Indoor Football League game against the Colorado Ice (10-1) clinging to the final playoff spot in the Intense Conference. Wyoming holds a two-game lead over the Seattle Timberwolves with three games remaining.
Having lost three of their past four games, including a 70-30 shellacking at home last week to Sioux Falls, the Cavs are in danger of finishing below .500 for the first time since the 2004 season.
"We're kind of struggling right now," Cavs coach Dan Maciejczak said. "We're used to beating everybody and competing at a high level, and when you get bombed by a team like Sioux Falls it puts a little stop to your confidence, especially individually.
"Our goal for the week is to get our individual confidence back and in return get some team confidence and then going out and having some success against [the Ice]."
Wyoming is 0-2 against Colorado this season, losing 39-30 in the season opener and 59-54 last month.
"The first time we played them we couldn't get untracked on offense," Maciejczak said. "And then last time we scored some points but we couldn't stop them on defense.
"[Colorado has] got a good group of veteran guys, and anytime you can get a bunch of guys that have played this game together you've got a good opportunity to win."
Maciejczak is hoping that the Cavs veterans, most notably wide receiver Dante Dudley, quarterback Matt Strand and defensive lineman Tomasi Kongaika can lead the way for the team's younger players down the stretch.
Dudley leads the Cavs with 48 receptions for 506 yards and 12 touchdowns, while Kongaika, despite playing just seven games, is second on the team with 5.5 sacks.
Strand, who came out of retirement two weeks ago, will once again share QB duties with first-year signal-caller Joe McLain.
"When I look at game film, we have athletes and we have talent," Maciejczak said. "But when you get blown out it gets to a point where guys start questioning themselves.
"Hopefully our veterans are going to step up and get our younger kids to understand that we can play at this level."
After all, time is running out.
Contact sports reporter Jack Nowlin at (307) 266-0528 or jack.nowlin@trib.com. Follow him on Twitter at CASJackN