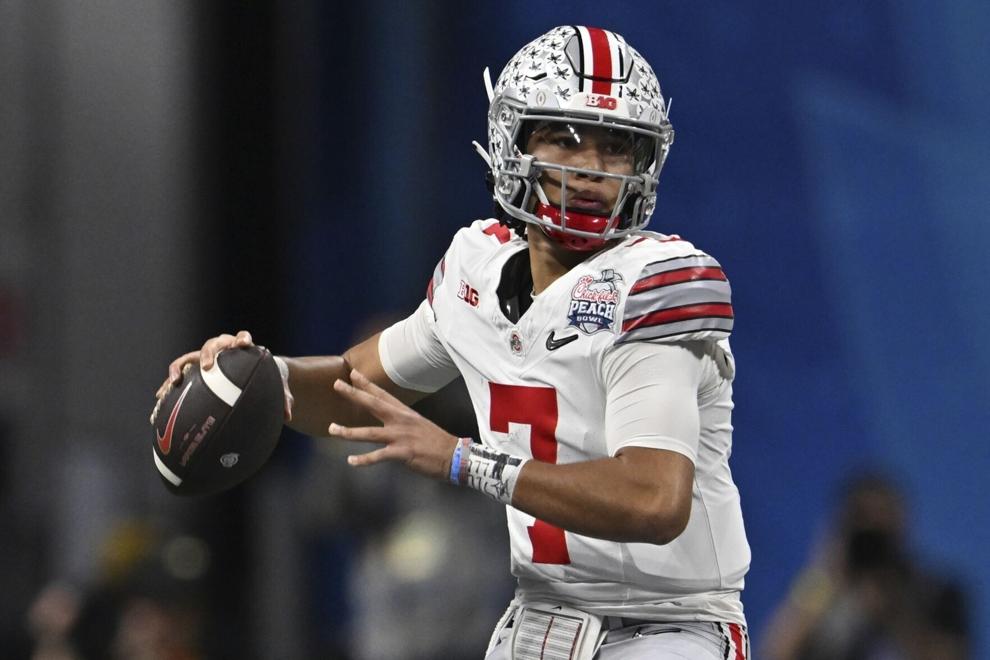 After a blockbuster trade with the Chicago Bears on Friday to get the No. 1 pick, the NFC South Panthers and new head coach Frank Reich will have their choice of which quarterback they want to select: Alabama's Bryce Young, Ohio State's C.J. Stroud, or even Florida's Anthony Richardson or Kentucky's Will Levis – sending the NFL Draft odds boards into a tizzy.
No longer is Young the favorite to go as the top overall pick in April's draft. That honor now belongs to Stroud.
After sitting at better than even money for weeks, even after not participating in drills at the NFL Combine and officially being measured at 5-foot-10 1/8 and 204 pounds – almost 2 inches shorter than what he was listed when he played for the Crimson Tide – Young still was at the odds-on favorite to go first.
Then the Bears-Panthers trade happened, and Stroud jumped to the top of the boards at -300, according to FanDuel, and -350 at DraftKings early Saturday morning. Stroud started the week at +350, tied with Richardson.
Young went from -200 at DraftKings, who took down the odds briefly Friday, to +165 when they came back up, according to VSiN.
Saturday morning, FanDuel had Young at +300.
Richardson, whose draft stock soared after and impressive and record-setting performance at the NFL Combine, now sits at +450 at FanDuel, while Levis dropped to +3000.
The drastic shift in odds seems to speak to the type of quarterback the Reich wants running the show in Carolina.
Stroud, at 6-3, 218 pounds, has the size most coaches want in their signal-callers. The average height of quarterbacks on NFL rosters in 2022 was 6-2½.
We also know Stroud can play. During his three-year career at Ohio State, including two as the Buckeyes starting quarterback, he set numerous school and Big Ten records, including single-season passing yards (3,193) and touchdown passes (34).
Stroud won 21 of the 25 games he started for Ohio State, and also set the record for career passing efficiency (182.39) and total yards per season, averaging 294.9 yards per game.
Panthers odds to win NFC South
Friday's deal with the Bears not only put the Panthers in position to get their quarterback, it also moved them up the odds boards to win the NFC South.
The New Orleans Saints, after signing quarterback Derek Carr, are the favorites to win the division at +140. But now that the Panthers have the top overall pick, they're odds to challenge for the South crown are at +200, according to DraftKings.
Carolina's odds to win the NFC sit at +2200, while odds of winning the Super Bowl are +5500.
---