To many of us, there are some really annoying aspects to sports in 2022.
Pitch counts for instance, which has given birth to things like the seven-pitcher no-hitter.
Or the NFL's complete reliance on passing, which has turned it into in arena football.
And the idea that a basketball player would pass up an open layup so a teammate can miss a 3-pointer. (OK, tweet this out with the old man yelling at cloud gif, if you want).  
In horse racing, the annoying contemporary trend is the tendency of trainers to race less. A lot less. Trust me, stakes horses competed a lot more frequently.  
FrontPageBets provides a first look at what to expect in the second leg of the Triple Crown.
That leads us to Kentucky Derby winner Rich Strike. His connections, trainer Eric Reed and owner Rich Dawson, decided to skip the Preakness, the second leg of the Triple Crown, and wait for the Belmont Stakes. For the good of the horse is what they've said, but that would only be true if there was there was a physical problem and none has been indicated. It has nothing to do with the horse's health, it most likely has to do with trying to avoid a bad defeat which could tarnish his reputation and affect his value as a stallion.
It's not sporting and it's definitely aggravating but know this: Strike Rich was not going to win the Preakness. However, his absence takes away a betting opportunity. That is, betting against him because he would have been over-bet because he won the Derby. The value of the other competitors would have been higher.
FrontPageBets takes a look at what to expect in the 147th Preakness at Pimlico.
The other problem with this Preakness is there will be an overwhelming and deserving favorite, Epicenter, who is 6-5 on the morning line. The beaten favorite in the Derby, he will stand tall against this field after his second-place finish at Churchill Downs. You will make no money betting against him this time. You just need to use him as creatively as possible.
The biggest threat to Epicenter will be Early Voting, who finished second by a neck in the Wood Memorial, his only loss in three races. His trainer, Chad Brown, skipped the Derby and pointed for the Preakness. His horse will most likely set the early pace. How jockey Jose Ortiz manipulates that will have a big impact on the outcome.
Early Voting is dangerous and Epicenter's jockey Joel Rosario cannot let Early Voting just cruise along unthreatened for 1 3/16 miles. He can't get too far behind and, with Epicenter, he's riding a horse versatile enough to adapt to the situation he's presented with.
It's not far-fetched to think owners, trainers and jockeys could react to the fast pace of the Derby and instruct their riders to take it easy early. Ortiz, as good as any rider in the country, could take advantage of that. Hopefully, Brown won't instruct him to let other horses take the early lead. That would be a disaster.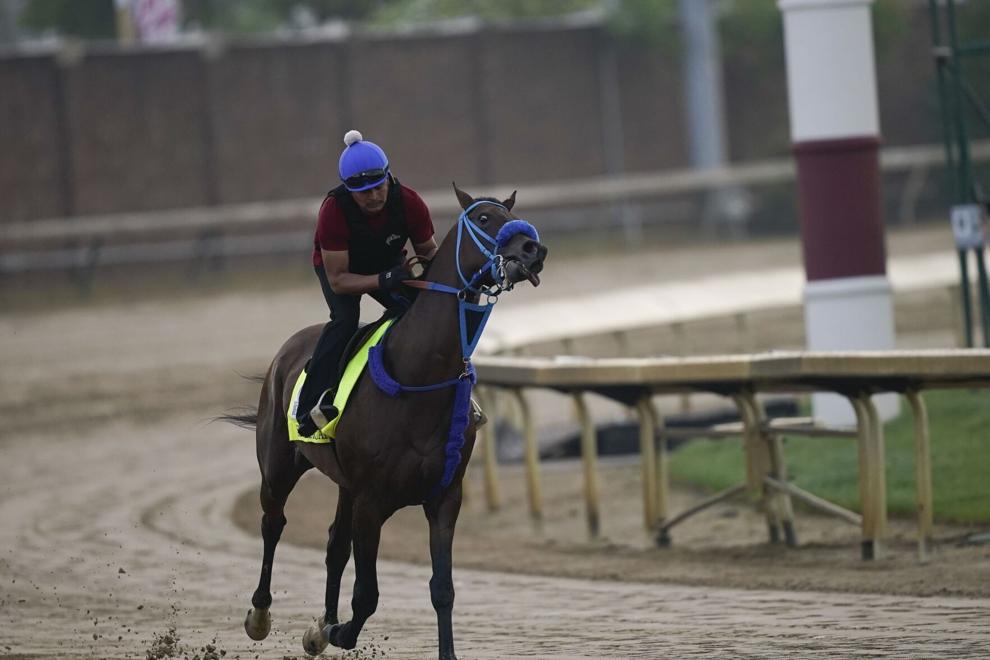 There are two other Preakness starters coming out of the Derby, Simplification and Happy Jack. Simplification, a late-running type, finished fourth, 2¾ lengths behind Epicenter and can't be eliminated. He's a horse you should use in exactas, trifectas, etc.
Happy Jack should have benefited from the fast pace of the Derby where he quickly found himself at the rear of the field, but could only pass a handful of very tired front runners. Even if he improves, he's not winning.
The public will be drawn to a filly, Secret Oath, who won the Kentucky Oaks and is trained by Hall of Famer D. Wayne Lukas. She'll be overbet. Her speed figure in the Derby doesn't measure up and she finished third in the Arkansas Derby back in April. I'd avoid her although she could finish in the money.
Armacgnac is trained by Tim Yakteen, who has taken over horses trained by the suspended Bob Baffert including Taiba and Messier who finished up the track in the Derby. This is another one owned by one of Baffert's big-money partnerships.
Armacgnac couldn't keep up with Taiba and Messier in the Santa Anita Derby but did follow that up with an allowance victory. He has shown a front-running style so it's possible he couldn't affect the early pace.
Creative Minister is an interesting longshot after winning a non-stakes race on Derby Day. He was impressive but it's a big jump to the Preakness.
Fenwick has only won once and in his only stakes race, the Blue Grass Stakes in April, he finished last, slowing to a walk in the stretch.
Skippylongstocking, yet another come-from-behind type, finished third behind Zandon and Early Voting in the Wood Memorial as he loped around the track not displaying any acceleration.
There are two ways to play this. One would be just pounding the exacta of Epicenter and Early Voting, weighting it as you see fit. Or you just use Epicenter on top of various longshots, hoping for a late-running bomb to run past a tiring Early Voting.
Sullivan's prediction: 1. Epicenter, 2. Early Voting, 3. Simplification.
---
Joe Sullivan is the former sports editor of the Boston Globe and an avid horse player. His college basketball column "Sully's Court" was a staple in the Globe. Follow him on Twitter @GlobeSullivan