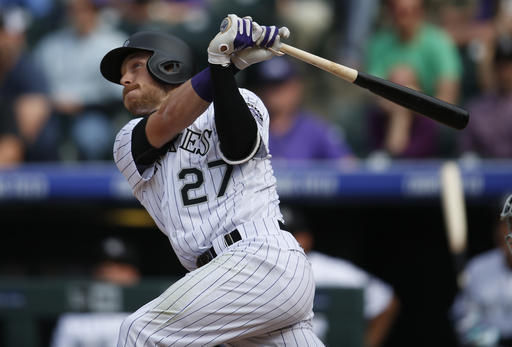 DENVER — Every story has a beginning, middle and end, and Trevor Story is no exception.
The Colorado Rockies rookie didn't get the middle he had hoped for, when Tuesday's All-Star Game marked the midpoint of the season without Story as a participant. And as for the ending, well, that's likely a long career away from being written.
It's Story's beginning that you've heard of, because there's never been a beginning like it. The shortstop hit a home run in each of his first four games (a first), seven in his first six games (also a first) and went on to tie the rookie record for home runs before the All-Star break with 21.
But what you might not know is that the actual beginning of the story — the professional story, at least — just so happens to be a Ghost story.
After being selected out of high school with the 45th pick of the 2011 draft and given a signing bonus of $915,000, Story's pro baseball career began in the spare bedroom of Jack and Tori Simms' house in Casper.
The Simmses helped begin the host family program for the Casper Ghosts, then the Rockies' rookie ball affiliate. By their estimate, they hosted more than 50 Pioneer League players during the team's 11 years in Casper, including the final batch of Story, Carl Thomore and Harold Riggins in 2011.
"A lot of people don't realize, you don't go straight to the big leagues," Story said. "You kind of work your way up."
Story, a native of Ingram, Texas, had never been to Wyoming before joining the Ghosts. He explored the scenic landscape some, did a little fishing, but the majority of his time was spent on the field.
"I just want to play baseball every day," he said. "So I got to do that."
When he wasn't playing or practicing, Story and his roommates were either hanging out in the Simms' den or at Applebee's, the only place open after the Ghosts' games finished.
Other than that, it was all baseball all the time.
"He had a job to do," Toni Simms said, "and he came to do that job."
Story would often report to the field early alongside the pitchers to get in some extra swings. He was the second-youngest player the Simms ever hosted, but he didn't show it.
"He was a quiet kid, but mature at the same time," said Tony Diaz, who coached the Ghosts from 2007 to 2012. "He was extremely relatable with all kinds of players. College players, Latin players, other high schoolers. ... And the thing that was extremely impressive for an 18-year-old kid is how he handled failure and how he responded after making mistakes."
Despite being the quietest of the three players staying with the Simms at the time, Story was by no means timid.
"He always said he was going to take Tulo's position," said Simms, referring to five-time All-Star Troy Tulowitzki. "He said, 'I will replace Tulo.' At that time, it was, 'OK, Trevor. Sure you will.'"
Story had reason to be confident. He had 48 hits in 47 games with the Ghosts, tallied 28 RBI and stole 13 bases.
"Trevor on the field was a step above," Jack Simms said. "He had a cannon for an arm, great glove, he had good pop at the plate, and you could really see why the Rockies invested in him as their number one draft pick. He had all the tools."
Story's power was still in its infancy, though, and he hit just six home runs that year.
"It's really hard to project a guy that's on pace to hit 40-plus home runs (when he's) 18," Diaz said. "Definitely he had the bat speed, and when you have a young kid with bat speed and strength, you figure there's at least 40 doubles, 20 homers in there down the road.
"But to say that back then I said, 'Oh, there's 40 home runs in there,' I wasn't really smart enough to predict that."
Still, Simms sensed there was something special in Story's swing. Simms has a wooden bat that he would get signed by Casper players whom he expected to go on to big things. He has a pretty good collection, too, nabbing John Hancocks from players like Nolan Arenado, now the Rockies' star third baseman, and Seth Smith, among others.
Simms initially missed on Dexter Fowler, though, mistaking the future All-Star's attempts at learning to switch-hit for a lack of hitting prowess.
"Boy, was I wrong," Simms said. "Holy buckets."
With Story, though, Simms knew to get an autograph.
"When Trevor left — of course, that's always a sad day when they leave, but Trevor and I were talking and he asked me, he said, 'What do you think?'" Simms said. "And I said, 'Five to six years.' I said, 'You're going to grow, and you're going to mature and you're going to get better, and if you stay with it, in five to six years you'll be there.'"
Sure enough, Story was with the Rockies in five years' time, taking the position left by Tulowitzki when he was traded to Toronto.
On Opening Day this season, Story sent two Zach Greinke pitches over the fence in Arizona. The next day, he took Shelby Miller deep, and he followed it up with a home run off Patrick Corbin in his third game, marking the first time a player's first four hits were all homers.
"It was unreal," Story said. "Just kind of surreal. I didn't expect to hit that many home runs so quick, but it was awesome."
Story was named the National League player of the week after that first week and the NL rookie of the month for April.
Of course, that was just the beginning of the story.
"He was the talk of the game," Rockies manager Walt Weiss said. "That's a lot to deal with the first week of your career. And he had a great first month, great first half. So he's had a lot of attention. He's had to make adjustments early, because he hasn't been able to sneak in under the radar."
Story fell off his unsustainable home run pace before long, and the strikeouts began to pile up.
The grind of the season began to set in, something he had experienced for the first time in Casper.
"It's only 80 games (at the rookie level), but that seemed like forever to me," he said. "After that season, I was dog tired. I realized how important it was to take care of your body and what it takes to play every day."
Plus, he had to adjust to life after his record-setting start.
"Just being realistic about it, you're not going to hit a home run every game," Story said. "I just tried to stay as even-keeled as possible. Whether I go 0-for-4 or 4-for-4, I try not to change the way I act. It definitely doesn't change the way I prepare."
Though he leads the NL with 114 strikeouts, he's 10th in the league in slugging percentage (.545), 12th in RBI (57) and 20th in on-base plus slugging (.874).
With a pair of home runs on July 7, he matched the first-half rookie record of 21, held by Dave Kingman and Albert Pujols.
"We're talking about one of the greatest first halves for a rookie in the history of the game," Weiss said. "I mean, really. It's a strong statement, but you have to talk about it in those terms."
Story landed on the NL All-Star Final Vote ballot, but he finished third behind San Francisco's Brandon Belt and Pittsburgh's Starling Marte.
"I was very disappointed finding out he didn't make the All-Star team, and every single person (on the team) was disappointed he didn't make it," Rockies catcher Tony Wolters said. "He should have. But I know for a fact that it's going to make Trevor that much better, and he's going to be an All-Star for a lot of years."
Said Arenado, who this year was named an All-Star for the second time: "He's had an All-Star first half, and he's played extremely well. He's only going to get better with the experience of the big leagues.
"There's a lot more damage to be done. A lot more good things to be done in the second half, and that's what we expect from him."
In many ways, the Ghosts are a distant memory for Story. The 18-year-old from the Simms' spare bedroom is now an established MLB starter. The team left Casper for Grand Junction, Colorado, after Story's season and changed its name back to the Rockies. And just one of Story's teammates from that 2011 team, Braves pitcher Daniel Winkler, also reached the majors.
"I don't think there's anyone that I play with now on the Rockies that I played with then," said Arenado, who played for Casper in 2009. "It's crazy how the process of baseball and minor leagues and prospects and all these things happen."
And yet, every story has to begin somewhere.
"It's just like anything in life," Diaz said. "You try to develop the right foundation, and you hope that at least that's a good start for them to get on their way to achieving their potential."