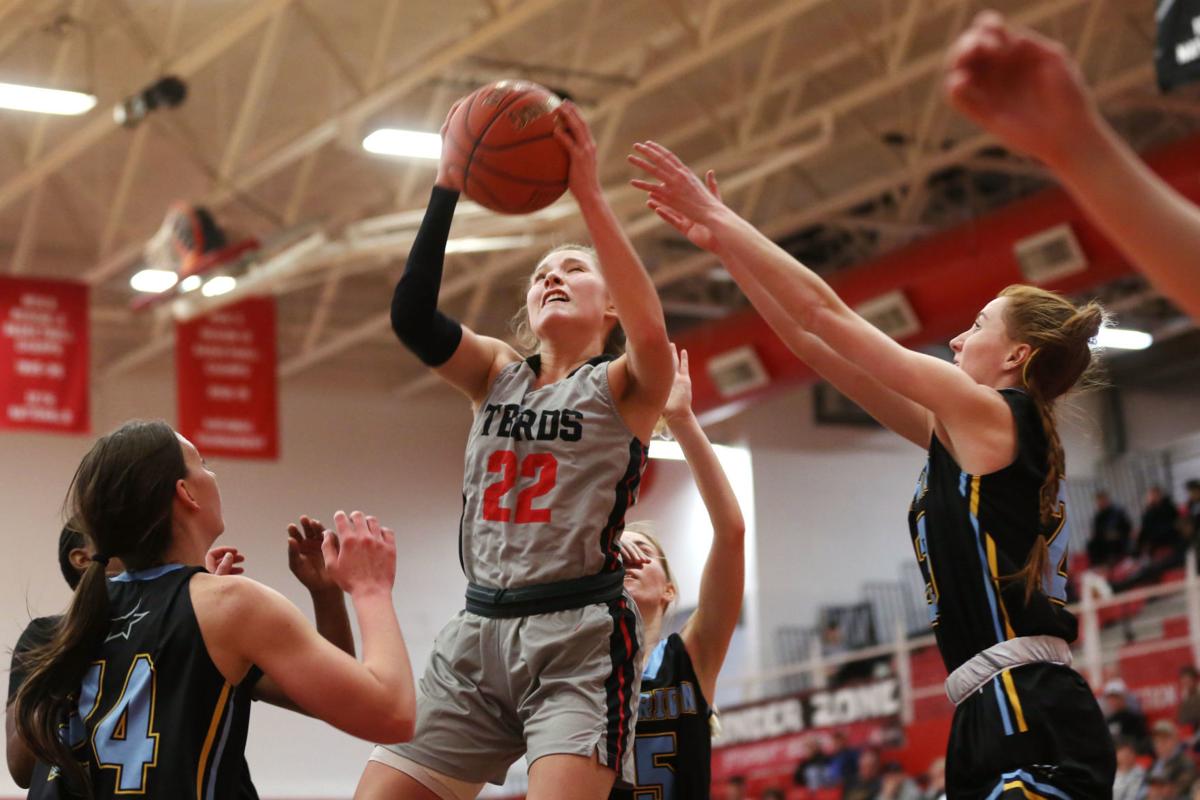 With just four games remaining in the regular season, the Casper College women's basketball team is right where it needs to be. The 16th-ranked Thunderbirds (22-3, 9-1 Region IX North) remain tied with No. 21 Gillette College in the sub-region standings heading into Wednesday's game at Eastern Wyoming College.
"As long as we keep winning we're in control of our own destiny," Casper College women's head coach Dwight Gunnare said.
Unfortunately, the same can't be said for the men's team. The T-Birds (20-5, 7-3) had a chance to move into a tie for the sub-region lead but lost 94-93 at No. 11 Western Wyoming Community College on Saturday when the Mustangs' Sindou Cisse hit an off-balance 3-pointer at the buzzer.
It was the second loss of the week for the T-Birds — they suffered a 94-88 defeat at Gillette College on Wednesday — who dropped out of the NJCAA Top 25 for the first time in two years.
"At this point we just have to find a way to get back in the winning column," head coach Shaun Gutting said.
Women
Casper College enters Wednesday's game having won eight consecutive games. Its most recent victory was a tougher-than-expected 63-54 at Western Wyoming (3-21, 0-10) on Saturday.
While Casper College led throughout it wasn't able to put the Mustangs away until the end when it made some free throws and got some defensive stops.
"It was a battle," Gunnare admitted. "At times we were our own worst enemy ... we just couldn't get control of the game.
"We were fortunate to get the win, but you have to win those types of games on the road if you want to win the sub-region."
Winning the sub-region takes on added importance this year as the North winner hosts the Region IX Tournament.
You have free articles remaining.
Freshman guard Natalia Otkhmezuri matched her season average with a game-high 15 points in Saturday's victory. Otkhmezuri also leads the sub-region in 3-point shooting at 43.6 percent.
Freshman guard Marija Bakic (10.6) and sophomore forward Mya Jones (10.5) are also averaging double-digit points for the T-Birds, although six other players have had at least one double-figure game this season.
That balance was tested Saturday when starting point guard Raquel Ferrer-Bernad went out with an injury, although Gunnare expects the two-year starter to return to the lineup soon.
"I have all the respect in the world for Raquel," he said. "She just goes out there and does what we need her to do. She has changed her game in order to mesh with what the team needs."
As far as the T-Birds looking past Eastern Wyoming (14-10, 7-3) to Saturday's home showdown against Gillette College, Gunnare doesn't believe that will happen after what the Lancers showed Monday. Eastern led No. 3 Western Nebraska Community College after three quarters before losing 80-62.
Men
For 32 minutes Saturday the T-Birds were in control at Western Wyoming. They led 79-66 with 8 minutes remaining and still had a six-point lead with 3:34 to play. Empty possessions, missed free throws and an inability to keep the Mustangs off the boards proved costly, however. Western out-rebounded Casper 49-31.
"In the first half we did a good job with rebounding and limiting their possessions," Gutting said. "But in the last 10 minutes we started tipping the ball instead of grabbing it. We were giving up offensive rebounds that turned into open 3s for them.
"It's hard to win on the road when you don't control the glass or hit your free throws."
Sophomore David Walker leads the team with 21.8 points per game, followed by sophomore point guard Jalen Harris at 15.2 and sophomore big Philip Pepple Jr. at 12.2. Dathan Satchell, who had a team-high 18 points on Saturday, is pitching in 9.6 points per contest.
Gutting has reminded the T-Birds that while winning the sub-region might be out of reach, they still have a lot to play for. The top-4 teams in the sub-region will host a first-round game prior to the Region IX Tournament, which will be hosted by the South sub-region winner. Currently, Western Wyoming leads the North with a 9-1 records; followed by Casper and Gillette with 7-3 marks; and Sheridan and Central Wyoming, who are both 6-4.
"The opportunity is still there for us to finish second or third," Gutting said. "Right now our goal is to finish in the top four. We just have to get a win Wednesday and go from there."
Follow sports editor Jack Nowlin on Twitter @CASJackN