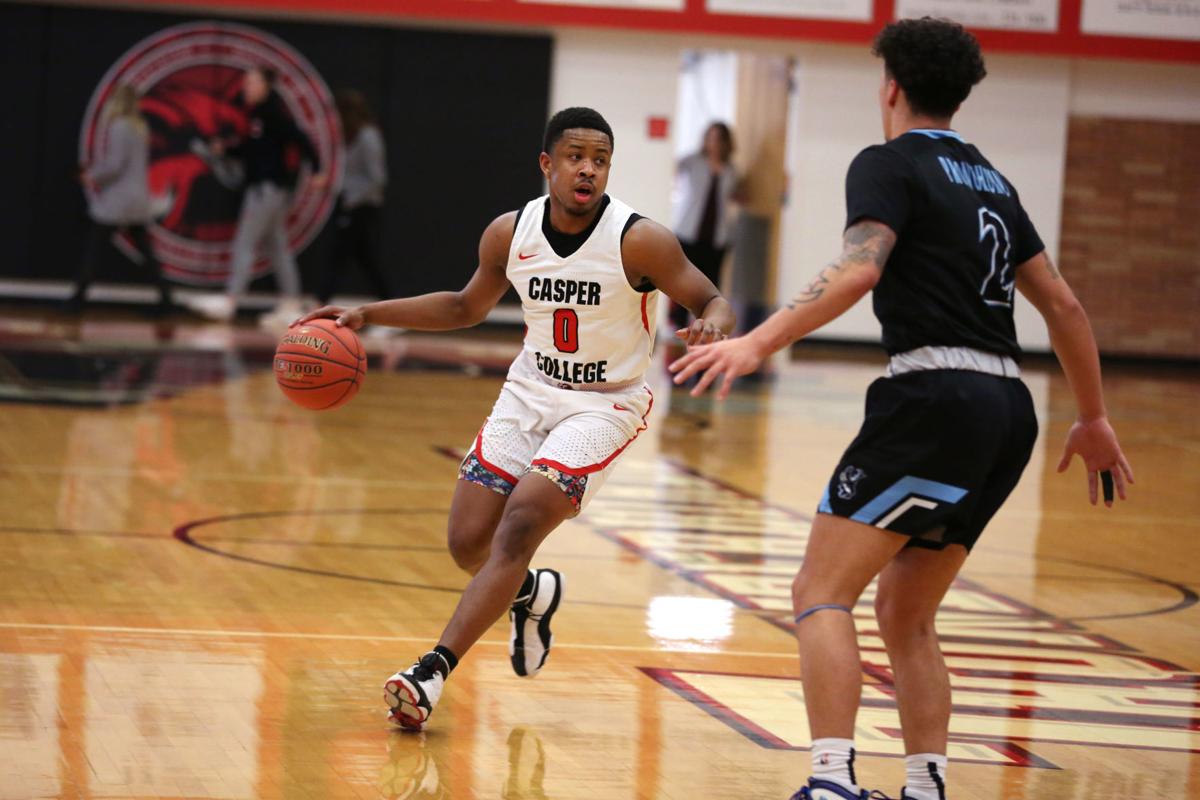 Shaun Gutting and Jalen Harris know what it takes to win a Region IX championship. They hope to share that secret with the rest of the Casper College men's basketball team this weekend.
The No. 24 Thunderbirds (25-5) face Western Nebraska Community College (18-11) in the Region IX quarterfinals Thursday in Sterling, Colorado.
Last year, Gutting was a first-year assistant and Harris was a backup freshman point guard for the T-Birds, who won the Region IX Tournament for the first time since 1996. Current sophomores Philip Pepple Jr., Eric Jamerman, Isaiah Banks, Tavion Robinson and Manny N'Tula were also on the team, but Harris was the only one who played in the tournament.
"Having Jalen running things helps a lot because he's seen what it takes to win it first-hand," offered Gutting, who took over after previous coach Dan Russell accepted an assistant coaching job at Montana State. "Him being the guy that's seen it and has experienced it really helps us."
Not surprisingly, the 6-foot-1 Harris has been one of the T-Birds' most dependable players this season as he averages 16.0 points and a team-leading 4.9 assists per game.
He is one of four T-Birds scoring in double figures, with 6-4 sophomore David Walker leading the way at 21.5 points per game. The 6-10 Pepple averages 12.1 points on 63.6 percent shooting and a team-best 8.2 rebounds per game while Banks pitches in 10.1 points per contest.
The high-flying T-Birds are averaging 97.6 points per game and have topped the century mark 12 times. In addition to their double-digit scorers, Dathan Satchell, Traizon Byrd, Robinson and Samuel Keita all have the ability to reach double figures.
The T-Birds might need some firepower to counter 6-5 Western Nebraska sophomore Teddy Allen, who averages 30.7 points and 7.2 rebounds per game.
"I think we have guys that are athletic enough and big enough to at least give him a good fight," Gutting said. "At the end of the day, Teddy is going to get his (points), but we're going to make him take as many difficult shots as possible."
Casper is coming off a 94-81 play-in victory over Laramie County Community College on Saturday in which the T-Birds were never really able to take control. Afterwards, the players held a team meeting in an attempt to figure things out before the Region IX Tournament.
"Now it's go-time," Harris said. "Everybody knows we cant have an effort like that and expect to be Region IX champions. We have to come out focused every game and approach each team like they're the best team in the country."
A win Thursday puts the T-Birds through to the semifinals against either Central Wyoming College or host Northeastern Junior College. North sub-region foes No. 17 Western Wyoming Community College and Gillette College are favored to meet in the other semifinal game. Gutting knows, however, that anything can happen in March.
"In the postseason anybody can beat anybody no matter what your record is," he said. "To win a region championship you have to beat three really good teams, no matter what. We just have to beat Western Nebraska first and go from there."
After preaching togetherness all season, the T-Birds know this could be their last weekend together as a team if they don't repeat as Region IX champs. It's something Harris made sure to reference during the recent team meeting.
"The biggest thing this weekend is who is going to be the more discipline team," he explained. "Who boxes out, who gets loose balls, who makes free throws ... all those things. At this point it's all about execution."
Follow sports editor Jack Nowlin on Twitter @CASJackN