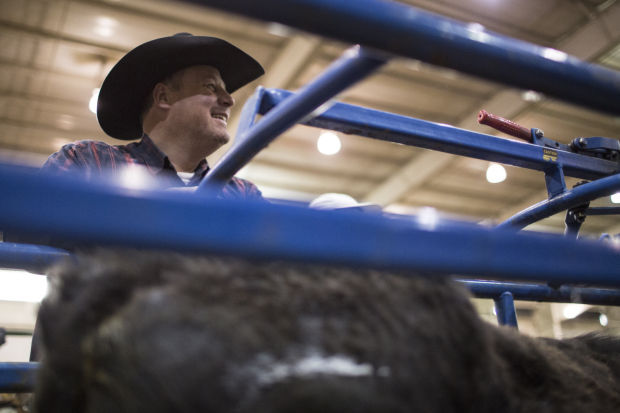 The Casper College men's rodeo team probably won't win the Central Rocky Mountain Region this season. After all, the Thunderbirds trail the University of Wyoming Cowboys by 2,000 points (5,128-3,128) with just three rodeos remaining. Second-place Gillette College, however, remains within striking distance heading into this weekend's Ropin' and Riggin' Days Rodeo at The Arena on the Central Wyoming Fairgrounds.
"I told the guys that we can still get to second," Casper College head coach Jhett Johnson said."If we do that we can take the whole team (to the College National Finals Rodeo), and if we don't I still think we can take as many as six guys to the finals."
The T-Birds are 574 points back of Gillette College through seven rodeos. It's a margin that would have been smaller or possibly non-existent if Casper College wasn't forced to sit out Central Wyoming College's Rustler Roundup in September because of coronavirus concerns.
"That kind of jerked the morale out of 'em," Johnson said. "But I've been impressed with the way they've kept their heads down and just kept going."
While no T-Birds currently lead their respective events, freshman Quinten Taylor sits third in both saddle bronc riding and bull riding and Kellan Johnson (header) and Carson Johnson (heeler) are second in team roping. A top-three finish would guarantee all three a spot in June's CNFR at the Ford Wyoming Center in Casper.
And the T-Birds have others who are within striking distance of a top-three finish in the region.
Ethan Mazurenko is fourth in bareback bronc riding and Jack Skavdahl and Luke Shields are fourth and sixth, respectively, in saddle bronc. Clayton Atkinson (eighth) and Benjamin Kulkowski (ninth) give Casper College five of the top nine places in saddle bronc.
"I can't believe the interest we've gotten in recruiting bronc riders," Jhett Johnson said. "These kids all want to come here and ride for Sandy Bob Forbes, our roughstock coach."
On the other end of the arena, team ropers Wheaton Williams (header) and Cody Lansing (heeler) are fourth in the standings and Weston Mills is sixth in team roping and 12th in tie-down roping, but trails the No. 3 calf roper by less than 200 points.
"I think we've been strong at both ends of the arena," Johnson said. "And I know we're ready for this weekend."
While the coronavirus pandemic last year forced the cancellation of the National Intercollegiate Rodeo Association spring season as well as the CNFR, the T-Birds and the rest of the teams in the region know the CRMR season is heading into the homestretch. Following the Ropin' and Riggin' Days Rodeo, the teams will compete at UW's Laramie River Rendezvous next weekend and then at the Colorado State University rodeo to close the regular season.
"It's been two years since we've been able to hold this rodeo," Johnson said. "We're ready."
Team: University of Wyoming 5,128.5 Gillette College 3,702 Casper College 3,128.5 Laramie County Community College 2,056 Chadron State College 1,725 Sheridan College 1,461 Eastern Wyoming College 1,135 Otero Junior College 845 Lamar Community College 737 Colorado State University 420 Central Wyoming College 222 Northeastern Junior College 190.
Bareback Bronc Riding: Donny Proffit, UW, 1,039 points Josh Parker, OJC, 715 Rowdy Moon, CSC, 486.5 Ethan Mazurenko, CC, 475 Chase Rose, UW, 465.
Saddle Bronc Riding: Garrett Uptain, UW, 682 points Kade Bruno, SC, 460 Quinten Taylor, CC, 453 Jack Skavdahl, CC, 395.5 Tyler Beebe, LCC, 361.
Bull Riding: Coby Johnson, SC, 495.5 points Stefan Tonita, LCCC, 435 Quinten Taylor, CC, 307 Garrett Uptain, UW, 280.5 Briggs Madsen, LCCC, 240.
Steer Wrestling: Cauy Pokorny, LCCC, 525 points Caden Camp, GC, 437.5 Seth Peterson, UW, 385 Riley Reiss, LCCC, 378.3 Chadron Coffield, UW, 373.
Tie-Down Roping: Chadron Coffield, UW, 375 points Jase Staudt, UW, 367 Bodie Mattson, GC, 352 Seth Peterson, UW, 290 Wyatt Tarver, UW, 258.
Team Roping (header): Jase Staudt, UW, 596 points Kellan Johnson, CC, 460 Bodie Mattson, GC, 415 Wheaton Williams, CC, 349 Jon Peterson, GC, 330.
Team Roping (heeler): JC Flake, UW, 596 points Carson Johnson, 460 Jace Engesser, GC, 415 Cody Lansing, CC, 349 Trae Smith, GC, 330.
Team: University of Wyoming 2,380 Chadron State College 1,486 Gillette College 950 Laramie County Community College 885 Colorado State University 685 Casper College 470 Central Wyoming College 394.5 Sheridan College 366 Lamar Community College 330 Northeastern Junior College 140 Otero Junior College 136.5 Eastern Wyoming College 110.
Barrel Racing: Karson Bradley, UW, 955 points Lake Mehalic, CSU, 655 Rebekah Hartley, CWC, 419.5 Riley Addington, GC, 336 Manchi Nace, SC, 308.
Breakaway Roping: Brandy Schaack, UW, 531 points Quincy Segelke, CSC, 381 Lindee Lauhon, LCC, 260 Hayden Madsen, LCC, 235 Payton Feyder, LCCC, 170.
Goat Tying: Faith Hoffman, UW, 768.3 points Quincy Segelke, CSC, 623 Jacey Thompson, UW, 435.5 Caydee Johnson, LCCC, 393 Taylour Latham, UW, 390.3.
Follow sports editor Jack Nowlin on Twitter @CASJackN