The Casper College women's basketball team is in a familiar position.
The 15th-ranked Thunderbirds enter this weekend's Region IX Tournament in Scottsbluff, Nebraska, as the No. 1 seed from the North sub-region for the sixth year in a row. The T-BIrds (27-3) have advanced to the championship game each of the previous five years and won the title three times (2018, 2020, 2022).
They'll try to continue that streak Thursday when they take on South No. 4 seed Northeastern Junior College in the quarterfinals. The T-Birds, who have won 14 games in a row, have already defeated the Plainsmen twice this season, but both those games were nearly four months ago.
"NJC is much improved from when we played them twice in November," Casper College head coach Dwight Gunnare said. "They're a very balanced team and if someone was to ask me which team in Region IX has improved the most since November I would say NJC."
The T-Birds might be in that conversation as well. Their only losses this season were to previous Top 25 member Salt Lake Community College (twice) and current No. 3 College of Southern Idaho. In their current 14-game winning streak their average margin of victory is 28.2 points.
Gunnare knows the games this weekend will be tighter. But he expects his team to be ready for the challenge.
"I think it's going to come down to our core fundamentals," Gunnare said. "We're going to have to be good at blocking out; we're going to have to be very sound defensively, especially containing the dribble; and then the thing that we can't really control is we're going to have to knock some shots down."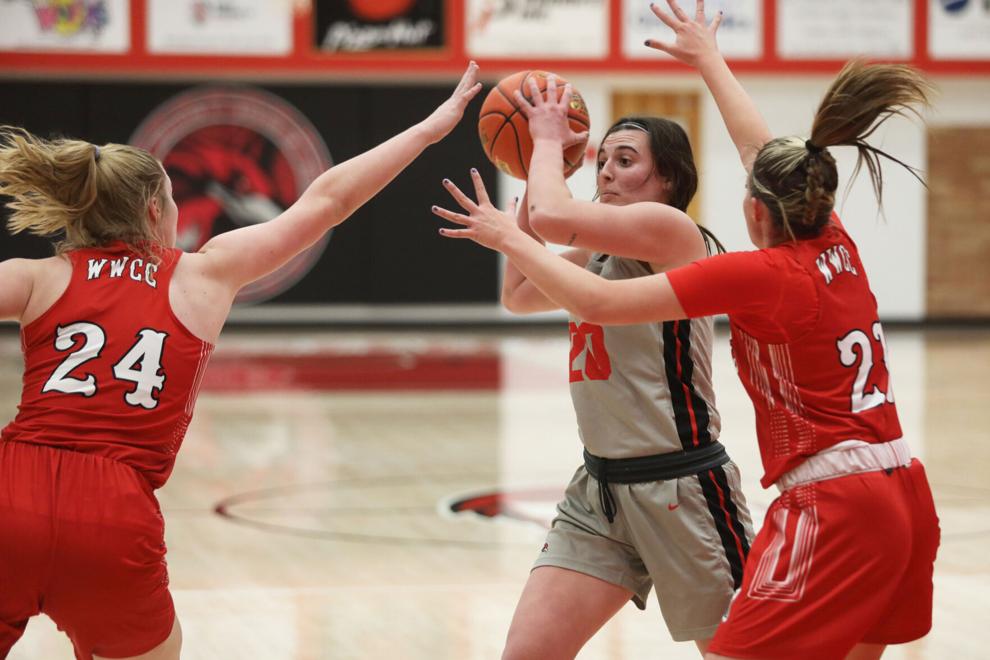 The T-Birds have been doing that all season. They lead Region IX and are 16th nationally in field-goal percentage at 44.8%.
Point guard Sandra Frau-Garcia has been instrumental in getting her teammates good looks at the basket. The 5-foot-7 sophomore from Spain is No. 5 in the nation with 6.7 assists per game. Frau-Garcia also leads the T-Birds with 7.2 rebounds and 3.1 steals per game.
"She's an incredible player," Gunnare said. "And I think the thing that doesn't get noticed is how hard she plays within the game. She is flying around offensively and defensively and gets us involved in our transition."
Frau-Garcia was recognized by the coaches, though, as she and Northwest College's Darla Hernandez are the North sub-region's nominees for All-America consideration. T-Birds' sophomore guard and Douglas native Joslin Igo was also named to the all-North team and sophomore win Julia Palomo was named to the all-defensive team. Gunnare was selected as the North coach of the year.
Igo leads a balanced scoring attack with 12.3 ppg and is shooting 39.7% from behind the arc. Sophomore center Flora Goed chips in 11.5 ppg, freshman wing Logann Alvar (Kelly Walsh) averages 10.7 ppg and Palomo 9.4 ppg. Frau-Garcia is fourth on the team with 7.8 ppg but is undoubtedly the T-Birds' catalyst.
"She has been our engine," Gunnare acknowledged. "I don't want to sell anybody short, but I think she is one of the best passing point guards that I've had, especially in transition. She is special."
The T-Birds are at their best when they're running the floor and Frau-Garcia is leading the break. Just thinking about it brings a smile to Frau-Garcia's face.
"On offense, when we run transition all of us run the floor," she said. "When someone get a rebound and I get the ball I see everybody sprinting to get the ball … that's so much fun.
"In my opinion, if we play like we're practicing I think we can make it to the championship and we can compete."
The Casper College-Northeastern JC winner faces the winner of the Otero Junior College-Laramie County Community College game in the semifinals Friday. On the other side of the bracket Thursday, Northwest College plays Trinidad State and South Region winner and host school Western Nebraska Community College faces Western Wyoming Community College.
"I think if we stay true to our core, and our core is good both offensively and defensively, and we shoot well we're going to have a good shot," Gunnare said.