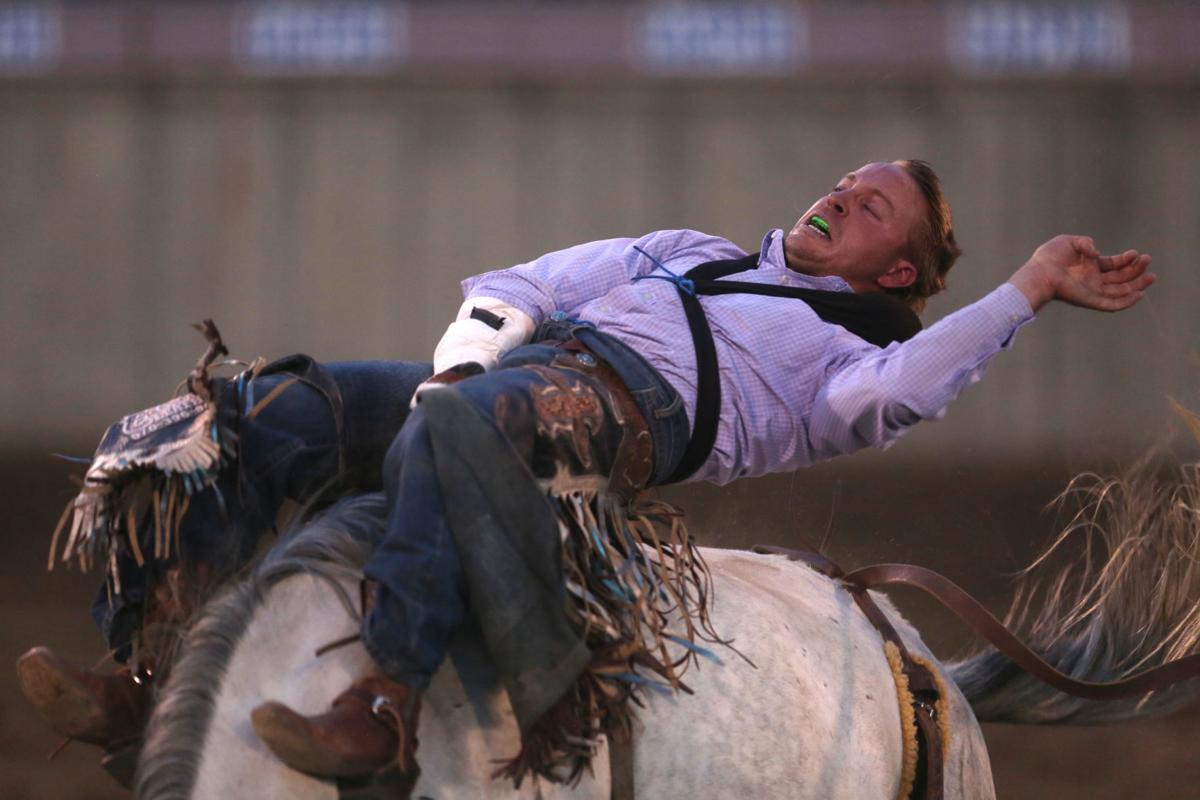 The University of Wyoming Cowboys rode away with the team title at the season-opening rodeo of the Central Rocky Mountain Region over the weekend while the Cowgirls also finished atop the standings.
The Cowboys dominated the timed events and had top-5 finishers in five of six events on their way to a CRMR record 865 points at the Chadron State College Rodeo in Chadron, Nebraska.
Chadron Coffield led UW's charge, winning the tie-down roping with a two-run time of 18.3 seconds and tying Laramie County Community College's Riley Reiss for first in steer wrestling after both posted two-run times of 8.7 seconds. Donny Profitt (Kemmerer) tied for the top spot in bareback bronc riding with 157 points on two head and finished fourth in bull riding with a 79 in the long go.
Also scoring points for the Cowboys were Garrett Uptain, who finished third in saddle bronc riding; tie-down ropers Austin Hurlburt and Jace Berger, who were second and fourth, respectively; and Seth Peterson, who was fourth in bulldogging.
Gillette College was second in the men's standings with 475 points and Casper College was third with 450. The Thunderbirds' Ethan Mazurenko tied Profitt for the top spot in bareback bronc riding; while Quinten Taylor and Jack Skavahl were second and fifth, respectively, in saddle bronc; and the tandem of Wheaton Williams and Cody Lansing finished third in team roping.
The Cowgirls had three of the top five placers in goat tying – including winner Makenna Balkenbush – and finished with 225 points to edge out host Chadron State, which totaled 225.
The CRMR season continues this weekend at Laramie County Community College's Shawn Dubie Memorial Rodeo in Cheyenne.
Chadron State College results
Team: University of Wyoming 865, Gillette College 475, Casper College 450, Chadron State College 421.7, Sheridan College 410, Laramie County Community College 273.3, Lamar Community College 110, Otero Junior College 69, Central Wyoming College 25.
Bareback Bronc Riding: Ethan Mazurenko, CC, 157 points Donny Proffit, UW, 157 Rowdy Moon, CSC, 145 Josh Parker, OJC, 143 Jake Kesl, GC, 142.
Saddle Bronc Riding: Kade Bruno, SC, 159 points Quinten Taylor, CC, 150 Garrett Uptain, UW, 146 Tyler Beebe, LCC, 144 Jack Skavdahl, CC, 77.
Bull Riding: Stefan Tonita, LCCC, 161 points Kade Bruno, SC, 156 Dylan Rice, LCCC, 149 Donny Proffit, UW, 79 Grady Smeltzer, SC, 76.
Steer Wrestling: Riley Reiss, LCCC, 8.7 seconds Chadron Coffield, UW, 8.7 Cauy Pokorny, LCCC, 9.4 Seth Peterson, UW, 9.6 Caden Camp, GC, 10.1.
Tie-Down Roping: Chadron Coffield, UW, 18.3 seconds Austin Hurlburt, UW, 18.4 Tanner McInerney, CSC, 19.1 Jace Berger, UW, 19.6 Jon Peterson, GC, 20.1 Clay Reiner, GC, 20.1.
Team Roping: Jon Peterson/Trae Smith, GC, 19.1 seconds Colten Storer/Tanner Whetham, CSC, 19.6 Wheaton Williams/Cody Lansing, CC, 20.4 Bodie Mattson/Jace Engesser, GC, 21.3 Ellie Bard, GC/Ty Bass, EWC, 21.8.
Team: University of Wyoming 255, Chadron State College 225, Gillette College 200, Laramie County Community College 50, Casper College 15.
Barrel Racing: Rebekah Hartley, CWC, 36.67 seconds Karson Bradley, UW, 36.76 Riley Addington, GC, 36.90 Ashley Odenhach, LCCC, 37.28 Taryn Underwood, CSC, 37.87.
Breakaway Roping: Quincy Segelke, CSC, 6.0 seconds Brandy Schaack, UW, 6.5 Ashley Odenbach, LCCC, 6.5 Haley Reed, CSC, 6.6 Reata Beck, UW, 7.4.
Goat Tying: Makenna Balkenbush, UW, 17.4 seconds Taylour Latham, UW, 17.9 Brooke Worman, GC, 19.0 Faith Hoffman, UW, 19.0 Quincy Segelke, CSC, 19.7.
Be the first to know
Get local news delivered to your inbox!