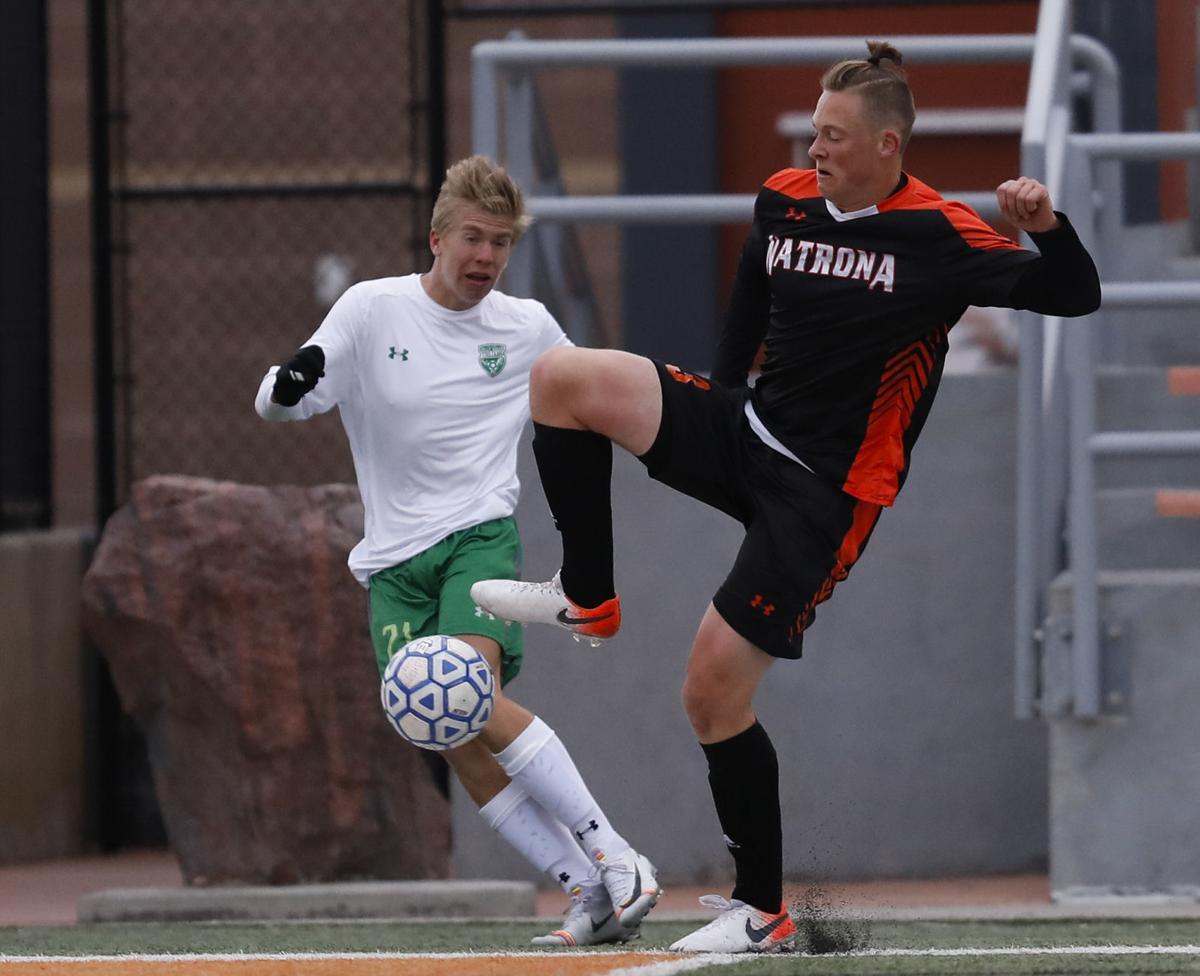 With his parents at both sides, his high school coach and his future college coach behind him, Natrona County senior Nathan Hawley made history on Thursday. By finding the right date and penning his signature inside Natrona County High School's library he became the first official member of Casper College soccer.
Casper College men's coach Ben McArthur joked afterwards, "first one done, 28 to go maybe." Both of their soccer journeys united with Hawley's decision to stay in his hometown.
The high school senior didn't know Casper College started mulling the idea of adding soccer a year ago. When the junior college finally held an approval vote to add men's and women's soccer last summer, the wheels started turning. McArthur was hired late last month and immediately started scouting to find the best he could bring to Casper. McArthur used his experience as former Northwest College head coach to navigate Wyoming and connect with the best the Equality State has to offer. When word got out about T-Birds soccer, he had former high-school standouts contact him.
"The interest has been through the roof right now," McArthur gushed. "Lots of people have reached out to me and are excited about it."
The opportunity certainly appealed to Hawley, who's already experienced such highs as the 2018 state championship with the Mustangs and the lows like missing out on the state tournament last year due to a last-moment conceded goal at regionals. He's proven himself a capable center back for the Mustangs. Or, at least capable enough to compete for the same spot at the collegiate level. When he realized the possibility to continue playing soccer in Casper, he knew he had to pursue it.
"It's an awesome opportunity and I'm excited to play for the team," he said. "It just came up and I just took it. Just kind of a special thing that popped up."
Hawley and McArthur connected and continued communications for weeks. The T-Birds' coach set high standards for prospective players, maintaining that he only wants to feature student-athletes that maintain certain criteria.
You have free articles remaining.
"We want to make sure we recruit the right athlete to Casper College," McArthur explained. "They've got to be smart, willing to serve, be a good teammate, a leader, and oh by the way, they have to be pretty good at soccer, too. Nate checks all those boxes for us."
McArthur noticed all of those traits in Hawley's character both on and off the field. He also noticed the soccer-minded standout kept a level head throughout most situations and thought that mirrored his own demeanor. McArthur knew he wanted Hawley.
So the tables briefly turned to selling the senior on staying at home. An easy battle, but one that needed addressing nonetheless.
"He's talked about putting together a really good team," Hawley remembered of those conversations, "so I think we'll have a really good inaugural season and accomplish a lot of things."
This brought the official signing ceremony, hardly six months away from the first summer camp and training sessions for the first Casper College soccer games. Hawley adds not only hometown flair to the first men's team but also a possible 6-foot-1 anchor in the spine of the T-Birds' defense.
By the time Hawley finished his signature, answering questions and posing for pictures, both he and McArthur exhaled with relief. It was important for both of them. Natrona County head coach Jon Miller proudly patted both on the back before jumping on a bus destined for Natrona County's alpine ski meet in Pinedale.
McArthur wasn't sure he'd make it to Casper. Now he's house hunting and excited about raising his children in the Oil City. Hawley admitted he never thought he'd get to play college soccer, especially so close to home. Now he's thankful for the opportunity to simply play.
A sudden snow squall crept in through the windows at the Natrona County library, morphing the school's campus into a nightmare snowglobe for minutes. And yet, Hawley's mind wandered onto a sun-soaked grass field for a mid-August training session in town.
"I'm mostly excited about just being able to play for another year," the senior said, "hopefully another two."
Follow sports reporter Brady Oltmans on Twitter @BradyOltmans