The Casper College men's basketball program is looking for a new head coach.
Shaun Gutting, who just completed his fourth year as head coach of the Thunderbirds, and fifth year with the program, has decided to step down and pursue other coaching opportunities.
"I'll be officially resigned the middle of May, right around graduation," Gutting said at his office Monday. "I'll help these guys through graduation, work them out and do all the offseason stuff we normally do until we can figure out where they're going to sign next year. In the meantime, I'll try to solidify where I'm going."
Gutting leaves a little more than a month after the T-Birds' season ended with a 78-77 loss to Trinidad State Junior College in the championship game of the Region IX Tournament at Swede Erickson Thunderbird Gym. It was the first time in 10 years Casper College had hosted the tournament.
"I told them in the locker room after the game that I was incredibly proud of them," Gutting recalled. "The fact that we had got to that point, and seeing their growth and maturity as a group and knowing they believed they could win that game, that put a huge smile on my face.
"It didn't feel like it at the time because the emotions of defeat were right there, but looking back on it I'm extremely proud of what this group accomplished."
The T-Birds overcame a costly loss in their Region IX North opener and a two-game losing streak to end the regular season to emerge as the sub-region champs and earn the right to host.
The conference season got off to a rough start at Northwest College on Jan. 21 when leading scorer Kenard Richardson and assistant coach Carlos Taylor were dismissed from the team following an altercation at the end of the T-Birds' overtime loss. But they battled back to put together a seven-game winning streak and then won two games in the Region IX Tournament before losing to Trinidad State.
"We faced a lot of adversity this year and so we obviously had to rely on Coach Gutting to pretty much do everything," sophomore guard Dalton Peterson said. "And the 12 guys in the locker room really banded together. We came to the realization that nobody was coming to help us … the only thing we could do was win."
The 24-8 season left Gutting with a four-year record of 79-35 (69.3%) with the T-Birds. His winning percentage is fourth-best in program history, trailing only Walter Dowler (21-6, .778, 1946-47), legendary coach Swede Erickson (638-220, .743, 1958-86) and Dan Russell (145-52, .736, 2013-19). Gutting was an assistant under Russell in the 2018-19 season when Casper College went 32-3 and won the Region IX Tournament to advance to the NJCAA Championships.
When Russell left to take an assistant coaching job at Montana State, Gutting moved over one seat on the T-Birds' bench.
Gutting's next four years were filled with victories and challenges.
"Right after my first year is when COVID hit," he noted. "The next year we didn't play until the second semester and still had COVID regulations. Last year we had those regulations built into the schedule in case any teams or players had it. This year was back to what it felt like in my first year.
"During that time we still won a lot of games and had a lot of guys sign with four-year schools, so it worked out the way it was supposed to for a lot of these guys."
Peterson, who was a standout at Class 1A Encampment before signing with Casper College, is one of those guys. The 6-foot-3 shooting guard is currently weighing offers from Montana State-Billings and Chadron State College.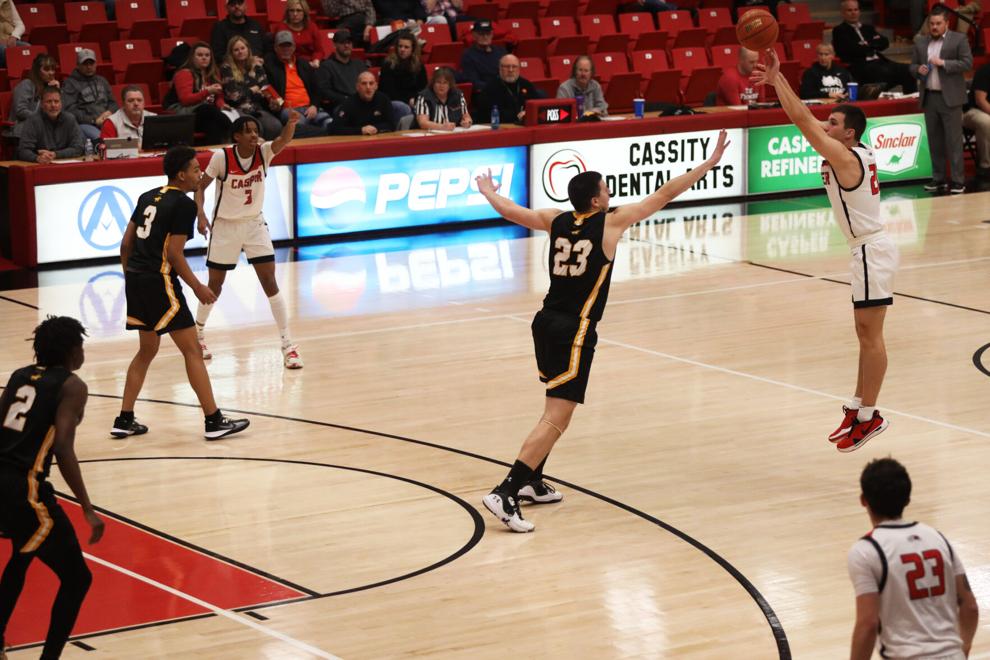 "Coming here out of high school was a big culture shock to me," Peterson admitted. "I can't say enough about Coach Gutting taking a chance on me, a small-town Wyoming kid that not a lot of people thought would be able to compete at this level. I'm going to owe him for the rest of my life because he took a chance on me and he helped me to get to where I am now.
"He never told me what he thought I wanted to hear, he always told me what I needed to hear. I always appreciated that about him. No matter the situation he was going to tell it like it like it was."
Gutting grew up in Colorado and coached high school ball in Fort Collins before taking a job as an assistant coach at New Mexico Junior College. After five years there he landed in Casper. Despite the ups and downs, Gutting is thankful for his time with the T-Birds' program.
"This place gave me the chance and that's something I'll never forget," he said. "It has made me a better coach and a better person. It has allowed me to help these guys become better basketball players and better people.
"It's hard for me to put it into words; it's immeasurable. The people in the community were always supportive and these people gave me a chance to live out a lifelong dream. Now it's time to pursue the next dream."
Even though Gutting was unable to lead Casper College back to the NJCAA Championships, he's walking out the door with no regrets.
"I felt like I did this place proud because we won a lot of games, we sent guys to four-year schools and we hosted a Region IX Tournament," he said. "Getting to do all those things for this place is pretty awesome."