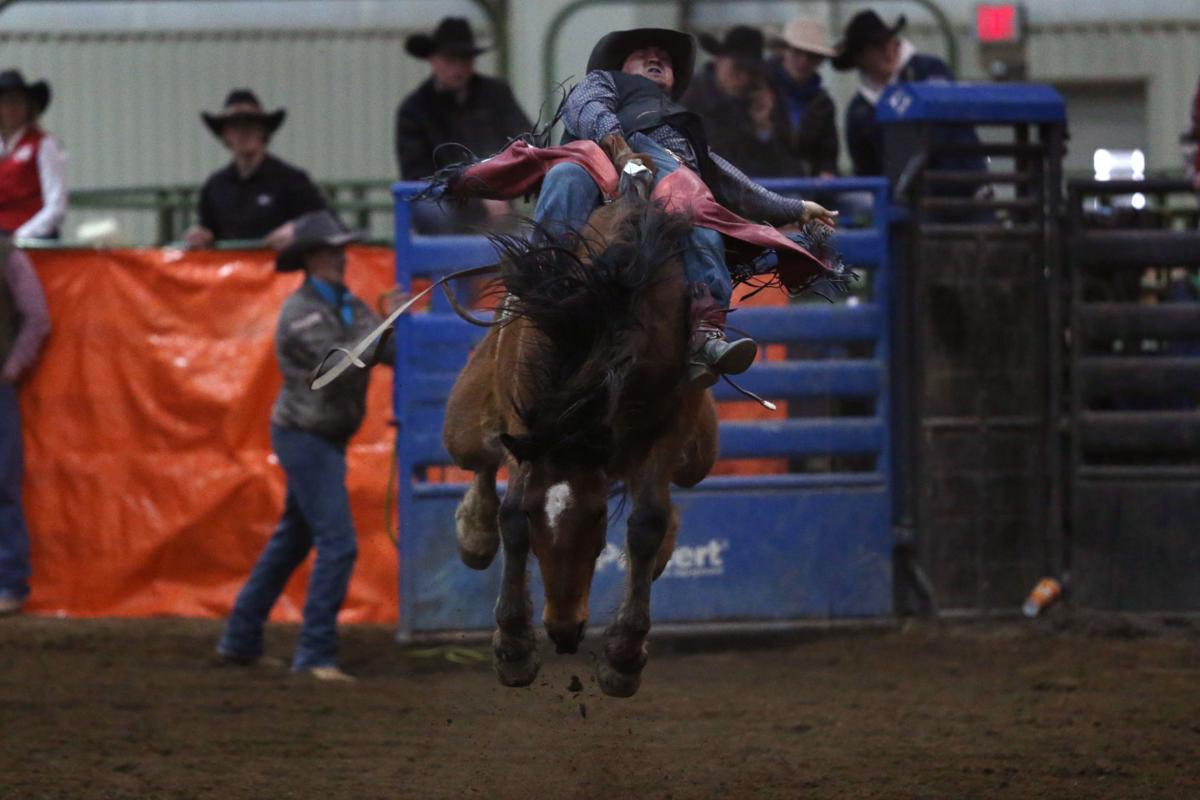 The University of Wyoming women's rodeo team put the finishing touches on a dominating regular season over the weekend at the Colorado State Rodeo in Fort Collins, Colorado. The Cowgirls won the final Central Rocky Mountain Region rodeo of the regular season with 475 points to finish well ahead of runner-up Sheridan College, which totaled 170 points.
UW won eight of 10 CRMR rodeos to easily win the regional title heading into next month's College National Finals Rodeo in Casper. Although results won't be official until they're certified by the National Intercollegiate Rodeo Association later this week, the Cowgirls and runner-up Chadron State College are expected to represent the region at the season-ending CNFR on June 13-19 at the Ford Wyoming Center. The top two men's and women's teams, as well as the top three finishers in each event in the NIRA's 11 regions qualify for the CNFR.
Wyoming had the top five finishers in the goat tying and four of the top five in breakaway roping to outdistance the competition. Taylour Latham had a two-run time of 14.9 seconds to win the goat tying while Cassidy March took the breakaway title with a two-run time of 5.7 seconds. In addition, Kelsey Lensegrav placed second in barrel racing behind Sheridan College's Manchi Nace.
The Wyoming men's team finished third over the weekend, but has been in control of the regional standings since early in the season. Eastern Wyoming College won the CSU Rodeo with 490 points, followed by Laramie County Community College (430), UW (400), Casper College (390) and regional runner-up Gillette College (365).
For Eastern Wyoming, team ropers Dalton Wieneke and Canton Afdahl won the short go-round, the long go and the average, with Cameron Jensen placing second in tie-down roping.
UW's only event winner was Jace Berger in steer wrestling as he was one of four bulldoggers to finish in the top five for the Cowboys, also picking up points in bareback bronc riding and saddle bronc riding.
Casper College's Carter Sandberg won the saddle bronc and teammate Clayton Atkinson finished third in the event, but neither was on the T-Birds' point-scoring team for the weekend. The T-Birds also picked up points in team roping as Wheaton Williams and Cody Lansing finished second, followed by the teams of Kolby Bradley/Trace Fuller and Kellan Johnson/Carson Johnson.
Other event winners were: Chadron State's Rowdy Moon in bareback, Sheridan College's Coby Johnson in bull riding and Gillette College's Jake Deveraux in tie-down roping.
at Fort Collins, Colorado
Team: Eastern Wyoming College 490, Laramie County Community College 430, University of Wyoming 400, Casper College 390, Gillette College 365, Sheridan College 260, Chadron State College 180, Otero Junior College 80, Lamar Community College 70, Colorado State University 10.
Bareback Bronc Riding: Rowdy Moon, CSC, 153 points Jake Kesl, GC, 144 Donny Proffit, UW, 140 Josh Parker, OJC, 75 Drake Amundson, LCCC, 74.
Saddle Bronc Riding: Carter Sandberg, CC, 138 points Jaxson Mirabal, UW, 134 Clayton Atkinson, CC, 131 Sage Miller, LCCC, 130 Jake Kesl, GC, 119.
Bull Riding: Coby Johnson, SC, 155 points Stefan Tonita, LCCC, 138 Jaren Beckman, SC, 128 Wyatt Phelps, SC, 79 Nathan Bausch, CSC, 73.
Steer Wrestling: Jace Berger, UW, 10.3 seconds Cauy Pokorny, LCCC, 10.5 Chadron Coffield, UW, 12.1 Jase Staudt, UW, 13.2 Seth Peterson, UW, 14.0.
Tie-Down Roping: Jake Deveraux, GC, 20.3 seconds Cameron Jensen, EWC, 20.9 Drew Neuerburg, CSC, 21.7 Trae Smith, GC, 22.1 Chance Derner, LCCC, 22.3.
Team Roping: Dalton Wieneke/Canton Afdahl, EWC, 13.3 seconds Wheaton Williams/Cody Lansing, CC, 15.7 Kolby Bradley/Trace Fuller, CC, 19.8 Kellan Johnson/Carson Johnson, CC, 19.9 Bodie Mattson/Jace Engesser, GC, 19.9.
Team: University of Wyoming 475, Sheridan College 170, Gillette College 135, Central Wyoming College 120, Eastern Wyoming College 70, Casper College 45, Chadron State College 15.
Barrel Racing: Manchi Nace, SC, 35.54 seconds Kelsey Lensegrav, UW, 35.68 Rebekah Hartley, CWC, 35.80 Shay Hough, EWC, 35.97 Riley Addington, GC, 36.00.