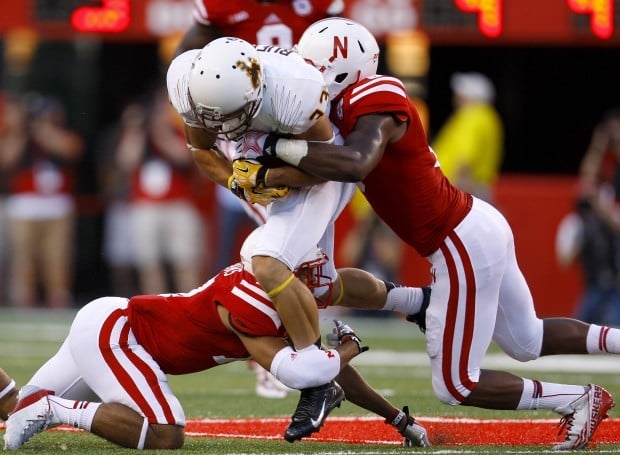 LINCOLN, Neb. -- Everybody was screaming.
Down three points to Nebraska inside a packed Memorial Stadium on Saturday, Brett Smith and Wyoming took over deep inside their own territory with 1 minute, seven seconds remaining.
The stadium's video boards urged its home fans to get "LOUDER, LOUDER," to try to put pressure on the Cinderella bidders. Wyoming's fans, seemingly shocked that what they were seeing was actually real, screamed, too.
Over the loudspeakers, guitar riffs echoed throughout the stadium against a backdrop of cheers, the Wyoming players sprinting up and down the sidelines in a noticeable frenzy. Holder Sam Stratton threw his arms into the air in the direction of his university's band, urging them to keep cheering.
As the drive stalled and the seconds ticked off, the volume only got louder.
As the clock ran to zero and Smith's desperation heave fell harmlessly out of bounds, the sea of red inside Memorial Stadium breathed a collective sigh of relief. As Wyoming's players walked off of the field, defeated but proud, its band nestled in the southwest bleachers stood and saluted as they passed.
A few Nebraska fans joined in, clapping in a sign of respect, after a narrow 37-34 victory.
This didn't look like a team that had lost. As he trotted into the tunnel and towards the locker room, junior running back Shaun Wick lifted his helmet and shook it in the direction of the Wyoming student section. Marqueston Huff and J.D. Krill did the same.
Smith was the last one to leave the field -- helmet still on, head cast down in dejection. His once-white jersey now splattered with splotches of dark grey and red, the gunslinger drifted past, as his teammates put their arms on his shoulders, silent shows of solemn respect.
Underneath the bleachers, out of the view of the cameras and lights, Smith tread silently towards his locker room. But before he did, a group of young boys, dressed all in red, ran towards him and stretched out their hands.
Smith slapped solemn high fives as he passed, each kid's face lighting up after touching the hand that had just thrown four touchdowns against their favorite team. Smith had lost the game, but these fans had gained a hero.
This wasn't last season's 37-17 loss to Texas. These Cowboys could have folded, but when the score seemed out of reach, they stiffened and made more plays.
Wyoming coach Dave Christensen, looking exhausted after the game, told reporters that he didn't know what team he was going to see take the field. The one that left it, despite a season-opening loss, proved something to themselves and their critics.
"I had no idea what we were going to do [Saturday]," Christensen said after the defeat. "I told my team just now, 'I believe this is the best team we've ever had.'"