A half century ago, John Griffin, Mel Hamilton, Tony McGee, Guillermo Hysaw, Tony Gibson, Ivie Moore, Jay Berry, Joe Williams, Ron Hill, Ted Williams, Lionel Grimes, Earl Lee, Don Meadows and James Isaac were dismissed from the University of Wyoming football team by head coach Lloyd Eaton for wanting to protest racial injustice. The incident divided the state and crippled the Cowboys' football program. The following is an oral history of what led to the incident, what transpired on that infamous October day in Wyoming's field house and the aftermath, told through the words of 10 of the 11 living members, whose words have been edited and condensed for clarity. Seven members also spoke about the incident during a panel discussion on the UW campus last month.
Joe Williams, a running back on that team, did not respond to multiple interview requests.
Part I: Arriving and thriving
Some of it was sheer luck that those 14 black players all ended up at Wyoming from Alabama, Arkansas, Texas, Michigan and Ohio, just to name a few. Isaac, a Hanna native who died in 1976, was the only in-state member. Hamilton was one of the first to arrive at Wyoming in 1965.
Hamilton, offensive lineman, Boys Town, Neb.: (Assistant) coach (Paul) Roach came to Boys Town, and he was interested in my friend, Ken Gilchrist, who was a high school All-American center. Ken wouldn't go to the University of Wyoming by himself. We'd been such good friends for years and played next to each other for four solid years on offense and defense. We had gotten to know each other very well, and he refused to go unless I went with him. And I said, "OK, I will."
Berry, safety, Tulsa, Okla.: I didn't have that many possibilities. Wyoming was the best. They had been to the Sugar Bowl a couple of years prior. I was a defensive back, so I was really excited to play my position and not be moved around or anything of that nature. They had a lot of success, so this was perfect for me.
Grimes, defensive back, Alliance, Ohio: On the way back (from a trip to my high school), (assistant) coach (Jack) Taylor was in the airplane and I guess he was reading a magazine with an article showing all the people that made all-Ohio. Then he sends me a note that says, "I did come to your high school. The coach thought you were too small to major college football, so he discouraged me. But anyone that can make all-Ohio can play for us." Originally I wanted to go to Purdue. Then my second choice was to go play baseball at Kent State because Thurman Munson was the catcher at Kent at that time, and I was a catcher. So I was going to go replace him and play baseball, but in my hometown, you go to college to play football at one of the bigger schools.
Hysaw, running back, Bakersfield, Calif.: (Eaton was) rigid, militaristic, matter of fact, and I liked that. I said, "I'm not going to have any problems with this guy. He's going to be one of the better coaches I have because he's at the collegiate level." As it turned out, he started out to be that my first two years. I was so proud to be there and to play for him.
By the time Griffin, Gibson, Hill and Ted Williams joined the program from the junior college ranks in 1968 and 1969, Wyoming was rolling. The Cowboys won the first of three straight Western Athletic Conference championships in 1966 and capped that season with a win over Florida State in the Sun Bowl. They went toe to toe with LSU in a 20-13 Sugar Bowl in 1968.
Wyoming started the 1969 season 4-0. The Cowboys had won 31 of their last 36 games heading into the BYU game on Oct. 18. They rose as high as No. 12 in the national rankings, and many of the 14 were among the team's statistical leaders.
Hamilton: We were No. 12. We would've been up there at No. 6 somewhere. No doubt in my mind. We were going to be undefeated that year and the next year. We thought we had the material. When a football team knows they're good, that goes a long way. We weren't cocky, but we knew we were good. We felt we would've gone a long way.
Williams, running back, Port Hueneme, Calif.: We were steamrolling everybody. We thought man to man, nobody could beat us.
Gibson, fullback, Pittsfield, Mass.: We were good. I'm going to tell you, we were good.
Part II: Motivated and dismissed
The '60s were a time in America when social unrest and racial tensions were rampant. BYU, which is owned and operated by the Mormon church, was in protesters' crosshairs.
Wyoming's Black Student Alliance, led by chancellor Willie Black, was planning to start demonstrations on campus and sent a letter titled "Why We Must Protest" to university administrators, which referenced the Mormon church's now-defunct policy barring African-Americans from attaining priesthood. The week leading up to the BYU game in Laramie, the BSA made the 14 black players aware of its plans during a meeting and asked if they would participate.
The players say they had already been talking among themselves about the idea of silently protesting, and it wasn't all about the policy.
McGee, defensive end, Battle Creek, Mich.: When we went to the meeting a few nights before and they asked us to be involved, (Black) didn't have enough influence to get us involved. We were involved because of the way we were treated by Brigham Young. He asked us to consider the black armband. He couldn't make us consider it. We went back as a group and decided to do that.
Hill, split end, Wenonah, Ala.: We had always talked about some kind of change because we knew it was coming up with Brigham Young. We were just wondering why Brigham Young was established the way it was. It was all by law and by God. And then plus the other guys who had played against Brigham Young were harassed on the field by the players from Brigham Young about pushing you back and you tell the refs about it, the ref wouldn't do nothing.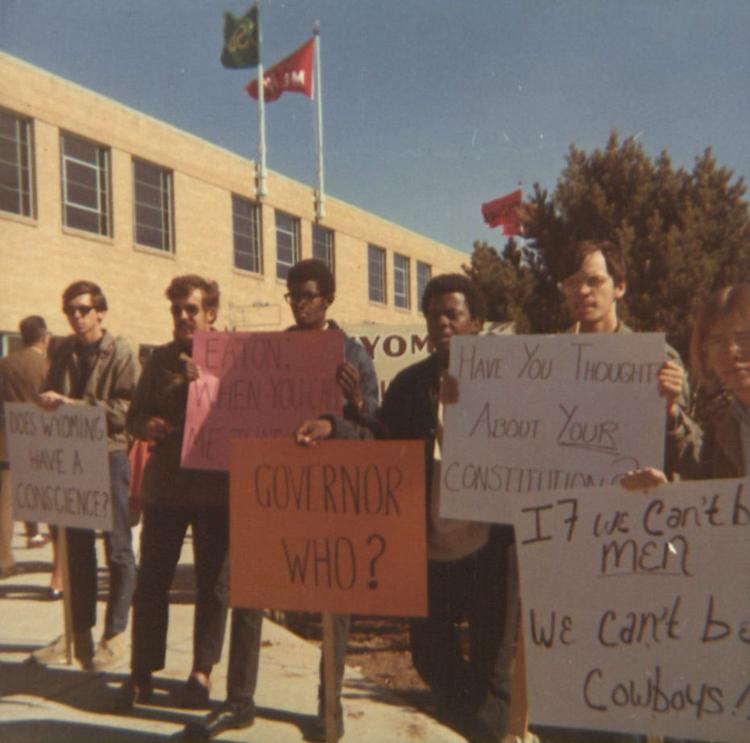 Griffin, flanker, San Fernando, Calif.: The issues regarding BYU actually started in 1968 when Tony McGee, Guillermo, Joe and those guys were there. When the sprinklers were turned on after the end of the game after the BYU players had exited the field and the Wyoming team was just walking off the field. Also, there were a lot of racial epithets being thrown. That wonderful N-word was being thrown at our black players and also the black players were being cheap-shotted by the BYU players. They didn't give a hoot.
Berry: My issues were fraternization with white co-eds. It was a no-no, a rule basically. And Eaton basically knew everything that was going on in the town or even over in Cheyenne was my understanding. That was my issue. And these professors, I had one in particular and maybe two who made life difficult because I was as a freshman at an away game and being punished for it with extra work. Those kind of things, that's where I was coming from. Mormon had nothing — zero — to do with me putting on that armband.
Joe Williams, a tri-captain, went to Eaton on behalf of the players Thursday to inform him of their intent to wear the armbands. Eaton was against it, so players requested a meeting with him the next morning to further discuss the matter with a common understanding among the group.
McGee: I don't know the verbiage 50 years later, if he said Eaton said we couldn't do it, but I think he was saying more or less we couldn't do it in a game. And I think that's why we said, "Well why don't we wear them over there and let him see they're not a threat or anything." The thing I'll always remember was we said if he said no, we're not wearing them.
Gibson: We had determined during one of those meetings — we had discussed it — if Eaton said you can't wear those armbands, we had decided that we were not going to wear them.
Williams: We said if nobody could wear anything, we wanted to play in the game.
With most of the players having their armbands in tow, the group walked across campus that morning to Eaton's office.
Williams: I never had one. Everybody said, "Well you had one because we made them." I was in the dorm room studying when they came and got me. They had black armbands. And I reiterated that when we had meetings every once in a while. I said, "I never had a black armband."
Berry: Walking over to that particular meeting, I turned to Tony McGee and I said, "Wow, what do you think is going to happen?" Tony was a year ahead of me and played varsity the prior year, and he turned to me with a stern look and said, "I think we're going to lose our scholarships." And I was floored.
McGee: He said, "You really believe that?" I said, "Yes." The first time we walked in, we were standing there and the secretary went to get him. He leisurely came out. And before a word was said, he said, "I'm going to save you a lot of time and breath, you're no longer Wyoming Cowboys. You're no longer part of the team." Then he told us to get into the stands, and he came into the field house and he just began berating us.
Hill: He didn't give us no 10 minutes to speak. He didn't give us no time to speak. It was like, "OK, here we go." This is the thanks you guys get or whatever. And you won't do it on the taxpayers' money in the state of Wyoming.
Griffin: Then he started up with these racial epithets. You don't know your father. I'm paraphrasing of course. But the only teams that would accept you guys are the Morgan States and Grambling Universities, which are black colleges down in the South. The offense was that you mean to tell me that only the black colleges will accept us? We're not smart enough or good enough to go anywhere else in this country? Then he just went off. We were all stunned, and he wouldn't let us speak.
Gibson: What I remember is we went in there and Joe Williams started to ask him a question, and he immediately shut him up. He was actually horrible to him. I can't say exactly what he said, but he stopped the talking and he just started one-line attacks on us about our race. We never had the opportunity to ask him or tell him what our thoughts were and what we wanted to do.
Moore, defensive back, Pine Bluff, Ark.: We were herded into the field house like cattle, and that's where the derogatory terms came in. He started telling us we could go back on colored, or Negro, relief. Go back to Grambling and Morgan State. Go back to picking cotton.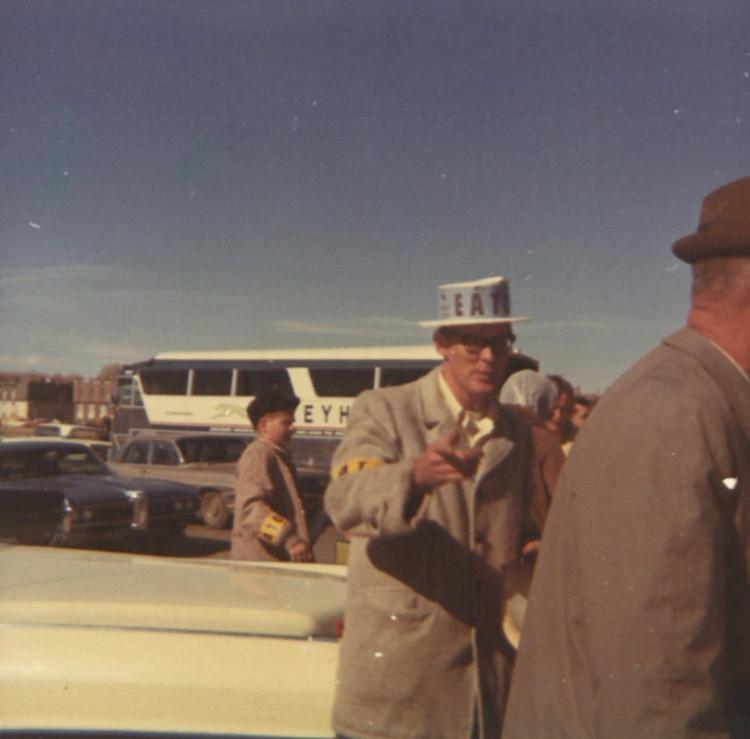 Berry: He lit into us before we had a chance to say anything. Before we knew it, he was telling us we would never play another down of football for the University of Wyoming. And if it were not for him, we'd be on Negro or colored relief at Grambling or Morgan State starving to death. I just couldn't believe what I was hearing, and every time someone tried to say something, "shut up" would be his response. And he berated us for, I don't know, 10 or 15 minutes.
Williams: Every time someone tried to say something, he degraded them. Said that if it wasn't for him, we'd never amount to anything. If it wasn't for him, we wouldn't be playing nowhere else for college ball.
McGee: When he said you can go to the Gramblings and Morgan States of the world, they weren't considered good colleges as far as he was concerned. And, "I picked you up off the street picking up cigarette butts." And, "Half of you don't know your fathers." All of these were things that are said to individuals when you're intending to hurt them.
Grimes: What hit me the most is when he talked about my ancestors and my parents and how some of us didn't even know who they were or know our history. I for one felt ... I'm sure some of us were, but I wasn't one.
That night, the players met with the UW Board of Trustees and Gov. Stanley Hathaway in hopes of being reinstated. Eaton wasn't there. The meeting at Old Main ended in the wee hours of the morning with the university backing Eaton's decision. In a news release issued early Saturday morning, trustees said the group's decision to wear the armbands into the field house was considered by Eaton as "a definite violation of a coaches' rule and a breach of discipline."
In a television interview later that day, Hathaway said the 14 were suspended for the rest of the season because they refused to play against BYU without wearing the armbands.
Griffin: As we walked to the front doors of the student union (after being dismissed), this guy I knew came up to me and said, "John, I just heard you guys just boycotted and quit the team." I go, "That's a lie." What's most notable then is the university had the spin on. They had the spin on within 30 minutes.
Berry: It was pretty obvious by what happened that no one in the entire state would even think about challenging him. Nobody. Not the president. Not the governor. Certainly not his assistant coaches, who needed a job.
Moore: I never knew Lloyd Eaton had so much power until after this incident.
Part III: Left to wonder
Students held on-campus protests of the university's decision. The Wyoming Faculty Senate formed a committee to investigate it, and a civil lawsuit was filed seeking the players' reinstatement and damages for violations of their civil rights. District Judge Ewing Kerr denied the injunction, and the ruling was ultimately upheld by the 10th U.S. Circuit Court of Appeals in 1972.
Meanwhile, Meadows, who died in 2009, and Griffin were the only two members that returned to the team and finished their playing careers at Wyoming. A handful of others were contacted by some of Eaton's assistants and asked to return.
Williams: It was Roach I think. I was willing to come back because I think three of us were going to come back. Then I had problems with my dad because it hit him so bad that he started drinking heavy. I was going to go back, but I never did. I just tried to keep far away from all of that stuff.
Berry: I was called, but the person on the other end did not identify themselves. I said, "Fourteen of us were kicked off." In other words, not just me, but they're trying to pick and choose. Along those lines, they were trying to pick and choose, so they were calling the people that they wanted.
Gibson: I was called by one of the coaches. It was coach (Bill) Baker. I don't know if he's even alive to this day. But he said to me that I was one of the players that they wanted back, but he said if I told anyone that he made this phone call to me, he would deny it. When I told the other guys when we talked on the phone or met, I spoke of this and they were stunned. They didn't realize that had happened. I told them, "How could I come back and play for a coach who's going to lie about me and deny that they made the phone call?" I don't know why they wanted to do that.
The players are also left to speculate as to the true motivation behind Eaton's swift decision. In a reminiscence he wrote nearly three decades after the incident, former UW President William Carlson said Eaton told the team he would "tolerate no demonstrations within the team." Eaton referenced the rule during a TV interview shortly after dismissing them.
During a news conference the week after Wyoming beat BYU 40-7, Carlson announced the rule had been amended to apply only to when players are on the field.
Hysaw: Where was that rule communicated? We didn't have a team meeting. It wasn't in my letter of intent. Who told who about this rule, this mythical rule that was the basis of kicking us off and dismissing us? Where did that come from?
Williams: I didn't hear anything about a rule when I got a scholarship there. Nobody said nothing about no rules or anything. No. If I had known that, I wouldn't have went (to the field house). I don't know if anybody else knew of a rule about that.
Berry: I don't know that I would've taken it to race immediately, that that was the issue. Not until he started talking about Negro and colored relief. I think with him, I think he felt like we were challenging his authority. "How dare you show up here en masse?" I can only think because he was a totalitarian and he was the man.
Hill: I think it was a little bit of both. It was because we posed a threat to him by us walking in there together as a group, and it just helped bring out his underlying racist tendencies that existed within his own spirit.
Hamilton: There was no rule. When you tell somebody they can go to the Morgan States or the Gramblings, that's racial by itself.
McGee: Even if it was a rule, we didn't protest. We didn't protest in the game. Now he can say we were factioning from the team, but we felt it wasn't a good idea to try to get the whole team involved in this because this was about the Black 14.
Two years earlier, Hamilton, who returned to Wyoming to finish his degree, had sought Eaton's help once he and his then-pregnant girlfriend, who was white, wanted to get married. The coach's actions then only strengthened Hamilton's opinion.
Hamilton: I said, "Coach, (athletic director Red) Jacoby wanted you to draw up some papers for married student housing." And he said, "Well, tell me what's going on." And I said, "Well, my girlfriend is pregnant and I've got to do the right thing, so we're going to get married." And he said, "Oh no you're not." He said, "I'm not going to let you do this on the taxpayers of Casper."
Hysaw: One of the last comments I made before I left this campus was that I'd like to talk to him again. My opening phrase would be, "I'm just wondering, Lloyd: Why did you come out and talk to us in the manner you did?" And I never got that chance. Only he knows what's in his heart. We just heard what came out of his mouth.
In a 1982 interview with the Denver Post, Eaton said the 14 were "biting the hand that feeds them" and that he had no regrets about the decision. Eaton, who was demoted after the Cowboys went 1-9 in 1970 without most of the Black 14 and never coached again, died in 2007 at the age of 88.
Berry: Eaton, like he said, he'd do it all over again. So if I'd known, then I wouldn't have been there in the first place. I would get no satisfaction, I'm pretty sure, talking to him, but then this is a bunch of what-ifs.
Williams: Maybe he thought he was pushed into a corner, and he came out fighting like a cat or something. Everybody probably doesn't want to hear me say that, but I look at things from both sides when most people don't. If I had to do it all over again, I wish I wasn't in the meeting with these guys. I probably never would've went. I was pulled in at the tail end. I thought we were really going to talk about the game.
The year after the 14 were dismissed, BYU recruited its first-ever black player. A majority of the group feels the action they took was worth it and that they'd do it all over again. Some say they would want to talk to Eaton again if he was still alive about a decision that altered the course of their lives. Others aren't so sure.
Griffin: For me, what would I get out of it? Because from my understanding, he was still angry leading up to his death. Why would I want to have that conversation with him? I wouldn't.
Williams: I would say, "Why didn't you at least listen to what what we wanted to do? And then you could just say no or yeah. Why didn't you tell us about these rules before we got on scholarship?
Gibson: I think it would be difficult, but I think I would. And I would hope that he would be a changed person when he realized what he had done without even listening to us. Why didn't you let us talk? Why didn't you listen? He didn't even know what we were going to say. He had no idea what we were going to say. He saw 14 young, black men come in, and I think he attacked us for being that.
Grimes: First of all, I don't think I'd want to. But if I guess if I did, the question would be why was he so adamant about not letting us ask the question? Why? If you thought you had that kind of influence on someone, you would think someone in that position would at least give you the respect and the understanding to listen. You can listen and say, "OK, you're wrong." Then, OK. But not even getting the opportunity, I just want to know why he wouldn't even give us that opportunity and tell us why.
Hill: I'd ask him how he's doing because if he was alive today, I'm sure he would've had plenty of time to regret going in the direction that he went and knowing how we stood after this all went down.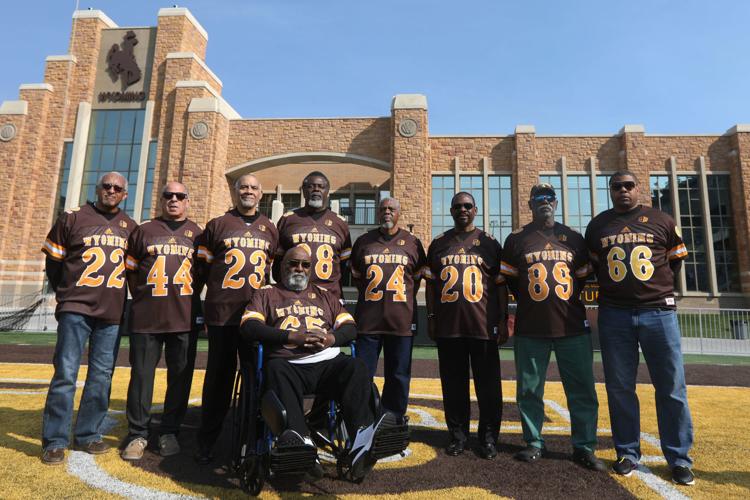 Hysaw: If I saw Eaton today, I'd thank him because you helped me transcend all. I'd thank him because I wouldn't be the man that I am today. I would thank him because I wouldn't have achieved all the things I've achieved had he and whoever was behind him (not) made the decision that they made. But the only question I would ask him is: Why?
Epilogue
Griffin and Moore got camp invites from the Winnipeg Blue Bombers of the CFL, but their professional football careers didn't get further than that. Others dabbled in semi-pro ball and got an NFL workout here and there, but Joe Williams and McGee, who combined to play in three Super Bowls and win two of them, were the only members drafted into the NFL. Isaac, Meadows and Lee died in 1976, 2009 and 2013, respectively.
Follow UW athletics beat writer Davis Potter on Twitter at @DavisEPotter
Be the first to know
Get local news delivered to your inbox!