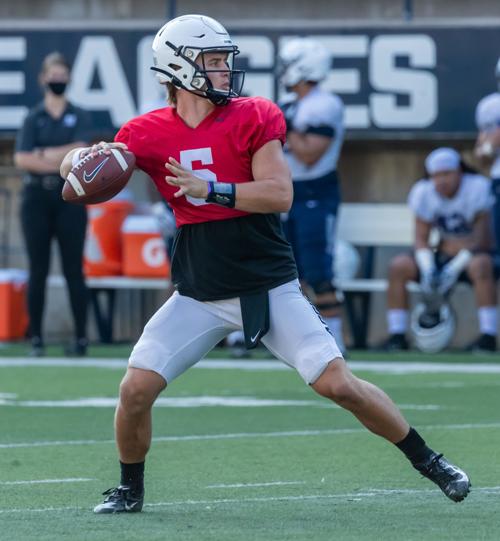 Given the unexpected open date because of COVID-19 issues within Air Force's program causing last week's cancellation, it will be worth watching to see if Wyoming has any rust to knock off. Thursday's game will be the Cowboys' first since their loss to Colorado State on Nov. 5. Some teams have had much longer breaks between games because of the pandemic, but given the routine they get accustomed to during a normal season, an extended break is still noteworthy for UW. The good news for the Cowboys is they've been able to practice regularly, so that should help.
Garrett Crall's season debut will have to wait yet again. UW's senior defensive end hasn't played this season as he continues to work his way back from offseason foot surgery, and he'll miss Thursday's game as well, UW coach coach Craig Bohl said. The same goes for right guard Logan Harris, who missed the Cowboys' game against CSU with a medical issue that's unrelated to the coronavirus. Bohl said Harris should return at some point this season, but the Cowboys will have to go at least one more game without two of their top players in the trenches.
Utah State on Thursday won't be led by the same coach it started the season with. Gary Andersen's second stint at USU lasted just 16 games after the Aggies decided to fire him three games into this season. USU has promoted assistant head coach and co-defensive coordinator Frank Maile to interim coach for the rest of the season. It's the second time serving as the Aggies' interim for Maile, who coached USU to a win in the 2018 New Mexico Bowl before Andersen returned. The Aggies lost to Fresno State last week in Maile's first game as head coach this season to remain winless at 0-4.
The attrition for USU hasn't been limited to the coaching staff. The school announced over the weekend that starting quarterback Jason Shelley has been dismissed from the team for a violation of team rules, ending the Utah transfer's USU career after just four games. The Aggies are turning to redshirt freshman Cooper Legas, who will not only make his first career start against UW but also take his first collegiate snap. It will be Legas' show from start to finish since Shelley's primary backup, sophomore Andrew Peasley, has tested positive for COVID-19 and won't be available to play for the second straight week.
In 2013, a new tradition was incorporated into this century-old rivalry, which is now known as Bridger's Battle. Since then, the teams have been playing for the traveling Bridger's Rifle, a .50-caliber Rocky Mountain Hawken rifle believed to have been carried by legendary mountain man Jim Bridger, whom the rivalry is named after because of his ties to Wyoming and Utah. It's the third traveling trophy game this season for UW, which took back the Paniolo Trophy from Hawaii and lost the Bronze Boot to Colorado State.
USU leads the all-time series 40-26-4, including a 5-2 edge in the Bridger's Battle. The Aggies have won two in a row over the Cowboys, including a 26-21 win in Logan, Utah, last season. Neither team has won three straight in the series since USU won four straight from 2011-15 (the teams didn't play each other in 2012). UW has won just one of the teams' last three meetings at War Memorial Stadium.
Be the first to know
Get local news delivered to your inbox!