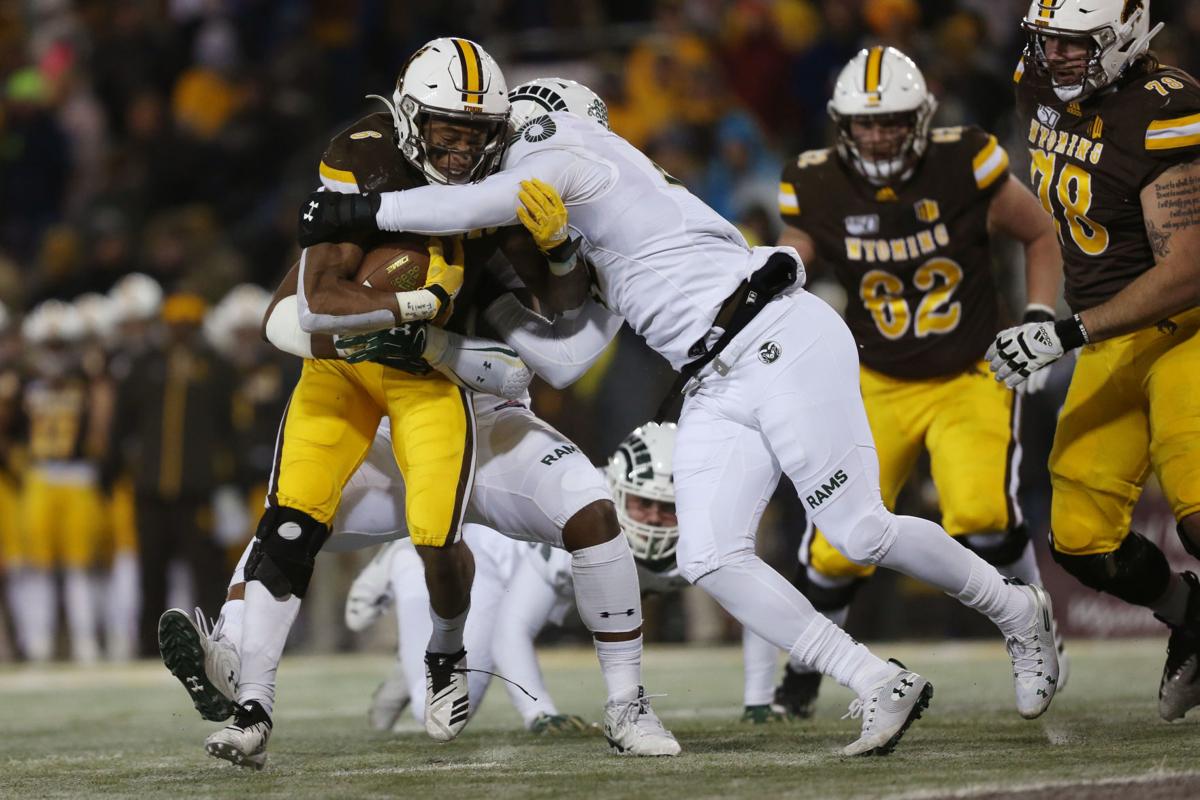 LARAMIE — In a college football world where the only thing that's certain is uncertainty, Wyoming isn't ruling out the possibility of squaring off against its most bitter rival twice in the same season.
Neither is Colorado State.
The initial games of the Football Bowl Subdivision season are still a little more than a month away, but the ongoing coronavirus pandemic is already impacting schedules nationwide as programs try to balance salvaging revenue and maintaining the health of their student-athletes in hopes of having a season at all this fall. Multiple Football Championship Subdivision conferences have already postponed fall sports until the spring while the Pac-12 and Big Ten conferences have announced they will be playing conference-only schedules.
In an interview with the Star-Tribune last week, UW athletic director Tom Burman said he was open to the idea of scheduling another game against CSU and turning this season's Border War into a home-and-home series depending on what kind of results his search for a replacement for Utah yielded. UW is already scheduled to travel to CSU's Canvas Stadium on Halloween, which would count as a conference game for the Mountain West rivals.
Asked during a media session with local reporters in Fort Collins, Colorado, on Monday if CSU would be willing to add games against more regional teams, including home-and-home series with UW or other conference opponents in close proximity, CSU athletic director Joe Parker said "our total focus right now" is trying to get back to as close as a full schedule as possible, adding that virtually every scenario is being considered in order to get that done.
"Right now, I don't think any of us have limited the options," Parker said.
Of course, that's assuming the MW plays a non-conference schedule if there is a season. The league, which has also considered a conference-only schedule, is among the other FBS conferences that could fall in line with the Pac-12 and the Big Ten in order to minimize travel and implement universal COVID-19 testing protocols, though Parker said he disagrees with the latter as a valid reason for conferences to do away with non-conference games.
"We're going to put the health and safety of our student-athletes and staff at the top position of all of our decision-making," Parker said. "We were going to match whatever protocols the Pac-12 was going to put into place."
Parker said the top priority around the MW is to play the eight conference games that are on each team's schedule with an emphasis on the five divisional contests. Air Force, Boise State, Utah State and New Mexico compete with UW and CSU in the Mountain Division while Nevada, UNLV, San Jose State, Fresno State, San Diego State and Hawaii make up the West Division. Each team plays three cross-divisional games in addition to their games within the division.But conference games or not, those schedules could change if leagues require their teams to play more regional slates in response to the pandemic. Air Force, which is scheduled to host CSU on Nov. 14, and FCS member Northern Colorado are in-state home-and-home candidates for the Rams if it gets to that point, but no FBS program is closer to CSU than UW, whose Laramie campus is just a 65-mile drive from Fort Collins.
"Tom Burman is a highly creative guy," Parker said. "(Colorado athletic director) Rick George is. (Air Force athletic director) Nate Pine. There are options along the Front Range that could deliver hopefully some college football if we're put in a position where we have to really focus down to the locales of our really drivable markets."
Ultimately, the hope for UW and CSU is the same as every other FBS program at this point: To play. Whatever that may look like.
"We are committed to trying to play," Burman said. "The Mountain West is trying to play."
Said Parker, "We're trying to fight forward to play as many games as possible.
Follow UW athletics beat writer Davis Potter on Twitter at @DavisEPotter.
Concerned about COVID-19?
Sign up now to get the most recent coronavirus headlines and other important local and national news sent to your email inbox daily.