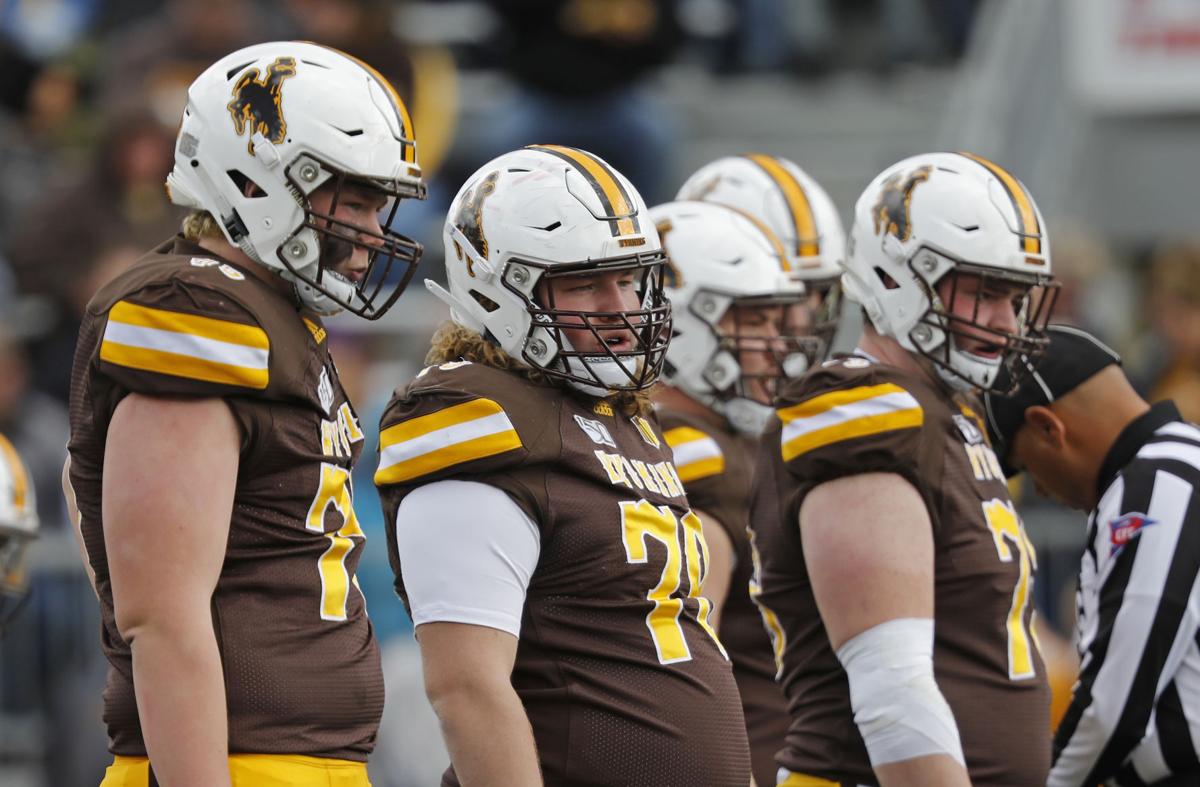 LARAMIE -- Derek Frazier was at the top of his profession.
A longtime offensive line coach, Frazier spent the last two years performing those duties at football's highest level as an assistant line coach with the New York Jets. It was a reunion of sorts for Frazier, who had previously coached with then-Jets offensive line coach Frank Pollack and then-assistant special teams coach Jeff Hammerschmidt during their time in the college ranks.
Those relationships helped Frazier ascend to the NFL, but even more personal connections are the reason he recently made the move back to college as Wyoming's offensive line coach.
"There's too many things to pass up to not take this opportunity to come back to the University of Wyoming," Frazier said.
First, Frazier grew up just an hour-long drive from UW's campus in Fort Collins, Colorado. He graduated from Rocky Mountain High School and played his college football at Northern Colorado. An offensive lineman himself, Frazier was the starting center for UNC during its run to the Division II national championship as a senior in 1996.
He's already had a couple of different stints coaching not too far from home. Frazier spent the 2001-02 seasons as the offensive coordinator and offensive line coach at Adams State, another Division II college in Colorado. A decade later, he returned to his hometown to take a job as Jim McElwain's offensive line coach at Colorado State.
Frazier was plenty familiar with the Mountain West having spent a couple of stints on Pat Hill's staff at Fresno State in between, which only made Frazier more appealing to UW coach Craig Bohl in his search of another replacement for Bart Miller, who left in December to join Bret Bielema's staff at Illinois after two seasons as UW's offensive line coach. Bohl's first choice, AJ Blazek, left after just weeks on the job to take the same position at Vanderbilt.
Frazier preceded his time with the Jets as the offensive line coach at Central Michigan, where he was on the opposing sideline for the Chippewas' 37-14 loss to UW in the 2017 Potato Bowl. Once Bohl reached out to him with the opportunity to again get closer to home by joining the Cowboys' staff, there were multiple reasons Frazier didn't hesitate.
"There are many things that have benefited my coaching career just these last two years being at the Jets," Frazier said. "But when Coach Bohl came up and we started talking, it was the right time to come back and be close to family back here around Laramie. You can't pass up an opportunity like this."
It includes being directly involved with the program that he grew up rooting for thanks to his father, Tom Frazier, who played for UW during the Cowboys' glory days in the 1960s. The elder Frazier was a three-year letterwinner and an all-Western Athletic Conference (which UW was a member of at the time) defensive end for the Cowboys. During his senior season in 1966, Tom was a co-captain on UW's first of three straight WAC championship teams, one that ended with a Sun Bowl win over Florida State.
His dad's ties to UW have made for their share of family ribbing over the years with Derek having always opposed the Cowboys during his coaching career. One of the more memorable matchups was Frazier's offensive line at Fresno State against the Cowboys' defensive front in the 2009 New Mexico Bowl. In overtime, the Bulldogs tried three runs from inside UW's 2-yard line with their future NFL running back, Ryan Mathews, but the Cowboys stuffed all of them before pulling out a 35-28 win in a double-overtime thriller.
"My dad bleeds brown and gold," Frazier said. "So when we played the University of Wyoming, I always told him, 'You can wear whatever you want. You've just got to make sure you sit in your own section.' Now I get to be invited back to Christmas since I'm on the right side again. That's a good thing."
His familiarity with UW's program doesn't stop there.
Frazier's return to the Rocky Mountain region brings with it yet another reunion, this time with UW defensive ends coach Marty English, who also coached with Frazier on McElwain's CSU staff. But their acquaintance goes all the way back to Frazier's playing days at UNC, where English was the Bears' linebackers coach and special teams coordinator at the time.
While English wasn't involved in coaching Frazier's position group, Frazier said English was instrumental in getting him to UNC in the first place as the Bears' recruiting coordinator. The friendship between the two has lasted ever since.
"(English) oversaw the recruitment of that," Frazier said. "He was our strength coach as well, so I worked a lot of long days with Coach English.
"I love Coach English. He's salt of the earth, and being able to be back with him is just icing on the cake."
Frazier is one of two new additions to the Cowboys' coaching staff along with offensive coordinator Tim Polasek, who's taking over play calling duties after Brent Vigen was hired last month as Montana State's head coach. Frazier will work in conjunction with Polasek and receivers coach Mike Grant, who recently had passing-game coordinator added to his title, to try to improve a UW offense that's been among the bottom 10 in the Football Bowl Subdivision in passing efficiency the last three seasons despite having one of the Mountain West's better rushing attacks.
Frazier gets to jump right in with one of the more seasoned offensive lines in college football. UW is in line to return all five starters, including all-conference center Keegan Cryder, and more than 140 combined starts up front next season.
"You don't get much better than that," Frazier said. "Having that type of experience and with the depth of that unit, I've got to do a great job making sure they do the right thing and not screw them up."
Add that to a place and people he's already plenty familiar with, and it'd be hard for Frazier to find a situation more comfortable than this one.
"I grew up coming up to these games, and I grew up going to Cowboy Joe Club events with my parents," Frazier said. "Now to be a part of this program, Coach Bohl and his championship culture, it really is surreal. I'm extremely excited to be a part of it."
Follow UW athletics beat writer Davis Potter on Twitter at @DavisEPotter.