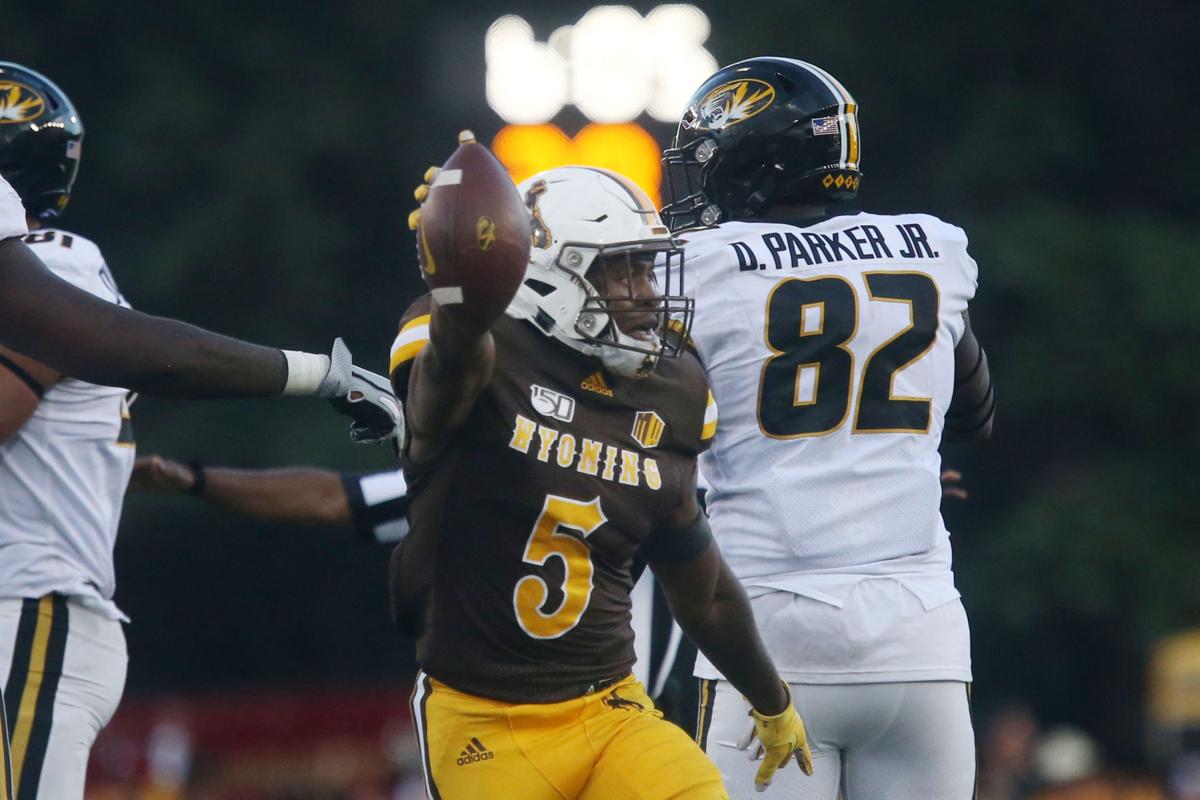 LARAMIE — Esaias Gandy is well aware of the lineage at his position on the back end of Wyoming's defense.
Gandy is taking over as the Cowboys' starting strong safety. His two predecessors? Andrew Wingard, who finished his career as the No. 2 tackler in program history and is now with the Jacksonville Jaguars, and Alijah Halliburton, who led the Mountain West in tackles last season.
"I know I have big shoes to fill, and I'm just ready to go out there and show everybody what I can do," Gandy said.
Having been in the Cowboys' program for four years, Gandy also played with former UW safety Marcus Epps, a sixth-round pick in the 2019 NFL Draft who's now with the Philadelphia Eagles. While Gandy spent last season as Halliburton's primary backup, the 6-foot-1, 198-pound senior said it's Wingard and Epps who've had the biggest impact on him in terms of their preparation.
"I just try to take the same things that they did and I try to do the same thing they did," Gandy said. "Preparation breeds performance, so I just try to prepare like every day is game day."
In preparing for his turn in the starting role, Gandy said he's worked specifically on improving his man coverage, taking better care of his body and watching more film. There's also making plays in the open field, something Gandy remembers Wingard reminding him of constantly.
"(Wingard) always used to tell me to run to the ball and find the ball every play," Gandy said. "That's what I try to do. Just try to get to the ball every play."
UW's safeties have been among the most involved defensive players during the Craig Bohl era. Halliburton, Wingard and Epps combined for 149 tackles in 2018 while Halliburton racked up 191 tackles the last two seasons before exhausting his eligibility.
Gandy, who will play alongside free safety Braden Smith this season, has just 36 career tackles. But he's not shy about his ability to keep the production coming at a position that's had plenty of it in recent years.
"If I'm in position to make the play, I'm confident I'm going to make it," Gandy said.
Two kicking jobs down, one to go
Null is also expected to replace the departed Cooper Rothe as the Cowboys' placekicker, though that competition is still being evaluated. Redshirt freshman Luke Glassock is also in the mix.
"We've got two guys there that are in a pretty tight battle," Bohl said. "We're charting everything, and I'll make that announcement Monday who's going to start as our field-goal kicker."
Null spent the previous four seasons at Cornell and handled punting and kicking duties for the Big Red a season ago. He was 6 of 8 on field goals, which included a career-long 49-yarder, and averaged 39.5 yards per punt.
Testing update
UW began the Mountain West's rapid COVID-19 testing system earlier this week and underwent another round of testing Friday, though Bohl declined to say if any players had tested positive this week.
But UW practiced Friday and is scheduled to practice again Saturday. The league's testing protocols call for three antigen tests per week and a polymerase chain reaction test to be administered to any players, coaches or other on-field personnel that test positive in order to confirm the result.
"I can say this: We're well pleased with where we're at (with our testing numbers)," Bohl said.
UW has only had to suspend practice once after the school announced on Oct. 2 that 11 freshman players had tested positive and 20 other freshmen were being quarantined as close contacts. Bohl said some of those players have returned to practice while others still have to go through certain protocols before rejoining the team.
Follow UW athletics beat writer Davis Potter on Twitter at @DavisEPotter.
Be the first to know
Get local news delivered to your inbox!