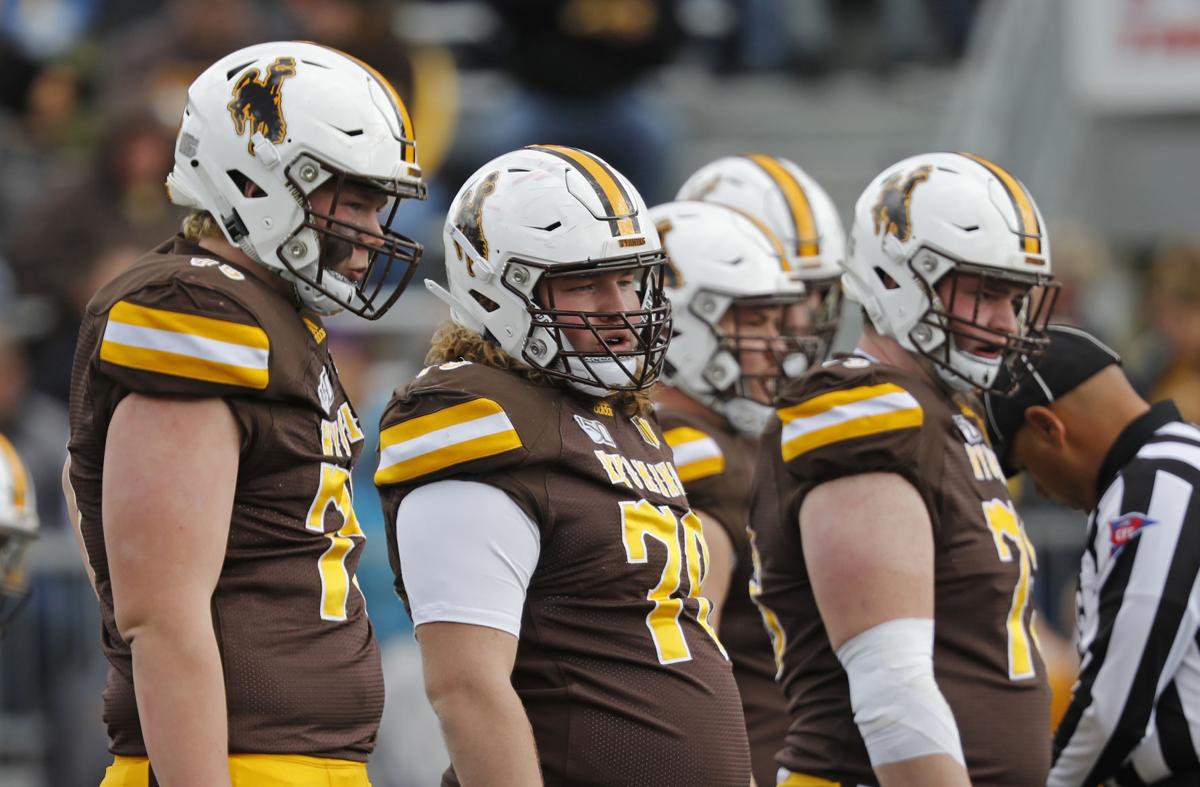 LARAMIE — Each offseason usually comes with some degree of attrition in the trenches for college football teams, particularly along the offensive line.
That's not the case for Wyoming.
The Cowboys are set to return all five starters along the line, and that's just scratching the surface of UW's experience up front. Wyoming brings back all 10 offensive linemen from last year's two-deep and heads into the spring with nine that have started multiple games for a unit that's as deep and seasoned as any in the Mountain West.
Keegan Cryder returns for his third season anchoring the line at center after earning second-team all-Mountain West honors as a sophomore. Cryder, who was an FWAA Freshman All-American two years ago, has started every game the last two seasons. Torrington native Logan Harris, an all-league honorable mention selection, is back at right guard while Zach Watts will likely start the spring as the No. 1 left guard after returning from injury to start the last three games of last season.
Rudy Stofer is back to protect Levi Williams' blind side at left tackle with 20 career starts under his belt. Alonzo Velazquez has been in and out of the starting lineup the last two seasons because of knee injuries but will return for his final season as the Cowboys' right tackle after starting the last three games and seven overall a season ago.
Stofer and Velazquez are entrenched at their positions, though Frank Crum and Gavin Dunayski are back to provide depth on the edges. Crum, a Laramie native, made the first five starts of his career as a redshirt freshman once Velazquez went down last season.
The spring figures to breed much more competition on the interior now that UW is fully healthy. Gavin Rush is back in the fold after missing the last two seasons with arm and knee injuries. The fourth-year guard started 22 games his freshman and sophomore seasons and will start trying to earn his starting job back this spring.
UW will also welcome Eric Abojei back into the mix after the 6-foot-5, 350-pounder missed the second half of his sophomore season with a knee injury. Abojei started the first six games at left guard before the injury. Patrick Arnold, perhaps the most versatile lineman on the roster, also returns after starting six games last season, giving him 10 career starts that have alternated among both guard spots and center.
Every combination has seemingly worked in recent years with the line paving the way for a rushing attack that's ranked in the top 40 nationally each of the last two seasons. The Cowboys finished second in the MW last season in rushing (214.8 yards per game) while the line allowed sacks on just 7 percent of UW's pass attempts (21 on 277 dropbacks).
Sheridan native Blayne Baker is another option on the interior while Latrell Bible, who could play center or guard, got some experience in a handful of games as a true freshman a season ago. Carlos Harrison and Jack Lookabaugh are coming off redshirt seasons, and the Cowboys will get five more signees on campus this summer that will add further depth along the line.
The numbers give second-year position coach Bart Miller all kinds of combinations to work with this spring.
Follow UW athletics beat writer Davis Potter on Twitter at @DavisEPotter
Be the first to know
Get local news delivered to your inbox!