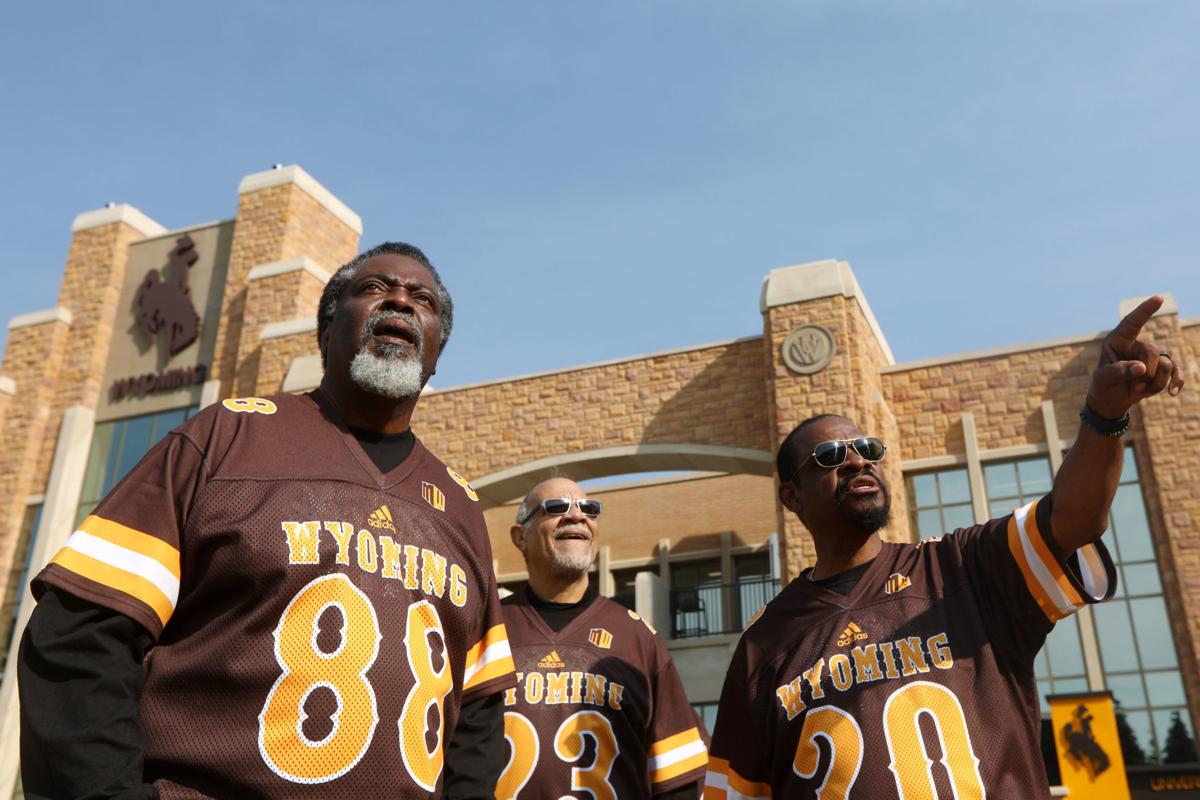 LARAMIE — It was the first time since Oct. 11, 1969 that the eight of them had been on the field at War Memorial Stadium together.
That day, Wyoming, then a top-15 program nationally, routed UTEP to improve to 4-0. Mel Hamilton, Guillermo Hysaw, Tony Gibson, John Griffin, Tony McGee, Ron Hill, Ted Williams and Lionel Grimes planned to take the field the next week against BYU, too. So did Ivie Moore, Jay Berry, Joe Williams and the rest of what will be forever known as the Black 14.
They planned to play the whole season and finish their careers at Wyoming. But the Friday before that BYU game changed everything.
They all walked into the fieldhouse that day seeking head coach Lloyd Eaton's permission to wear armbands in protest of the Mormon Church's now-defunct policy forbidding African-Americans to attain the priesthood as well as what some of the players said were racial slurs and cheap shots they got from some of BYU's players the previous season. But before they could ask the question, Eaton kicked all of them off the team.
On Saturday, Hysaw, McGee, Gibson, Griffin, Hill, Williams, Hamilton and Grimes were all in front of a War Memorial Stadium crowd again representing the Black 14 to cap the school's week-long commemoration of the 50th anniversary of the incident. The group was honored at halftime of the Cowboys' game against Idaho.
"It's been a week of healing," said McGee, a defensive end on that '69 team, who went on to play in two Super Bowls as part of a 14-year NFL career. "Not just healing between us and the university but among ourselves. We found our more that we didn't know (from back then), and it made us love and enjoy each other even more."
Brian Lee, the son of former lineman Earl Lee, was also in attendance representing his late father. All of them gathered in the North end zone donning Wyoming football jerseys with the same numbers they wore back then — McGee's No. 88, Hamilton's No. 65, Hysaw's No. 20, Griffin's No. 22, Gibson's No. 44, Ted Williams' No. 24, Hill's No. 89, Grimes' No. 23 and Lee's No. 66 — as many of those in attendance gave the the group a standing ovation.
A video tribute was played on the jumbotron. The members were also presented with letterman's jackets. Lee accepted a Wyoming football helmet on behalf of his dad.
"I always thought it was a fog before, but now it just doesn't seem like it's real," said Grimes, who went on to play baseball at the University of Findlay in his native Ohio. "I hadn't seen these guys in 50 years, or a lot of them, and I miss being on the field with them. It won't be the same field, but it was back on the football field.
"I never played football after this. I never even put on a helmet. But I'm going to get a helmet, and my grandson will be able to look at it. Matter of fact, I'll probably give it to him."
"It was emotional," Hysaw said. "I don't general show my vulnerability, but one of the trustees, she and I cried at the same time."
Said Hill, "It's like a new lease on life even though I'm an old guy. It's a great feeling, man, how we sat there, ate the food and enjoyed the company of these nice people. I'm honored and grateful."
Burman said more than enough time has passed for the university to learn from that incident half a century ago.
"This can never happen at a place of higher education," Burman said.
Follow UW athletics beat writer Davis Potter on Twitter at @DavisEPotter