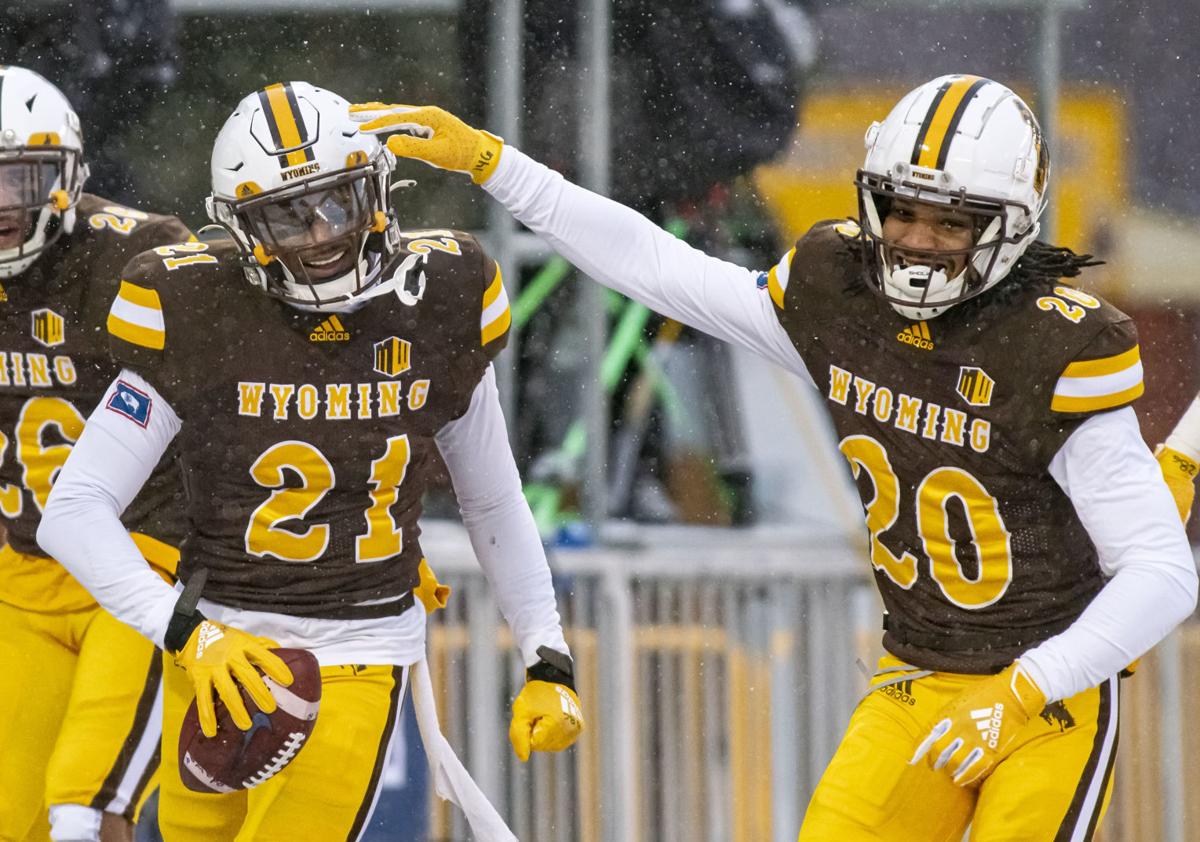 LARAMIE — When it comes to the back end of the defense, Wyoming is getting the entire gang together again.
Between veterans C.J. Coldon and Azizi Hearn, 28 of those starts are returning on the outside. Coldon, a junior, has started all 12 games he's played in his career and got through last year's pandemic-shortened season healthy after previously bouncing in and out of the starting lineup with injuries. He finished with 26 tackles, three pass breakups and a team-high two interceptions in six games.
Returning on the other side is Hearn, who's been a mainstay in the starting lineup since transferring from Arizona two seasons ago. The 6-foot-1, 202-pounder has started 16 of the 19 games he's played for UW and has eight pass breakups. Four of those came last season, the most for a defense that gave up the 29th-fewest passing yards (202.7 per game) in the Football Bowl Subdivision.
Lining up at nickel this spring figures to be another familiar face in Keyon Blankenbaker, who has largely held down the starting job there since moving inside two seasons ago. Blankenbaker had eight tackles and a pair of pass breakups last season, but was hampered by a hamstring injury that forced him to miss two games.
Blankenbaker led the Cowboys with 10 pass breakups when he was healthy in 2019 and is expected to begin the spring with a clean bill of health. His primary backup, Keonte Glinton, is also back after getting some valuable reps when Blankenbaker wasn't available.
Glinton actually started the final four games last season as a redshirt freshman and tallied 16 tackles and one pass breakup. The former three-star recruit has played in eight career games and gives UW a couple of nickel backs that are capable of handing a starting role.
Sophomore walk-on Blake Harrington, who's played in five games, and redshirt freshman Wyatt Ekeler will provide additional depth at nickel, a hybrid position that's a mix between a corner/safety and an outside linebacker in UW's 4-2-5 scheme.
Freshman Xavier Carter and Cameron Stone finished last season as the primary backups to Coldon and Hearn on the outside, and the spring should give each a chance to build up his practice rep count. Carter and Stone have combined to play in just six games to this point, but Blankenbaker could slide back outside and play corner in a pinch.
Another freshman, Caleb Roberson, is also an option at cornerback, and the group will add more depth this spring in Zaire Jackson, whom UW coach Craig Bohl said is the lone early enrollee among UW's incoming freshmen that will go through spring drills. The former Valor Christian (Colorado) standout was a three-star recruit who signed with the Cowboys in December.