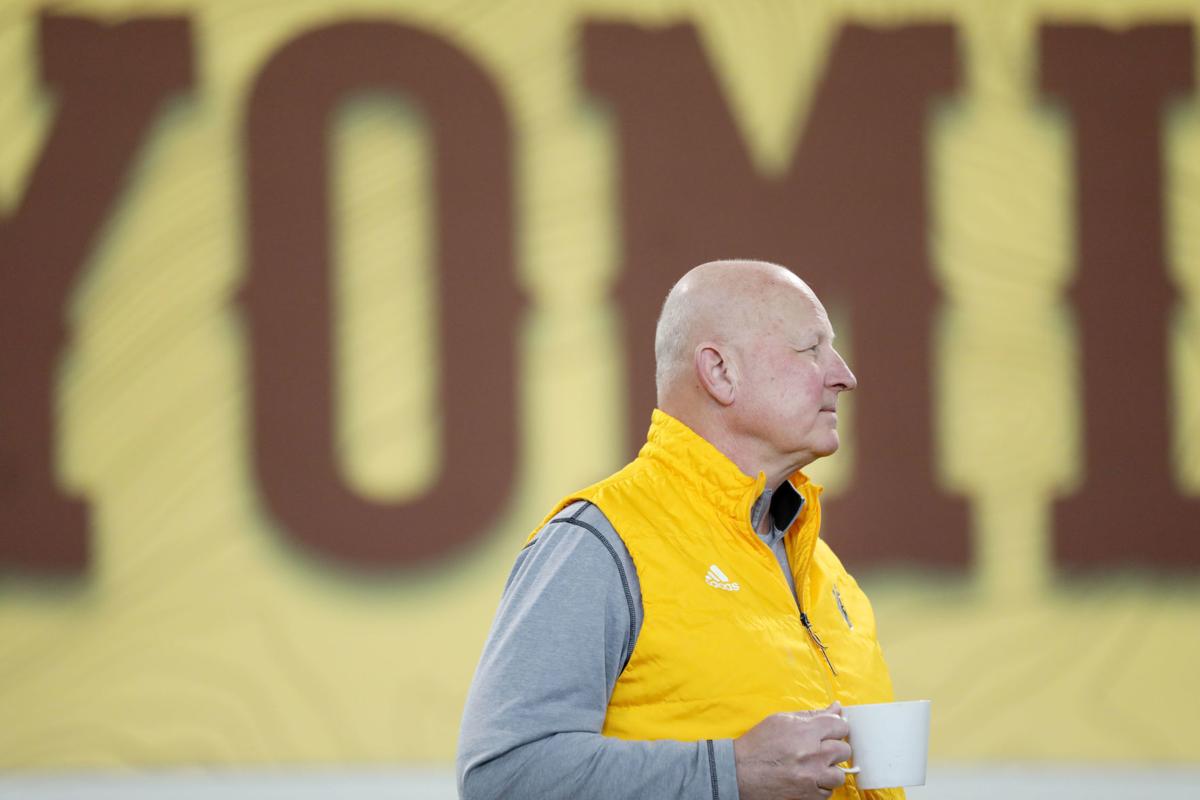 LARAMIE — In the spring of 2009, when Craig Bohl was in his seventh year as the football coach at North Dakota State, NDSU canceled classes for a few weeks in response to emergency flooding in the Peace Garden State. It interrupted the Bison's spring football schedule, though Bohl said his team was still able to get most of its practices in.
But what Bohl is experiencing heading into his seventh season at Wyoming is a first.
In nearly 40 years of college coaching, Bohl has never been part of an entire spring without football until now. The coronavirus outbreak ended spring practice before it started at UW and has kept Bohl physically separated from many of his assistant coaches and his players.
They've all used video conferencing as a workaround for the time being to hold staff and positional meetings. There's also communication with players and recruits over the phone as UW tries to operate as normally as a college football program can nowadays, but the time commitment isn't as demanding as it would be if everybody was on campus going through practice.
"This is going to be new," Bohl said.
So how is the Cowboys' coach filling the time that he's not spending on his modified work schedule? Nearly all of it at home in some form or fashion, he said. That includes voluntary activities like catching up on reading and rewatching old movies as well as some involuntary demands made by his wife, Leia.
"The way I look at it is, as coaches, we're not great at adapting. We're very structured, and we spend a lot of time at work," Bohl said. "This has been an opportunity to maybe do some of the things that you always grapple with that you haven't been able to do. Personally, between reading books and things like that, there's a big, big field behind my home that has no one in it. So I've been able to take some long walks. When you walk down the country road, there's nobody out there. I've been in touch with all the other Mountain West coaches. We've been in touch and then some of the other colleagues around the country.
"I've watched every Godfather movie there is. I've watched many of the other movies that I've seen many years ago like Top Gun and things like that. And then (I've been) forced to clean the garage, too."
It helps Bohl pass all the newfound time he's not used to spending at home. It also helps occupy his mind, which is admittedly difficult to do at times given the harsh realities of the COVID-19 pandemic.
Doctors and health officials have recommended social distancing as the best way to slow the spread of the virus. Many of the United States' non-essential businesses have been closed, and more than half of the states have issued stay-at-home orders with the number of confirmed cases nationally topping 238,000 as of Thursday, according to the latest data from Johns Hopkins University.
At 61 years old, Bohl shares the designation of the oldest head football coach in the Mountain West with San Diego State's Brady Hoke. Bohl said he hasn't been tested for the virus and, to his knowledge, neither have any of UW's players.
But he added he's not as concerned about himself as he is his elderly parents, who haven't contracted the virus but do have pre-existing health conditions.
"My main concern is doing what we can to do the things to be socially responsible to not put others at risk," Bohl said. "I'm significantly more (concerned about them). They're in their 80s and have had three different bouts of cancer and a stroke and things like that. I'm healthy, I've been practicing (social distancing), and I've had a good diet and all those things. … That's not being naive, but I can tell you we've adhered to a lot of things that have been suggested."
So whether it's walking, reading or taking in old movies, Bohl will continue to do his part in taking precautions at home. True Grit, the throwback John Wayne western, has also been part of his rewatched collection. And he's got a certain opinion about The Godfather series.
"I can rate The Godfather movies," Bohl said. "There's (Part) I, II and III, but by far, the best one is Godfather II."
Follow UW athletics beat writer Davis Potter on Twitter at @DavisEPotter.
Concerned about COVID-19?
Sign up now to get the most recent coronavirus headlines and other important local and national news sent to your email inbox daily.