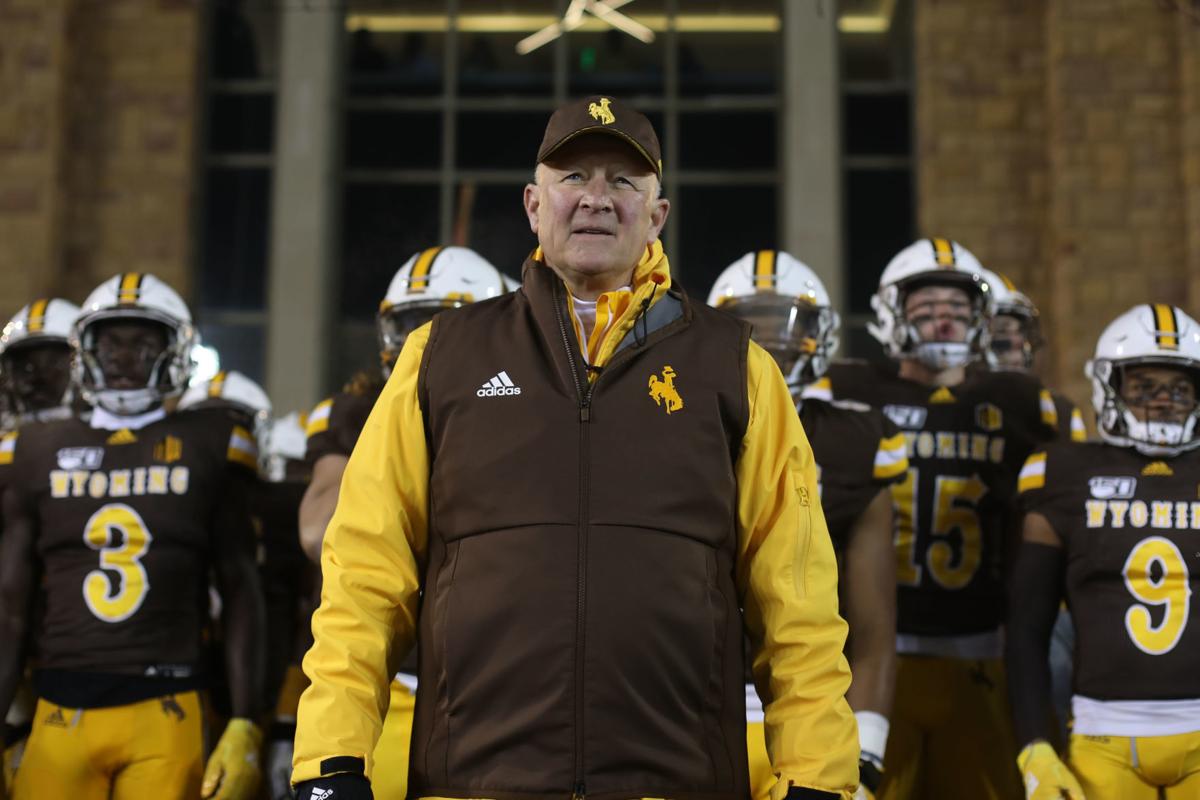 LARAMIE — Zoom, the remote video conferencing service, has seen its use spike in recent weeks as companies try to keep employees connected and business running as smooth as can be expected these days amid the coronavirus outbreak.
Count Wyoming's football program as part of the movement.
UW coach Craig Bohl admittedly isn't all that tech-savvy, but he's had no other choice but to learn on the fly. Zoom meetings have been as common as social distancing for him, his assistants and his players.
"Position meetings. Each coach has had academic meetings. We just got off a Zoom meeting with our academic staff where we've gone through (all of the players)," Bohl told the Star-Tribune in a phone interview Wednesday. "This is the first part of online classes to make sure that guys are up and running. We've been meeting with them two hours a week via Zoom. We've been interfacing with the strength and conditioning staff."
Normally this time of year, Bohl and his staff would be spending their days running a spring practice or preparing for the next one. But these times are anything but normal, particularly for college football teams with rosters exceeding 100 players that usually rely on all being in the same place for workouts and practices.
But UW's players are scattered throughout the country after leaving campus for an extended spring break that ended last week. UW has moved classes online for the rest of the semester, so many players are still back home.
Meanwhile, Bohl said he's stayed at his home in Laramie "pretty much the whole time" since doctors and public health officials have started recommending the public do so in an attempt to stop the spread of the novel coronavirus, and he's urged his assistants to do the same.
***
"We're adhering to some of the suggestions by the governor (Mark Gordon) and the president (Donald Trump) to social distance and then making sure we can do everything we can at home," Bohl said.
That includes not only virtual academic and position meetings but also as many as four meetings with his assistants each week via Zoom, Bohl said. He also meets virtually with the Cowboys' strength and conditioning staff and communicates regularly with players.
"The position coaches are really the point people in each group," Bohl said. "Maybe between the position meetings and then following up academically, I would say some guys we've had contact with daily. Then there's been other guys who we've been in contact with probably every other day. At the very least, we're talking to them every other day."
UW has players from California, Florida and everywhere in between on its roster for next season. Though Wyoming isn't yet one of them, more than 30 states, including Colorado and California — home to more than one-third of the scholarship players on UW's roster — have declared stay-at-home orders with some of them in effect until May.
That means college football teams won't be able to reassemble until June or July at the earliest, which would push up against fall camp in August and the start of the season in September. Bohl serves on the NCAA's Division I Football Competition Committee and said he's confident college sports' governing body will be flexible in allowing teams to account for the practice time they're missing this spring, though he added he doesn't think extra practices during fall camp would be the solution.
Bohl said one scenario that's gaining traction, at least among coaches in the Mountain West, is allowing teams to have a certain amount of days for organized team activities in the summer based on how many spring practices each team had. The NCAA allows teams 15 practices in the spring, but Air Force was the only MW team to complete all of them before schools nationwide began shutting down sports-related activities. UW, which was originally scheduled to start spring drills March 24, didn't practice once before suspending spring practice indefinitely.
"Let's say Colorado State had eight days of spring football. They would have seven OTA days that would be cleared," Bohl said. "We would have 15. I know New Mexico hadn't started. Those workouts would be right now two hours with a helmet. They'd be instructional workouts just to re-engage with some things schematically. That's one of the things that's being thrown out. That's very workable if we do get a clearance by June 1 or the middle of June.
"I believe (the NCAA) is going to listen to the sports medicine people, doctors and coaches on how long it takes to get ready to play. I think everybody realizes that this is a unique year."
***
Bohl said he also has questions about what a revamped football calendar would look like when — or if — teams are cleared to resume activity at some point this summer. He knows a postponement at the beginning of the season is a distinct possibility, but he's not willing to let his mind wander to the worst-case scenario just yet.
"There's no way that whenever we re-engage with the football season that it's going to be exactly equal for everybody, and coaches realize that," Bohl said. "What our hopes are is just that we can come up with a formula that makes everybody whole. We want to be around our players, and we want to have a safe environment. We think it's really important for our student-athletes and then also for the fabric for our country.
"We're going through some tumultuous times. I think college football is special, and it's a rallying point for people that can get emotionally invested behind their teams and feel good about stuff. I know this: The coaching staff, we will do everything we can to engage with a safe, playable manner. We just hope it gives us the ability to have a full season."
Bohl said his primary concern is having his players show up in peak physical shape — or something close to it — whenever they report back to campus. UW has sent its players workout plans based on the resources and restrictions they have back home.
"One is things you can do if you have access to some weights or no weights. That one's going to change what you can do," Bohl said. "And then if there were some guys who are in position maybe to be able to go to a high school field or something like that and not in a city that had a lockdown mode. If they could find some grass to run on to try to maintain their speed. That's the first thing that goes. We were ahead of that just shortly after we sent them home."
And then there's recruiting, the lifeblood of every program that doesn't stop even for a global pandemic. The NCAA has banned all in-person recruiting until at least April 15, and Bohl said he thinks the MW, which has also universally banned on-campus visits from recruits, will extend that restriction for its member schools.
But phone calls and text messages are still permissible, and Bohl said he and his assistants are "constantly in communication" with recruits when they're not sitting in front of a computer or checking in on their current players.
"We tendered some offers where we might have waited for them to come to campus more so as a formality, but we just knew that wasn't going to be in play, so that's an ongoing option," Bohl said. "We're having an extended recruiting Zoom meeting (Thursday) with our coaches. Just because people are not at work doesn't mean recruiting isn't going on. It's just taking place in a different form."
It's all part of a new normal UW and everybody else are still trying to get used to.
"I don't think there's a coach in the country that has a playbook for this," Bohl said. "Everybody is trying to figure out what all goes on next."
Follow UW athletics beat writer Davis Potter on Twitter at @DavisEPotter.
Concerned about COVID-19?
Sign up now to get the most recent coronavirus headlines and other important local and national news sent to your email inbox daily.