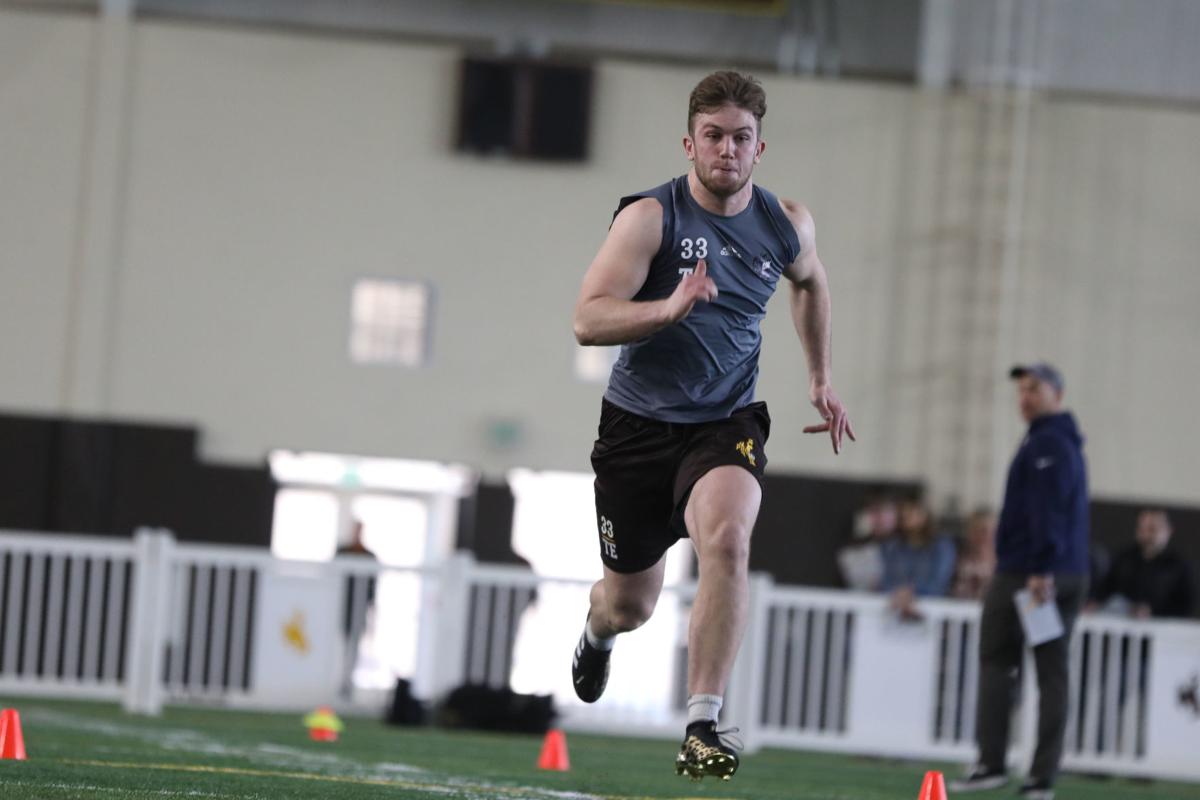 LARAMIE — Josh Harshman has spent most of his life playing football.
Whether he takes another snap, though, remains to be seen.
Harshman is one of two Casper natives eligible for this year's NFL Draft, but unlike his former high school teammate, former Wyoming linebacker Logan Wilson, Harshman's name isn't appearing in any mock drafts with the three-day draft less than two months away. In fact, if there is a path to the next level for UW's former tight end, he knows it's likely to be the free-agent route.
It's one he at least wants to explore.
Harshman, who just finished his fifth season at UW after playing for his father, Steve Harshman, at Natrona County High School, could be spending most of his time trying to gain admittance to graduate school. If football doesn't work out, Harshman said he's tentatively planning to work toward a career in physical therapy.
"Probably somewhere else (other than UW), but it's undecided at this point," Harshman said of attending graduate school.
Instead, Harshman has spent most of his time since his final collegiate season ended training in hopes of getting a chance at the next level. The 6-foot-3, 230-pounder took the next — and most important — step in that process when he worked out in front of scouts from 23 NFL teams Tuesday during UW's annual Pro Day.
"My biggest thing was I'm here and it's after the season, so why not give it a shot?" Harshman said. "I'm only going to get one chance at this."
Harshman finished his career with 43 catches for 510 yards and three scores. Even with a brace on his surgically repaired right knee that cost him a majority of the 2018 season, Harshman's last season with the Cowboys was his best as he set career-highs in catches (20), receiving yards (264) and touchdown receptions (2) in UW's run-heavy offense.
Once it was over, Harshman returned to Laramie after a short break to train with head football strength coach Eric Donoval, who helped Harshman and other players design a workout plan that also tested them in the same drills they would run through at Pro Day, including the bench press, vertical jump, broad jump, 40-yard dash, three-cone drill, 20-yard shuttle and 60-yard shuttle.
Harshman took part in everything Tuesday, and that training paid off as he set personal bests in all the drills, including a 40 that he said was clocked as low as 4.69 seconds. He also ran a variety of routes and caught passes during position drills inside UW's indoor practice facility.
"We obviously tested these drills while I was training, so my biggest thing was I wanted to (personal record) in everything that I was doing," Harshman said. "I did that today, so I was pretty happy."
And he did it all without a brace on that right knee.
"The biggest thing this past year, I was playing with a knee brace and stuff," Harshman said. "I felt like I was a little bit handicapped out there and running slower, so I wanted to show I could run a little bit, run some routes and catch some balls. And I thought I did that for the most part today, so we'll see how it goes."
All Harshman can do now is wait to see if he did enough for a team to spend a draft pick on him, but it's hardly unprecedented for UW players to get their professional shot as free agents, particularly at Harshman's position. Just last year, tight ends Austin Fort (Denver Broncos) and Tyree Mayfield (San Francisco 49ers) both went through NFL training camps as undrafted free agents. Jacob Hollister was signed by the New England Patriots after going undrafted in 2017 and is still in the league with the Seattle Seahawks.
Harshman isn't exactly on edge, though, leading up to the draft. He said he hasn't even hired an agent because he first wanted to see how his Pro Day went.
But Harshman does have a cell phone. And he wanted to do everything he could to increase the chances of one day having an NFL team on the other end of it before thinking about what's next.
"In my mind, it was like, 'If it doesn't work out, it doesn't work out,'" Harshman said. "But I at least want to give it a go."
Follow UW athletics beat writer Davis Potter on Twitter at @DavisEPotter.
Be the first to know
Get local news delivered to your inbox!