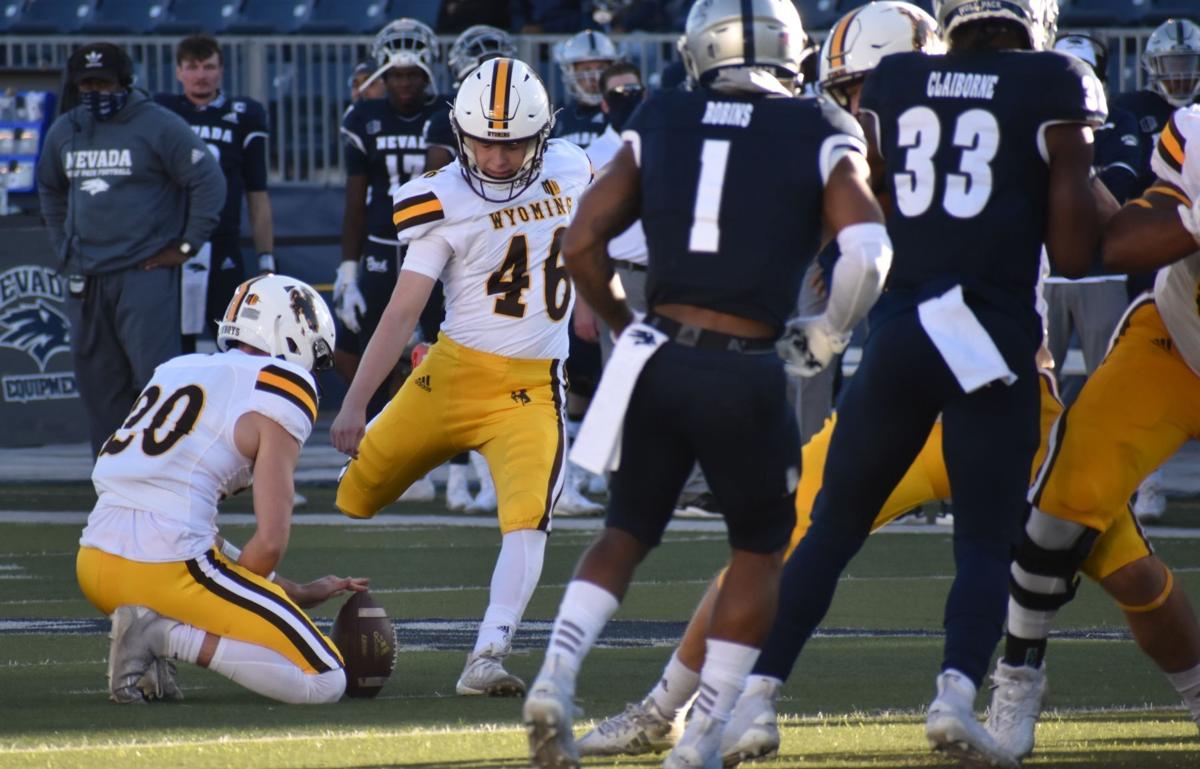 LARAMIE — John Hoyland's impressive college debut has earned him the nod as Wyoming's placekicker for at least another week.
"I would say so," UW coach Craig Bohl said.
There wasn't much doubt about Hoyland's official designation, particularly with redshirt freshman Luke Glassock still nursing a pulled groin, but Bohl confirmed the move during his weekly press conference Monday, which happened shortly after Hoyland was named Mountain West Special Teams Player of the Week for his performance against Nevada.
Hoyland made all six of his kicks, including four field goals. His longest of the night, a 42-yarder, came with 23 seconds left in regulation to send the game to overtime before the Cowboys fell, 37-34.
A true freshman walk-on majoring in mechanical engineering, Hoyland said he had some interest from Division II schools coming out of Legacy High in Broomfield, Colorado, but he chose to pass on those scholarship offers because of UW's academics as much as anything. The 5-foot-10, 183-pounder opened camp behind Cornell graduate transfer Nick Null and Glassock, a Buffalo native.
Glassock won the placekicking competition over Null, who's still handling kickoff and punting duties. Meanwhile, Hoyland missed a significant portion of fall camp because of coronavirus-related issues. But once Glassock recently sustained his groin injury, Hoyland was thrust into the starting role.
"It's been a lot of texts and just (people) blowing up my phone right now," Hoyland said of his newfound popularity. "I was kind of a no one before I came in, but now that I'm here, it's pretty crazy. I'm not used to this.
"Obviously my goal coming in here was just to try and get as much confidence from the coaching staff that I could and just make the most of any opportunity I could. It's good to know that up to now I've done all I could to impress and have a spot on this team."
Entering this week's game against Hawaii with his name still atop the depth chart, Hoyland has earned more than that.
Chambers still involved
Sean Chambers may not be taking snaps for the foreseeable future, but UW's quarterback will still be involved with the team after sustaining his latest injury.
and sprained his ankle on the Cowboys' third play from scrimmage last week. The two-time captain returned to watch the rest of the game from the sideline on crutches while wearing a protective boot and even made his way to midfield for the coin toss before overtime.Bohl said Chambers won't travel with the team for road games but will still attend practices when he can and will be at Friday's game.
"When he left the game, it hurt for everyone losing someone like that," said fellow quarterback Levi Williams, who will take over as the Cowboys' starter. "But he's not going to be gone. … He's going to be motivating us and making sure our heads stay straight because that's the kind of leader he is."
Backup plan
UW will go with either sophomore Ryan Marquez or true freshman Gavin Beerup as Williams' backup against Hawaii, according to an updated depth chart released by the school Tuesday.
Marquez, who's listed as a receiver on the Cowboys' roster, was originally recruited by UW as a walk-on quarterback in 2018 and also serves as the team's holder. Beerup signed with the Cowboys last year as a three-star prospect out of St. Bonaventure High in Ventura, California.
Crall still out
Bohl said the Cowboys don't anticipate having defensive end Garrett Crall available for Friday's game.
Crall didn't make the trip to Nevada as
. Crall, whose 11.5 career sacks are the most of any player on the roster, described his status last week as week to week, though Bohl continues to insist UW is close to having its most experienced defensive lineman back in the fold."We do think he'll come back fairly shortly," Bohl said. "But at this time, don't count on him playing this week."
Swen going through COVID protocols
Running back Titus Swen didn't make the trip to Nevada either because of COVID-related issues. Bohl said Swen is still going through the proper protocols before being cleared to return to practice.
Bohl didn't say whether Swen tested positive or has been quarantined as a close contact and declined to give any more details regarding Swen's status. As a freshman last season, Swen averaged 5 yards a carry and finished as UW's third-leading rusher (337 yards) despite playing in only six games because of a knee injury.
Follow UW athletics beat writer Davis Potter on Twitter at @DavisEPotter.
Be the first to know
Get local news delivered to your inbox!