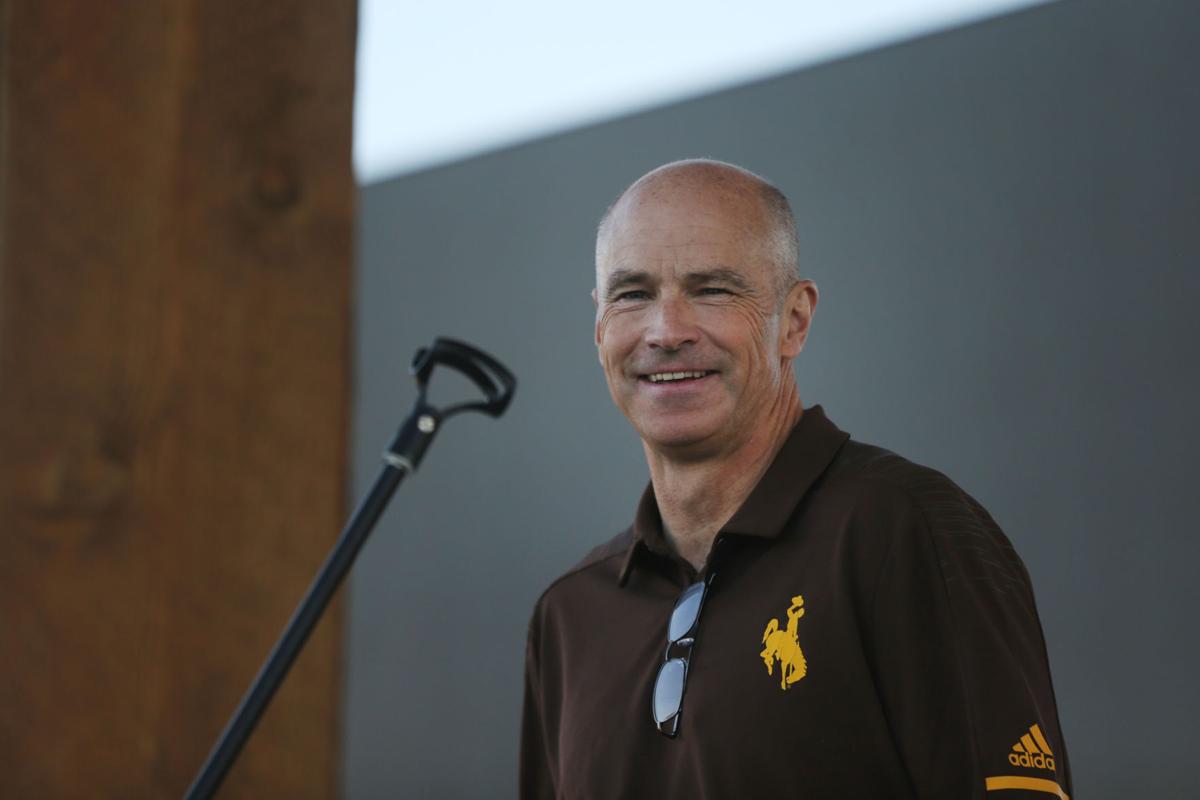 LARAMIE — Assessing the performance of Wyoming's athletic programs is an annual task that's normally cut and dry for athletic director Tom Burman.
Teams have win-loss records after all, a telltale sign of just how successful a season is under normal circumstances. But the 2020-21 athletic season was anything but.
It was one unlike any other amid the coronavirus pandemic, which required coaches and student-athletes to isolate themselves in hopes of actually getting their seasons in. Cancellations, postponements and a complete overhaul of some teams' schedules became as normal as masks, face coverings and regular COVID-19 testing.
"I wasn't as focused on our win-loss record as I would normally be," Burman said. "There were so many intangibles that coaches could not control and can't really be held accountable for. I wanted them to manage the program, keep kids' spirits up and make sure we were doing well emotionally and mental-health wise and that we were helping each other get through this. Then let's come out of it with maybe a little more experience and a little better team dynamics pretty much in every sport, and let's roll into '21-'22 and be really good."
The athletic season for all of UW's teams officially concluded last month when the track and field teams competed in the Mountain West outdoor championships with varying results. UW's men's team finished fourth in the eight-team field while the women's team came in last place with just eight team points.
The pandemic played a role in that as both teams competed without some key contributors because of COVID-19 safety protocols.
"The worst issue we had was at the end there with track and field, and that was because we got a little lazy and got lackadaisical," Burman said. "And that bit us."
Being in a results-oriented business, Burman couldn't completely ignore the results of the 17 athletic programs he oversees. Football and women's soccer, a program that needs a new coach after Pete Cuadrado recently left to take the same position at Tarleton State, both had losing records, and UW combined for just one team championship this past season.
But Burman said he was proud of the coaches and student-athletes for making the sacrifices necessary to give themselves the opportunity to compete.
"We didn't win enough to say it was a great year, but my mindset going in was let's compete, let's get better and let's survive," Burman said.
The season still produced some highlights.
Swimming and diving, volleyball and tennis all had top-4 conference finishes while the fourth-place finish for men's track and field was its best at the Mountain West outdoor championships since placing third in 2000. Individually, senior discus thrower Colton Paller earned first-team All-America honors over the weekend at the NCAA Track & Field Outdoor Championships with a seventh-place finish in the event.
But no team achievement topped the run women's basketball made to the NCAA Tournament in March. The Cowgirls, under the direction of second-year head coach Gerald Mattinson, needed to win their first-ever Mountain West tournament title for the league's automatic bid after entering the postseason just one game above .500.
"When I saw the Cowgirls play early in the year, I did not expect them to have the run they did to finish the season," Burman said. "But they embraced Gerald's personality, which he's a grinder. He's a worker. He's no-nonsense. And by the end of the year, they were the best defensive team in the league pretty much by a long stretch. And that became clear once we got to the tournament."
"I thought Coach Linder and his staff did an A-plus job. A really good job," Burman said. "From the time they got here, you look at the decisions he made from hiring a staff, recruiting, finishing up the schedule, managing COVID. I thought he did a really good job, and I think the future's very bright."
As for football, Burman admitted the 2-4 record last season wasn't what he wanted, particularly after the Cowboys had preceded it with four consecutive bowl-eligible seasons. But it came amid some significant attrition by way of opt-outs and injuries.
With one of the most experienced teams in the Football Bowl Subdivision, many, including Burman, are expecting much more from the Cowboys in Craig Bohl's eighth season at the helm.
"Craig and I talk all the time. Last year was very frustrating for him," Burman said. "Just so many balls in the air at one time. Managing COVID. Managing opt-outs. Managing health issues of one of his leaders and not knowing if we were going to play week to week. All of it weighed heavily on him, but I feel like in spite of the record, it was a productive season."
All things considered, Burman could say the same thing to some degree for all of UW's athletic programs amid the most trying of seasons.
"It was a hard year," Burman said. "Emotionally up and down and frustrating are some of the ways I would describe it. But I was very proud of our kids and proud of our coaches. They handled themselves well. We did everything within our power to be prepared to play every week and, in reality, we were."
Follow UW athletics beat writer Davis Potter on Twitter at @DavisEPotter.