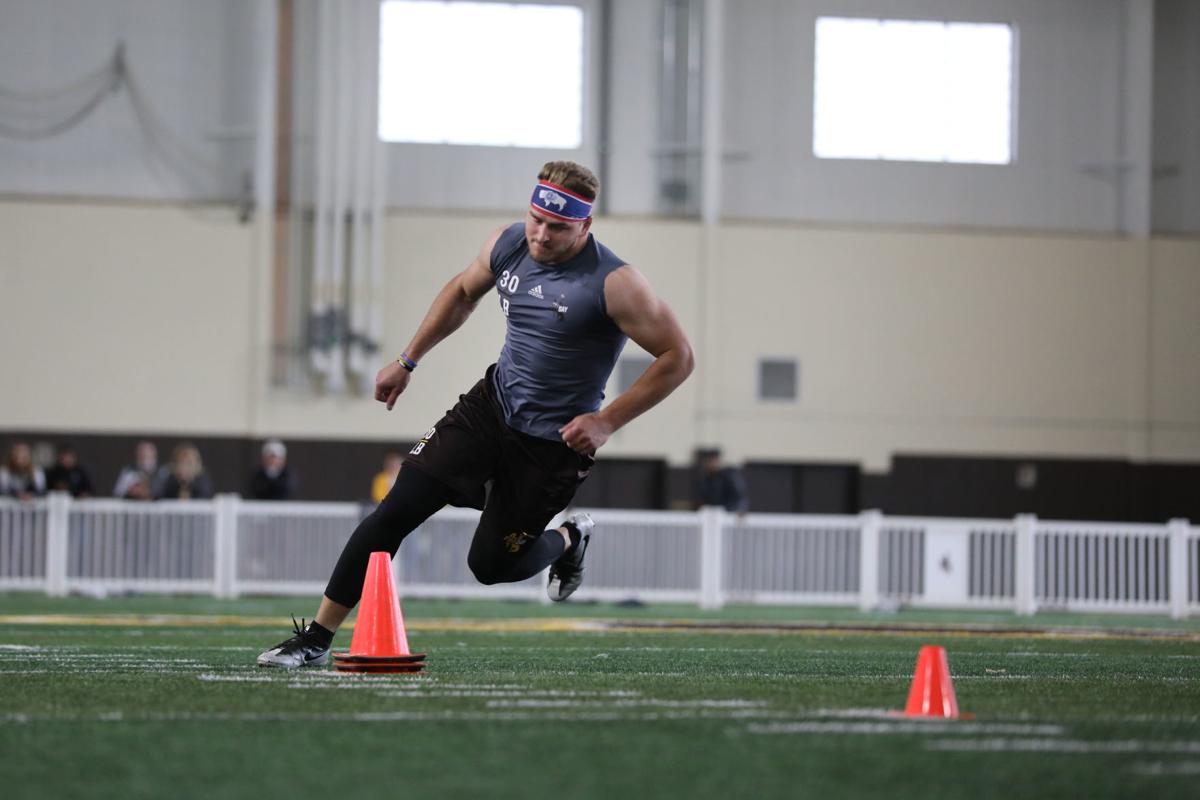 LARAMIE — Logan Wilson needed some time.
As he pushed through a sled, jumped over bags and sprinted through position drills — the last part of his workout at Wyoming's annual Pro Day on Tuesday inside the team's indoor practice facility — the Cowboys' former linebacker paused in between reps to catch his breath. He put his hands on his knees and bent over. Other times, he squatted as he tried to inhale as much oxygen as possible.
"I thought I was going to pass out," Wilson said.
It's taking the Casper native a little longer than usual to get acclimated to the 7,220 feet worth of altitude that he's been away from the last couple of months. When Wilson hasn't been in Mobile, Alabama, playing in the Senior Bowl or participating in the NFL Scouting Combine in Indianapolis, he's spent his time in California training for the NFL Draft.
"I'm not acclimated to the altitude being in California for the last two months, so I've got to get used to that again," said Wilson, who arrived back in Laramie on Thursday.
It was the most taxing part of an otherwise light day for Wilson, who stood on many of the times he posted at the combine last month, including his 4.63-second 40-yard dash. The only other event he elected to participate in was the three-cone drill, which measures change-of-direction skills and agility.
Wilson was trying to improve on his time of 7.07 seconds from the combine, but he said Tuesday he hadn't been informed what his time was from Pro Day. Overall, Wilson said he was pleased with his latest showing in front of NFL personnel.
"I just wanted to excel in the position drills mainly," he said. "They put us through some different position drills than what we did at the combine, so I just wanted to show that I was still able to do those things."
Wilson, who's widely projected to be an early-to-mid-round pick in April's draft, is scheduled to visit the Philadelphia Eagles on Wednesday and has an upcoming visit with the Kansas City Chiefs. He said he's also got private workouts scheduled with the Houston Texans and the New York Jets, one of four teams he formally met with at the combine.
UW coach Craig Bohl said he's talked to "a lot" of teams that have inquired about Wilson.
"They're doing their due diligence and homework, and that's usually an indication of when a guy is moving up (draft boards)," Bohl said. "They're digging a little bit more to make sure they find the right guy."
When Wilson isn't traveling, he said he'll continue training in Laramie before he and his family make the trip to Las Vegas for the draft, which begins April 23.
Hall flashes speed, strength
At 5-foot-10 and 190 pounds, Tyler Hall was far from the biggest player on UW's roster throughout his career. But pound for pound, the Cowboys' former cornerback may have been the strongest participant Tuesday.
Hall knocked out 17 reps of 225 pounds on the bench press. That was in addition to his 38-inch vertical, second-highest only to fellow defensive back Alijah Halliburton.
"I really wanted to get 20 on the bench press," Hall said with a smile. "That was kind of my goal coming in."
Hall also clocked the fastest time in the 40 at 4.38 seconds, according to UW media relations. That wasn't totally unexpected given Hall's speed as a kick returner during his time with the Cowboys.
Hall, who also participated in the NFLPA Collegiate Bowl back in January, may have to go the free-agent route, but he's hoping his speed gets him a hard look in the later rounds.
"That's always the dream to be drafted," he said. "That will always be the dream, but if I'm not drafted, I've just got to keep working. If I don't get drafted, I'm not going to let that be the end of it."
Getting personal
Kicker Cooper Rothe was the last participant to take his turn at Pro Day, booting kickoffs and field goals from various distances.
It wasn't the first time UW's all-time leading scorer has put his leg on display for NFL personnel. Rothe played in the East-West Shrine Game in January. He's done his training in California at former NFL kicker John Carney's kicking academy.
Rothe acknowledges his opportunity at an NFL training camp this summer may have to come by way of the free-agency route, but soon more teams will look closer at him in personal workouts.
"I don't know if I can name the teams until I work out with them, but I'll be up here for a while training and working out," said Rothe, who finished his UW career with 342 points.
Follow UW athletics beat writer Davis Potter on Twitter at @DavisEPotter.
Be the first to know
Get local news delivered to your inbox!