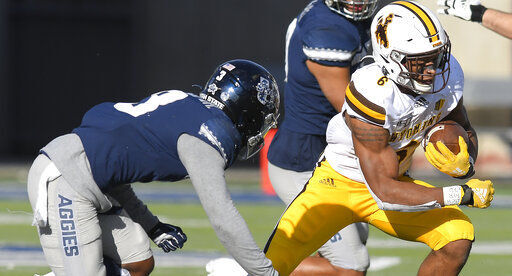 LARAMIE — For the second straight week, coronavirus-related issues outside of the team's control have forced Wyoming's football game to be canceled.
The Cowboys' game against Utah State is off because of an upward trend of COVID-19 cases within the Aggies' program, the Mountain West announced Wednesday. The announcement came a day before the Cowboys (1-2, 1-2 Mountain West) were scheduled to host USU (0-4, 0-4) at War Memorial Stadium.
Because there are no open dates on the teams' schedules before the Mountain West title game on Dec. 19, the game will not be made up and will be deemed a no-contest.
It's the second straight home game UW has missed out on after the Air Force game was canceled last week because of COVID-19 issues within the Falcons' program. The Cowboys aren't scheduled to play at War Memorial Stadium again until they host Boise State on Dec. 12.
UW was the first Mountain West team to have multiple games canceled this season because of issues related to the pandemic. CSU became the second when its game against UNLV was canceled later Wednesday afternoon. The Rams' opener against New Mexico was also nixed.
Air Force also had to call off its non-conference game against Army on Nov. 7, but since it's part of the Commander-in-Chief's Trophy series, the schools are working to reschedule that game.
Utah State did not announce the exact number of players that aren't available this week because of positive tests and/or contact tracing, but the Mountain West has roster thresholds in place that would allow a team to cancel a game any given week if they're met.
If a team has fewer than 53 players available or a shortage of players at certain positions because of coronavirus-related issues leading up to a game, it can be canceled. Additionally, if a team's positivity rate reaches 7.5% at any point during a game week, circumstances would be reviewed to see if its game could still be played.
UW will now play a maximum of six regular-season games.
Follow UW athletics beat writer Davis Potter on Twitter at @DavisEPotter.