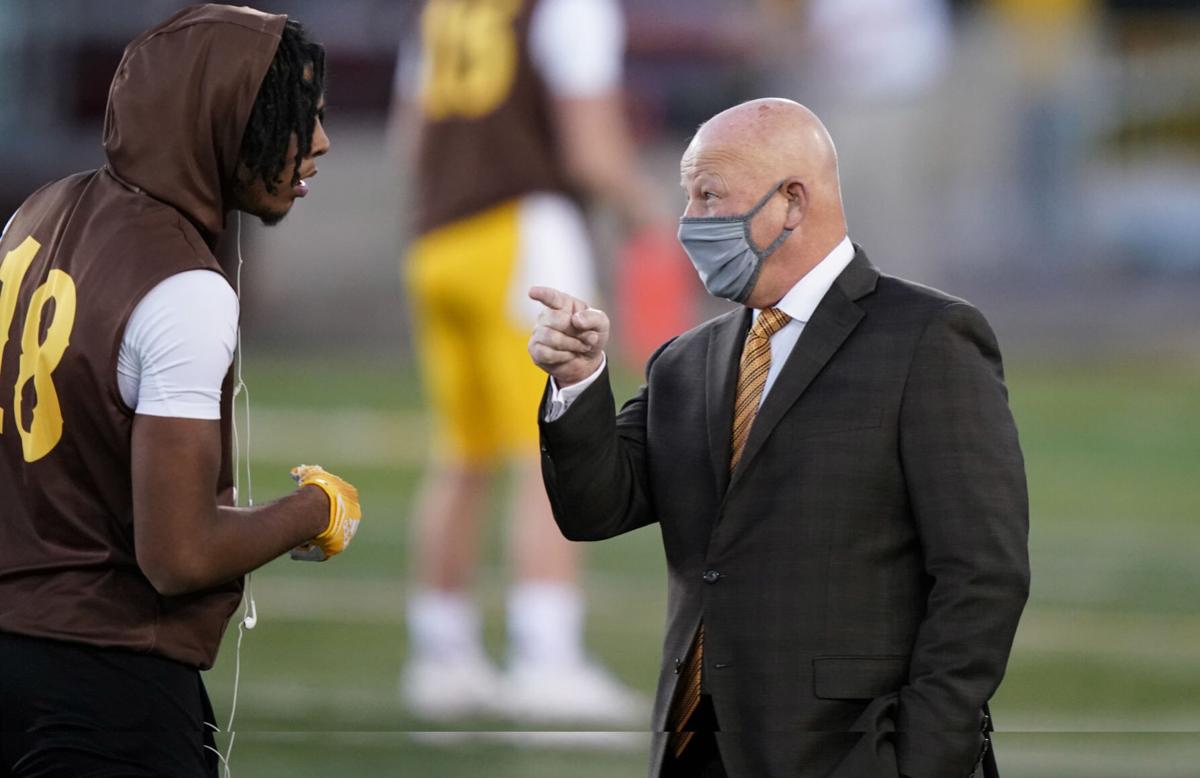 LARAMIE -- Wyoming will go at least two straight weeks without playing a football game amid the coronavirus pandemic, but it's not for a lack of trying on the Cowboys' part.
After its home game against Utah State was canceled because of an uptick of COVID-19 cases within the Aggies' football program, UW searched for a replacement. In a statement released on social media Thursday, athletic director Tom Burman said he did "everything possible" to try to schedule another game against a regional opponent at War Memorial Stadium for this weekend but that "unfortunately nobody wanted to play."
Burman did not specify which schools he contacted about trying to schedule a game at the last minute, but it could have been teams both inside and outside of the Mountain West Conference. Despite many Mountain West teams being limited to an eight-game, conference-only slate this season, they could potentially schedule a non-conference game in place of a league game that's canceled because of coronavirus-related issues pending discussion among the membership and ultimately approval from the Mountain West, a conference spokesman told the Star-Tribune.
Meanwhile, the Pac-12, which is also playing a conference-only season, has approved non-conference replacements for the same reason. That's notable because one of its member schools just south of Wyoming, Colorado, is also looking for an opponent this week after its game against Arizona State was canceled because of COVID-19 issues.
Conference rival Colorado State also has an opening this weekend after an uptick in coronavirus numbers within UNLV's program caused CSU's game against the Rebels to be canceled. It created the possibility for a Border War rematch after the Rams beat UW the Cowboys' last time out on Nov. 5, but CSU is focusing on its upcoming game against Air Force, which is scheduled for next Thursday, and won't play this week either, according to a report from ESPN.
The Utah State cancellation means the Cowboys have already lost half of their home games, which is cutting into what little revenue UW was going to make from ticket sales this season. Attendance at War Memorial Stadium was initially limited to 7,000 fans, or roughly 24% capacity, for the Cowboys' first home game against Hawaii, but in response to the surge of COVID-19 cases in Albany County and around the state, the school announced this week that number will be reduced to 5,000 for the rest of the season.
Both cancellations coming as a result of increased numbers at other programs has only added to UW's exasperation.
"I am frustrated and disappointed," Burman said in his statement. "I appreciate our players' focus on staying healthy and beg them to stay focused while preparing to play again!"
The Cowboys' next game is scheduled for Nov. 27 at UNLV, though that's no guarantee to be played either. UNLV said in a statement it has four positive tests within its football program, but contact tracing largely depleted the Rebels' roster ahead of their game against CSU.
Five games involving Mountain West teams have been affected by coronavirus-related issues with many of them being canceled and deemed no-contests. Air Force's non-conference game against Army, part of the Commander-in-Chief's Trophy series, is the only one that might be rescheduled.
Follow UW athletics beat writer Davis Potter on Twitter at @DavisEPotter.
Be the first to know
Get local news delivered to your inbox!