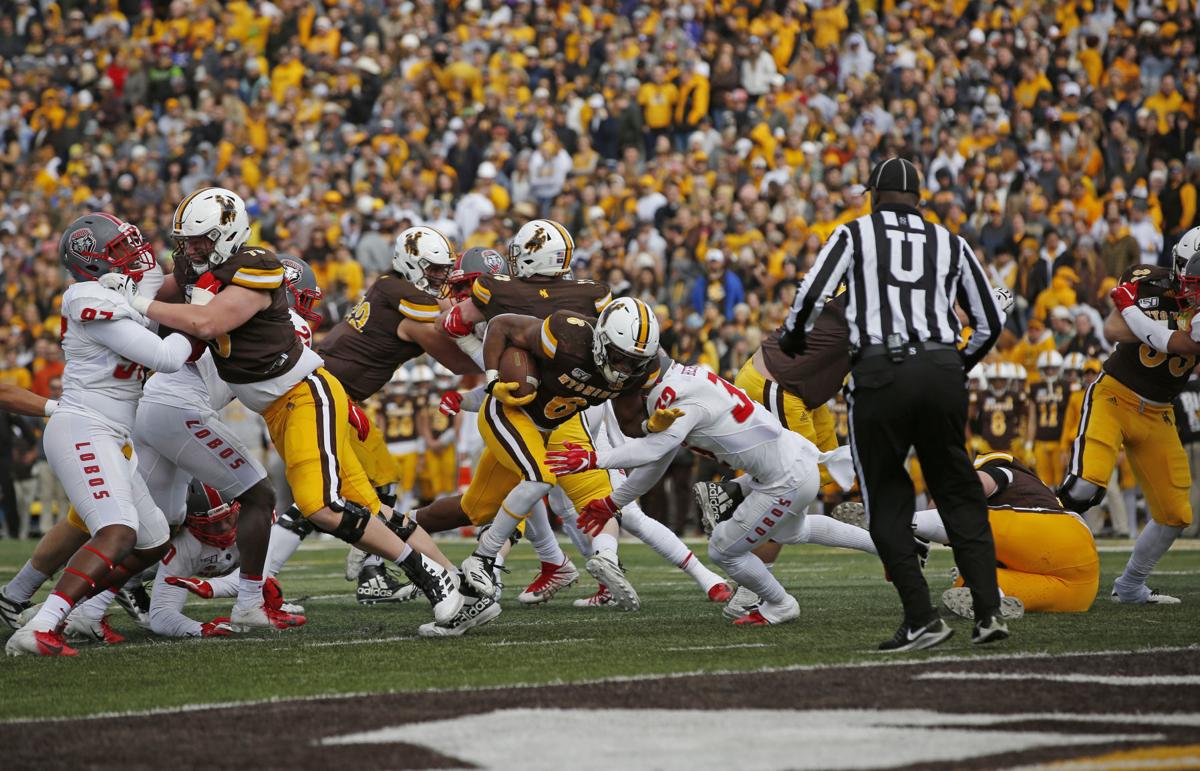 LARAMIE — The dominoes have started falling.
First it was the Mid-American Conference that nixed its fall football season out of health concerns amid the coronavirus pandemic. The Mountain West followed suit, leaving Wyoming and its other 11 football members clinging to hope of a spring season after postponing fall sports indefinitely. So did the Big Ten. And then the Pac-12.
Now you may be saying, "Yeah but everybody else is still going to play." It's true that the Pac-12 was the last Football Bowl Subdivision conference to call off fall football, and that was nearly two weeks ago (Aug. 11).
But let's wait to see if more dominoes fall.
Just because the SEC, ACC, Big 12, Conference USA, the Sun Belt and the American Athletic Conference still want to play come late September doesn't mean they actually will. Athletes are part of the broader campus community and can't completely avoid interaction with the rest of the student body, which is already creating an issue that was all too predictable as students begin to return to their respective campuses for the fall semester.
Within the last week, North Carolina, Notre Dame, Tulsa and Vanderbilt are among the teams that suspended football practice for at least a day after an increase in the number of COVID-19 cases on their campuses, including players themselves. Appalachian State put an indefinite pause on its fall camp after the school linked a cluster of positive cases to the football team, though the Mountaineers resumed practice Friday.
Common sense tells you more cases are going to pop up around the country as schools continue to bring thousands of students back to campus, so will there actually be any college football played in the next fourth months? I'd be surprised.
Even some university administrators and conference commissioners, including Mountain West boss Craig Thompson, have gone on the record saying that sports at their institutions wouldn't be — couldn't be — played unless students were back on campus for in-person instruction. Yet some schools are set, at least for now, on trying to completely discredit that theory.
Yet all of those schools, other than Big 10 member Michigan State, are still planning to play football this fall. Conference USA saw how preposterous that was and raised them one. The league on Friday announced that it is postponing all fall sports until the spring except football.
The system is crumbling if it's not already broken. Everyone involved in college athletics gets a cut of the millions of dollars in revenue that football generates for its institutions except the players, who don't see a cent outside of the full cost of attendance that every other full-scholarship athlete also receives. Those millions also fund a lot of the other sports at each school, and when that money isn't there, it could force some universities to go to the extreme of cutting non-revenue sports like Iowa did most recently.
So when schools go forward with their plan to play football games on their campuses — the same campuses they've deemed unsafe for the rest of the student body — and conferences are still trying to get a football season in when they've decided not to play any other sports, they're telling on themselves. They're admitting the need to further expose unpaid football players during a pandemic so that they can still make the millions to keep their athletic departments afloat, which kind of throws the NCAA's whole amateurism model out the window.
But surely college sports' governing body is going to intervene here, right? The NCAA can put a stop to the silliness and just decide that no football will be played at schools that aren't playing any other sports this fall or that have already moved classes only online, right?
The NCAA canceled all spring championships at the pandemic's onset back in March and has postponed most fall championships, including championship subdivision football, because it sponsors them. But the association doesn't sponsor FBS bowl games or the College Football Playoff, which is run by the conferences, so it doesn't have the authority to call them off. And if the NCAA technically has no say in the postseason, particularly when it comes to the Power Five conferences that already have autonomy from the association, it's not about to chime in on the regular season now after leaving that decision to the conferences and their schools all summer.
Instead, it appears the NCAA is going to stand by idly as a handful of FBS conferences and their member institutions threaten to bring the association's amateurism model to its knees.
How can schools justify bringing a specific group of students onto campus for practices and games if no other students will be on campus? And how, particularly in Conference USA's case, will conferences explain playing one sport and not the others this fall? There could also be Title IX ramifications from such a decision, and lawyers could have a field day with that.
The answer certainly isn't a good one amid a serious global health threat, but, of course, it's an all-too-familiar one: Money.
Perhaps America's struggle to contain the spread of the novel coronavirus will save the NCAA and some of its member schools the embarrassment. If the number of COVID-19 cases continues to spike on college campuses, the rest of those dominoes could easily fall, and then all of this becomes moot.
But if the teams in these six FBS conferences actually get to that first game week, if they actually play games on campus while everybody else that's part of the student body watches from home, then it will be time for the NCAA to admit that its idea of amateurism is a farce.
Follow UW athletics beat writer Davis Potter on Twitter at @DavisEPotter.
Be the first to know
Get local news delivered to your inbox!