LARAMIE — The brown-and-gold awning above the entrance is the first indication of what you're walking into.
Once inside Third Street Bar, located in the heart of downtown Laramie at the corner of Third Street and Grand Avenue, there are more. A sign hanging above the bar reads "WYOMING COWBOYS DRIVE." A chalkboard with names scribbled on it is complete with Steamboat logos and the phrase "Go Pokes!" It's flanked by framed Wyoming football jerseys.
An establishment that embraces the fandom of those who follow the state's only college football team routinely draws crowds that include everybody from local residents to die-hard UW fans to some of the school's athletic department employees, said Dennis Small, one of the bar's co-owners.
And football season naturally brings in more foot traffic from out of town, so the first game day always births one of the busiest times of the year for businesses like Small's.
"Game day is just a whole other level," said Juan Soto, general manager at The Library Sports Grille and Brewery, another local spot. "We've described it as every weekend is like a Super Bowl for us. It really is."
That is, when there's not a pandemic interfering.
It's Sept. 5, and UW is supposed to be opening its season against Weber State just a few miles up the road at War Memorial Stadium, but the coronavirus outbreak has put a stop to that. The Mountain West is one of four Football Bowl Subdivision conferences that have postponed fall football, citing the unknown long-term health effects the virus could have on their student-athletes as part of their reasoning.
There's no way to know exactly when UW and Weber State would have played this particular Saturday since a kickoff time wasn't announced before the season was called off. But with Weber State residing in Division I's lower level, the Football Championship Subdivision, the game almost certainly would've started during the day.
On a typical game day, it's not uncommon for fans who plan on attending the game to make their way to Third Street or other downtown bars for a couple of drinks before heading to their tailgates. Others stick around to watch the game on the bar's big-screen televisions.
But as of 1:31 p.m., with no football game in town, Third Street has four customers.
"Not having football on Saturdays definitely hurts," Small said while tending the bar.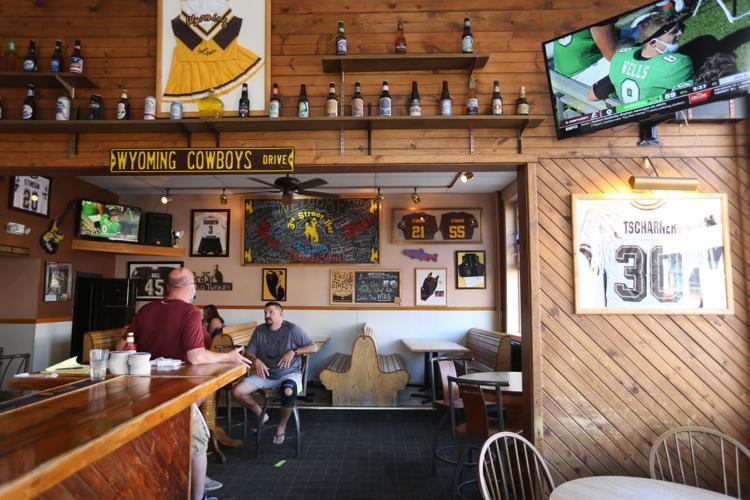 With a small serving bar and a handful of tables and booths, Third Street is more compact than some of the other watering holes and restaurants around town. A red sign hanging behind the bar lists a fire code maximum occupancy of 47.
"But on game days, we're usually more," Small said.
So it's not unusual for the crowd to be naturally smaller at Third Street, though Labor Day weekend isn't helping. A three-day weekend and no UW football means more residents and students are traveling, cutting down even more on the foot traffic downtown.
Twenty minutes later, a few more people trickle in, but you can still count the number of patrons on two hands. The Kentucky Derby, America's most prestigious horse race, is scheduled to start around 5 p.m., and Small said that usually draws a bigger crowd. But the race, normally held on the first Saturday in May, was postponed to the holiday weekend because of the coronavirus outbreak, so Small isn't sure what kind of turnout to expect this time.
"I might get crushed for the Kentucky Derby or I might have five people in here," Small said. "We don't have any idea."
It's hard to comprehend for a business that's usually booming this time of year.
"Normally on a game day, we could be at capacity by 10 in the morning," said Danny Punches, who's owned Third Street with Small since 2008. "You're looking at 65 people, so we could normally be at that capacity that quickly. Now there's nothing."
The gathering isn't much bigger a couple of blocks away at the Buckhorn Bar and Parlor. Located on Ivinson Avenue, "the Buck," as it's more famously called, was originally built in 1900, making it the town's oldest and most historic bar.
It's also one of the largest. Four separate bars located on the ground floor and second and third levels make for a maximum capacity of 271. Both locals and visiting fans who have the bar on their traveling bucket list — the stories are legendary, including the one about the bullet hole that's still visible in the mirror behind the downstairs bar — make a habit of popping in on game day.
It's not uncommon for upwards of 50 people to be inside the Buck's main bar downstairs while UW is playing, said Riley Sandilands, who's been bartending here for a couple of years. Depending on the opponent and the time of day, that number could reach triple digits.
"Sometimes for game days, we'd open up the outside and have that area sectioned off, so we'd have 100 people in here and like 50 more outside," Sandilands said.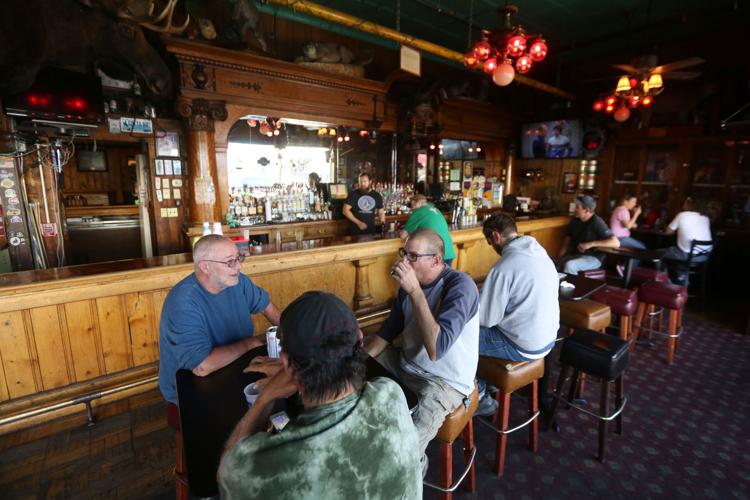 But there hasn't been anything close to that on what's supposed to be the first game day of the season. At 2:26, less than 12 patrons are in the bar.
"This is it right here," Sandilands said. "This is the busiest it's been."
Among them are Laramie residents Adam Laskowsky and Huck Gray, who are sharing a table with two other friends. They've been here for most of the afternoon, but their visits to the Buck are normally accompanied by UW football.
If the Cowboys were playing, every television here would be tuned to the game, Sandilands said. Instead, a TV hanging in a corner above the bar is showing a rerun of "That '70s Show."
"Pretty pathetic, ain't it?" quipped Gray, a UW graduate.
Spending game days at the Buck is essentially a tradition for Laskowsky and Gray. As part of the "Buckhorn Breakfast Club," both typically arrive when the bar opens on game day mornings to eat their first meal of the day and congregate. Free T-shirts are also handed out.
Now, on what feels like an empty fall Saturday to them — six FBS conferences are still playing this fall, "but not the Cowboys," Gray noted — Laskowsky and Gray are left to talk among themselves about what might have been in between sips of beer and liquor. There's plenty of venting.
"It's not fair to the students, it's not fair to the fans who like Wyoming football, and it's really not fair to players because when you're in college, you've only got a few years," Laskowsky said. "You get a few seasons of college football, and you're missing out on a whole season. So that's one whole season they didn't get to play and improve their talents, so that's a huge setback for a major athlete."
The Kentucky Derby ends up drawing a bigger crowd to Third Street. Even if it's a marginal increase.
It's 4:45, and 17 customers have made their way to the bar. Four more walk through the door just minutes before the race's 5:03 post time. It's not the sporting event many of them hoped to be rallying around on the first Saturday in September, but all eyes are glued to the TVs nonetheless.
Tiz the Law is the heavy Derby favorite, but many are pulling for an upset.
"C'mon, 13! C'mon, 13!" one patron shouts, identifying Attachment Rate by the horse's pole position.
Another customer, rooting for Storm the Court, pipes up: "Let's go, Storm!"
In the end, it's Authentic that holds off Tiz the Law to win the first September Derby in the race's 146-year history. Once it's over, some of the patrons pay their tabs and head out.
"This is about what I expected," Small said. "If there was a football season, this place would be wall-to-wall."
The Library Sports Grille and Brewery has one of the liveliest downtown atmospheres, all things considered. As the name indicates, the two-story sports bar has its own brewery as well as bars upstairs and downstairs, a full-size dining room and some patio seating, which, at full operation, puts capacity at roughly 400, said Tonya Gay, who owns The Library with her husband, Bryan.
Gay said some tables inside have been removed to allow for social distancing, which has essentially cut capacity in half for now. But by late Saturday afternoon, nearly all of the patio tables along with those in the downstairs bar are occupied.
"We're taking it in stride and doing the best we can," Gay said.
The part of Second Street directly in front of The Library is also blocked off for an auto show hosted by Bonds Brewing Company, which is next door. Gay and Soto admitted that's helped generate more foot traffic than their place likely would've gotten on this particular afternoon.
But there aren't always going to be these kinds of events to help supplement the business lost with no UW football on fall Saturdays. One that Soto was eyeing in particular was the city's annual Brewfest, which brings thousands of local vendors and beer samplers downtown each summer. After initially being rescheduled for Sept. 26, the event has been canceled.
"It will be interesting to see what happens every Saturday going forward," Soto said.
The lone constant in helping keep bars and restaurants busy on weekends is UW students who frequent them on Friday and Saturday nights. But if the university decides to continue with online classes rather than bringing students back to in-class learning for the fall semester, Gay said she fears the crowds could grow even thinner.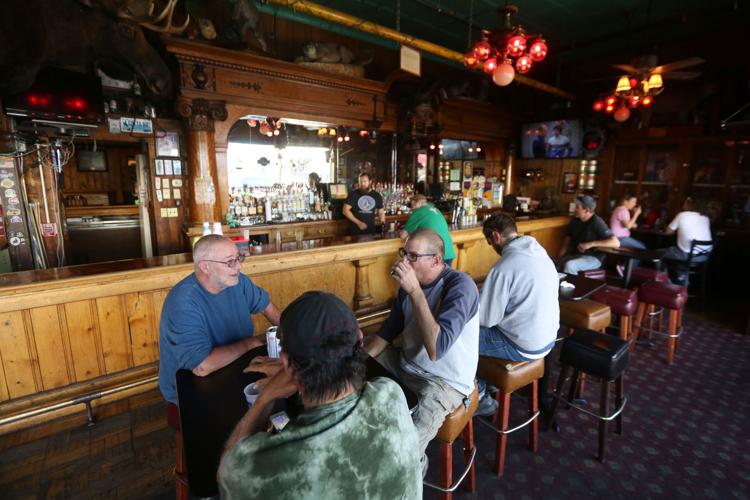 The school wanted to phase students back on campus for in-person instruction beginning earlier this month, but that plan has been put on hold twice after more COVID-19 cases recently popped up within the UW community.
"There are a plethora of students whose parents pay their lease and they can just get out of it," Gay said. "They might just go home if they have to do their classes online anyway. So if we lose the student population, we're losing half of Laramie."
By 9 at night, there still isn't much action to speak of. The number of patrons inside the Buck's downstairs bar is in the single digits, and one of its bars is closed because there aren't enough people coming and going.
It is eerily dormant in Wyoming's lone college football town, and it's largely been that way all day. Which is as hard to believe as the reason why it's that way in the first place.
"(Football season) was a big damn deal," Gray said, "and now it's gone."
Follow UW athletics beat writer Davis Potter on Twitter at @DavisEPotter.
Concerned about COVID-19?
Sign up now to get the most recent coronavirus headlines and other important local and national news sent to your email inbox daily.