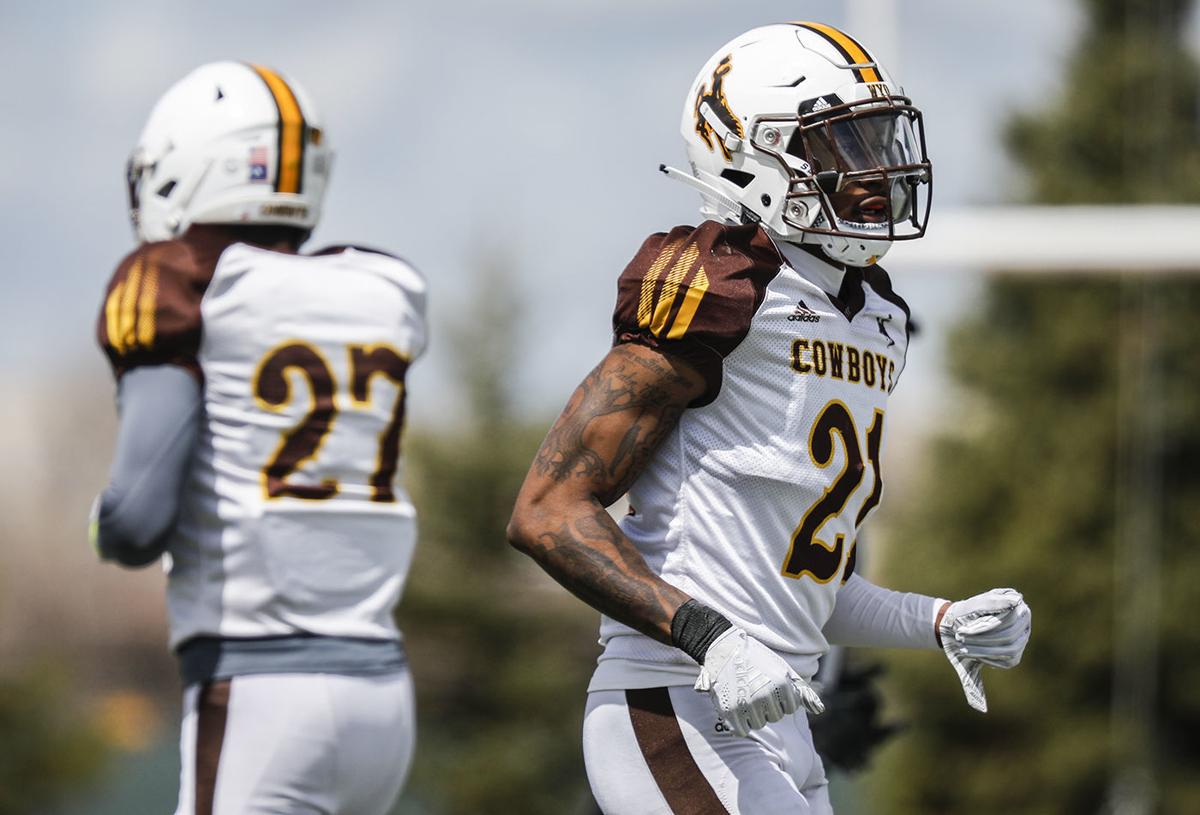 LARAMIE -- During his first full-contact practice this spring, C.J. Coldon fell to the ground and landed on his left arm.
No pain. No numbness. And, perhaps most importantly, no weakness in its functionality.
It was a significant development for Wyoming's third-year cornerback.
"I knew I was going to be good after that," Coldon said.
For seven months, Coldon has been trying to get back to full strength after missing the final nine games of last season. He began his redshirt freshman season atop the cornerback depth chart opposite veteran Antonio Hull.
Two games into it, he sustained a stinger against Washington State. The next week against another Power Five opponent only made it worse.
In the second half of the Cowboys' 40-13 loss at Missouri in early September, Coldon positioned himself to make a tackle on one of the Tigers' much bigger tight ends. Coldon led with his right shoulder. Upon contact, his left arm went numb.
"You know how you go down for an injury timeout? I wouldn't even go down because I knew something was wrong," Coldon recalled. "It was just numb and weak the whole time."
Coldon injured a nerve in his neck that radiated down his arm. For the next two weeks, Coldon said, he couldn't even lift his arm over his head.
He did what he could off the field to keep himself in shape for when he was fully healthy again, including squats and one-armed workouts to keep his right arm strong. Coldon even returned to practice in the second half of the season on a limited basis, but he was never cleared to play because the strength wasn't back in his arm.
"That was the hard part, going from traveling and playing to not doing anything but just rehabbing and working out really," Coldon said.
But time eventually healed the injury.
Coldon said the strength in his arm came back in full around the time the team returned to campus for offseason workouts following winter break. He went through the first week of spring practice in a red no-contact jersey before doctors cleared him to resume all football activities.
"Freedom," Coldon said. "I felt like I was caged in. It just felt like freedom. I was excited to get back out there with the team."
Coldon is back running with the first-team defense, though it may be difficult for him to hold on to that spot on the depth chart with coaches deciding to move rising senior Tyler Hall to corner full-time. Hall is back inside helping at nickel for now with the Cowboys dealing with injuries at the position.
But there's no doubt Coldon will be a significant part of the rotation on the outside next season should he stay healthy.
"When quarterbacks looked his way, they're like, 'Hmm, I don't know if my guy can do jump balls with him and if I throw it up there if my guy will be able to catch it,'" safety Alijah Halliburton said. "It's just great to have him back."
Coldon has enough speed for the position. His technique is admittedly still a work in progress, though the former three-star recruit believes that will improve as he continues to work himself back into shape after such a long layoff.
"Just staying consistent with it," Coldon said of his technique. "When I'm tired and gassed, that's when it goes to trash. That's when I've got to focus on just staying focused and locked in."
As the tallest corner on the roster, perhaps Coldon's most valuable asset is the length he brings to the position with his 6-foot-1 frame, which breeds a more physical style of play. That physicality let Coldon know early this spring that his arm was back to normal.
"The first time I came out there in just a white jersey and was cleared, I fell on it," he said. "And I was like trying to see how it felt and everything and doing things on my own in (individual) drills to see how it felt, and I just knew I was going to be good after I fell one good time. It was kind of like a solid fall."
Coldon is trying to put it all behind him now that he finally feels like his old self again.
"That's how you get hurt is if you just constantly think about it," Coldon said. "You've just got to go out there and play."
Follow UW athletics beat writer Davis Potter on Twitter at @DavisEPotter
Be the first to know
Get local news delivered to your inbox!