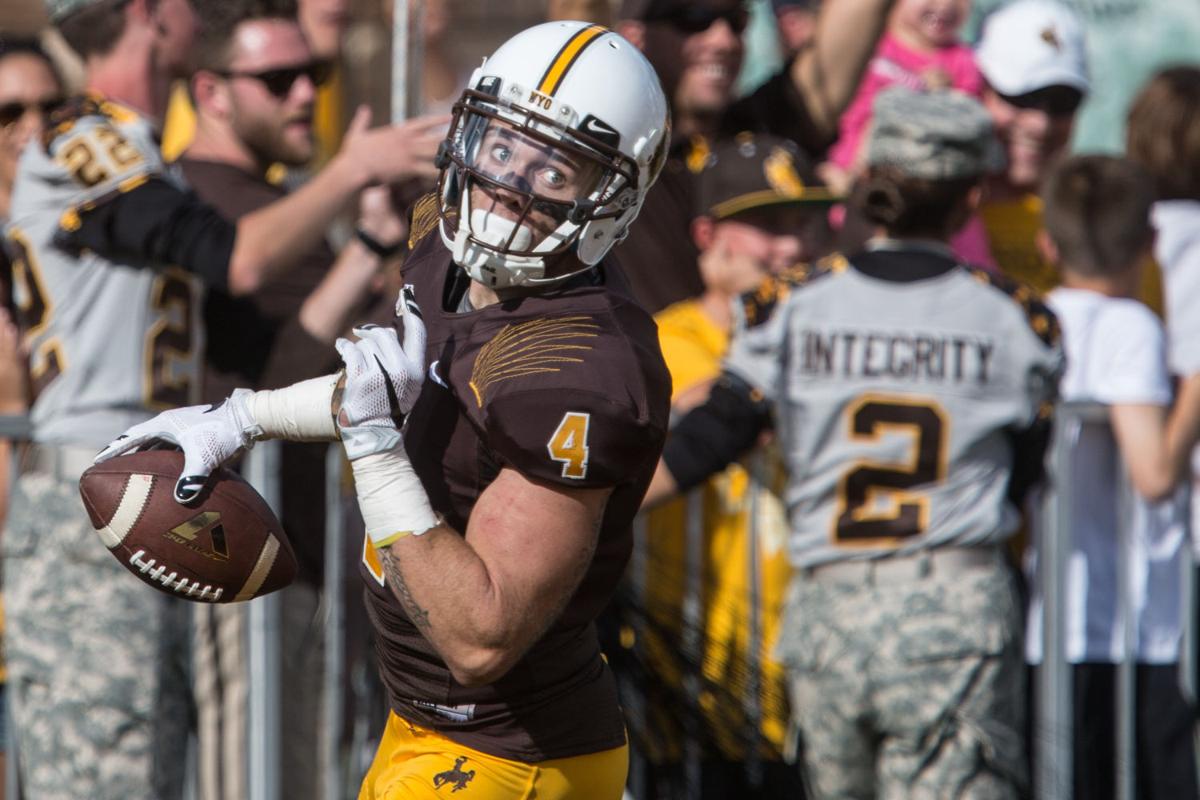 Wyoming will be without its top receiver for the remainder of the year, a source told the Star-Tribune.
Junior wideout Tanner Gentry has missed the Pokes' past three games since suffering an AC joint separation and two tears in his right shoulder in a win over Nevada on Oct. 17.
On Monday, Gentry declined to confirm his plans for the remainder of the season, but the source, who spoke on the condition of anonymity, said he'll sit out UW's final two games in order to heal up for the 2016 season.
"It's been really frustrating," Gentry said. "This is my first major injury that I've ever had playing football where I've had to sit out games, so it's kind of tough to deal with. I'm just trying to stay positive."
Through Wyoming's first seven games, the Aurora, Colorado, native ranked 15th nationally in receiving yards with 678. Despite being sidelined for three weeks, he still ranks second in the Mountain West Conference and 42nd nationally in that category. He doesn't qualify for the official FBS statistical rankings in yards per game — due to missing three games — but his average of 96.9 yards per game would rank 14th.
Without him, Wyoming's offense has been much more stagnant. Especially during the past two games with starting quarterback Cameron Coffman also sidelined with a separated right shoulder.
Gentry's injury is more severe, however.
"They just kind of told me that they thought six weeks was what it was going to be," Gentry said of the original prognosis, when five games remained. "We were just going to see how I progressed and if I was healing fast, then I would see if I could get out there or not and if it was safe for me to play or not."
Over the past 3½ weeks, he has certainly healed a great deal.
Against Nevada, he left the game in the third quarter, having not been able to lift his right arm whatsoever. He spent roughly a week with his arm in a sling and has been rehabbing his shoulder ever since.
"I started doing some weight rehab last week to try to strengthen it back up," Gentry said. "It's getting better every day."
But the progress isn't nearly enough.
The two small tears in his shoulder are the most problematic part of the injury. Another tear could permanently damage his shoulder, and his bright football career.
"The most important thing is just to make sure I'm healthy and make sure I don't damage it any further, which could hurt me in the future," Gentry said.
Added UW offensive coordinator Brent Vigen: "If it's a situation where he can get hurt worse because he's not quite ready to go, I don't think that's a risk that we need to take at that point."
Gentry caught 39 passes for 376 yards as a freshman in 2013 and recorded 32 receptions for 435 yards and two touchdowns during his sophomore season.
This season, he's broken out for four touchdowns along with the first three 100-yard games of his career.
Of course, Gentry wants to return. But at 1-9, Wyoming is out of bowl contention and the risk of him coming back this season is much greater than any possible reward.
If Wyoming had five wins heading into the UNLV game, his mindset might be a bit different.
"I think if that was the case, definitely we would think about (returning)," Gentry said.
Instead, he'll begin preparing for 2016.
The tears in his shoulder should heal in another month or two simply with rest, and barring a setback, he'll be ready to go by spring drills.
"If I can't go for the last game, my focus is going to be getting back, better and healthier for next season," Gentry said.
Follow Wyoming athletics beat writer Ryan Holmgren on Twitter @ryanholmgren